Isn't it fun to watch movies with your friends? You know it's hard to do that in person during a pandemic strike. Even for another reason when you are away from your best friends, you can still replicate that same fun up to a great extent. And, we hope you know it considering you are here looking for Rabb.it alternatives.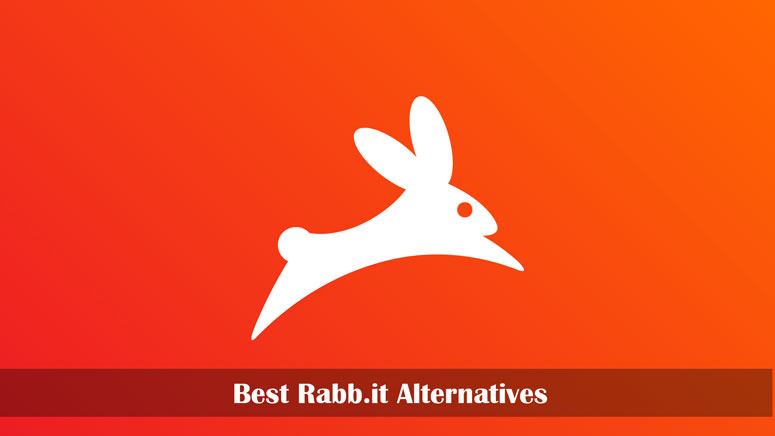 In this article, we are going to give you a list of twenty-five websites to watch videos with your friends. And, it will erase the physical distance between you all. We haven't put together the list in any particular order. Have a glance at all of them and stick to the one you like the most.
25 Rabb.it Alternatives to Enjoy Movies with Your Friends
You look for an alternative when something you had been using becomes unusable. So, what is the story behind people looking for sites similar to Rabb.it? To know that, you have to roll the clock back to May 2019. The service stopped working that month. After a while, another website of the same kind (Kast.gg) acquired it.
Also Read:
As you know, Rabb.it helped you share everything you could play on the browser. Today many websites (or even mobile apps) with the same intent are available on the web. That's what this whole article is about.
Here comes our favourite alternative to Rabb.it. When you opt for Rave, you get the privilege to use the service on PC, Mac, iOS, and Android. With a clean interface, it will take no time to make you lose the nostalgia of the lost service.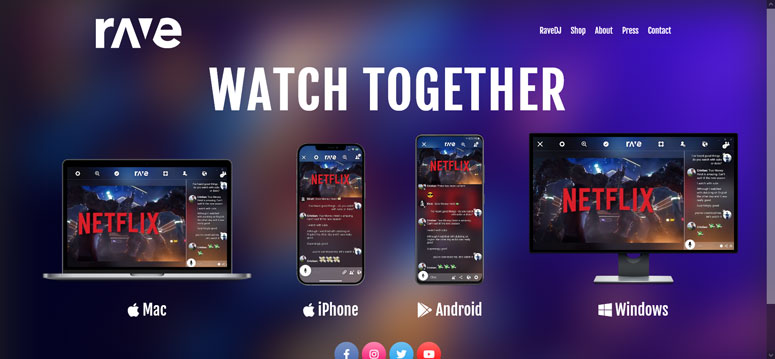 While watching videos, you can chat with your friends. However, as obvious as you can guess, the voice chat feature isn't available during the playback. Apart from the streaming services, you can even share videos from Google Drive and Dropbox accounts.
With the past name Netflix Party, Teleparty is not an actual website, but a browser extension. Although it used to have support for Netflix only, you can now use the extension to watch movies from Amazon Prime Video, Disney Plus, Hulu, and HBO.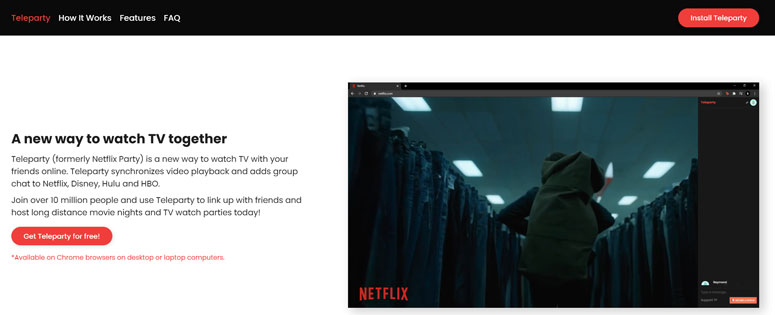 The process is quite simple. First, you have to get Teleparty. Then, open a video on a streaming platform. And now, click on that 'NP' button right next to your address bar. Clicking "Start Party" will begin the session so that you can start sharing the URL. Teleparty will also allow you to customise the session by adding fun avatars and nicknames.
Do you want a site like Rabb.it where you won't have to sign up for an account? Guess what? You are reading about one now. Yeah, it doesn't want you to have an account. As soon as you visit the site, you can start a digital hangout where it will help you host a watch party, play games with your friends or simply attend a meeting.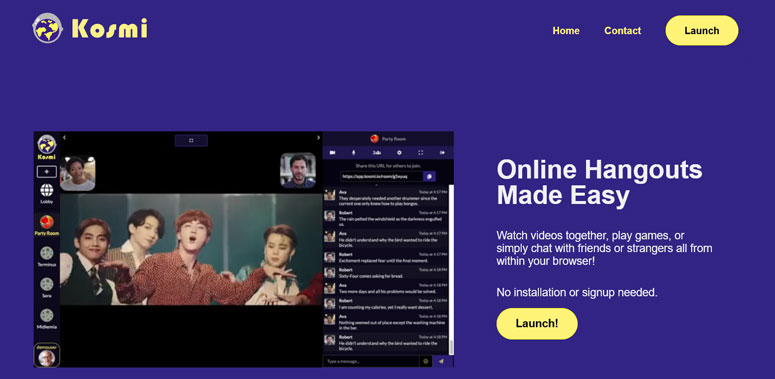 For the watch party, you can either explore the available content, screen share or load a local file. See that? Not many services have the option to share a video file from your system to watch with friends.
Rabb.it had a web browser. Do you remember that? So, you didn't have to open a separate tab to share videos with your friends. The search for such a feature got us into Caracal.
Unlike Kosmi, you can't create rooms as a guest. Moreover, when you host a party, you can hand over the remote to someone else. Meaning, they can then decide what to play or what not to.
You have already read about Kast at the beginning of this article. They have acquired Rabb.it and now we can't keep it out of the picture, can we? With Kast, 20 people can share videos and cast their screens. Moreover, a hundred people can spectate all these.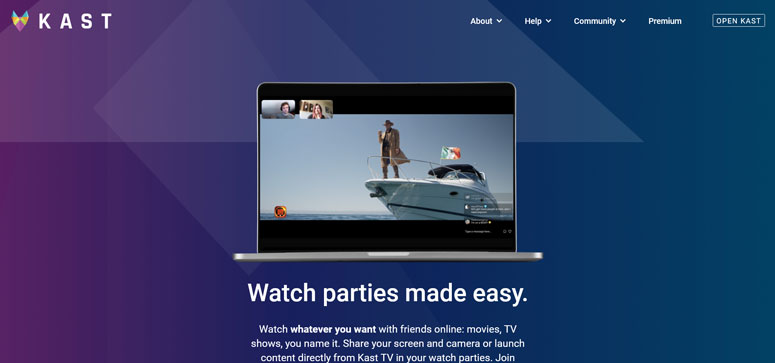 In case you want a refined experience with extra features that don't involve advertisements, you can always go for a paid subscription. There are two plans available; base and premium.
Next up in our list of best sites like Rabb.it is Invited.tv. Similar to Caracal, you get a virtual browser here as well. Although it's free to use, there are paid subscription plans available for those who want to skip the line during busy hours.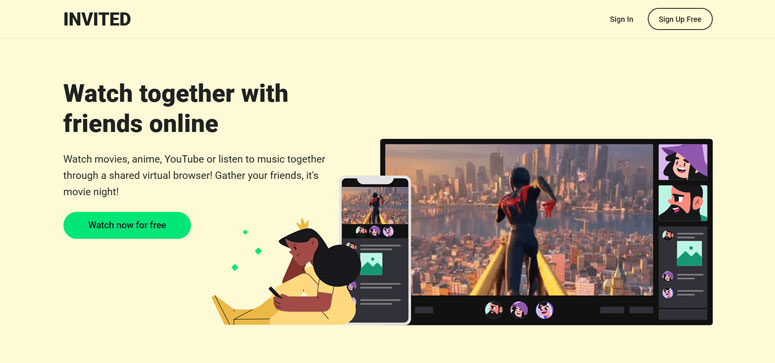 The whole procedure is quite simple. First, you need to create a room, browse for the video, and then share the link with others. Of course, you can chat during the playback. And, we noticed a low latency rate as compared to others.
If all you want is a simple tool to stream media and watch it with your friends without the luxury of a thousand features, you are good to go with Metastream. Nonetheless, you need a browser extension in order to start the watch party.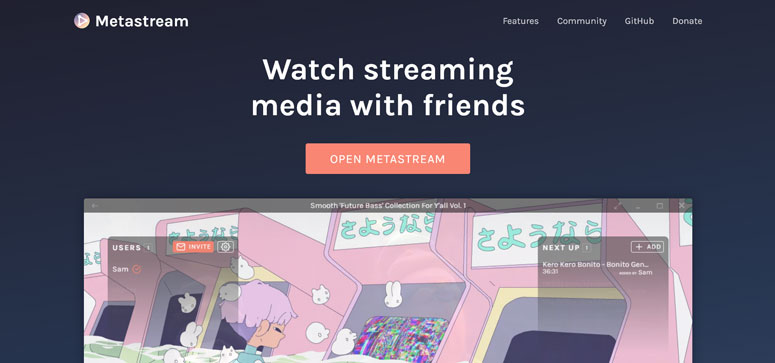 First, you should be aware of its downsides. It doesn't have support for local media, voice chat or webcam. Oh, you want at least one of them? Well, that's your cue to choose another one from this list. Apart from these limitations, Metastream is one of the best Rabb.it alternatives.
StreamParty does need you to create an account and then install a browser extension. It has voice chat support and as a host, you get to pause and play a video back. Although public parties are free to start, you can't get the same privilege when it comes to private ones.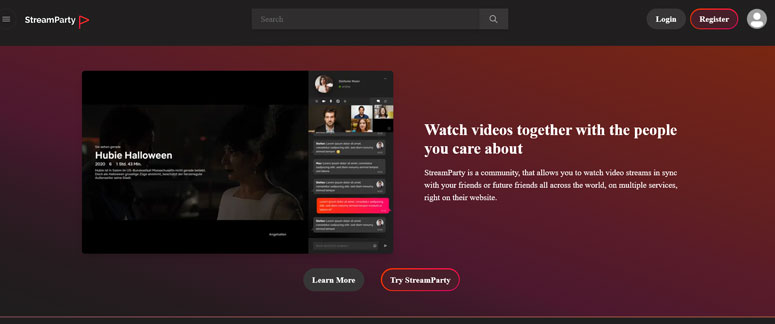 Starting a party is quite easy. You have to sign up for an account, install the extension, click on Create StreamParty, Select a streaming provider, start a video, and set your party details. Boom! You can now share the link with others.
Nothing comes close to watching your favourite movie or TV show with your friends and watching different emotions blossoming on their faces. When it comes to virtual watch parties, you will have to look for webcam support to get a similar experience. Guess what? twoseven is perfect for that.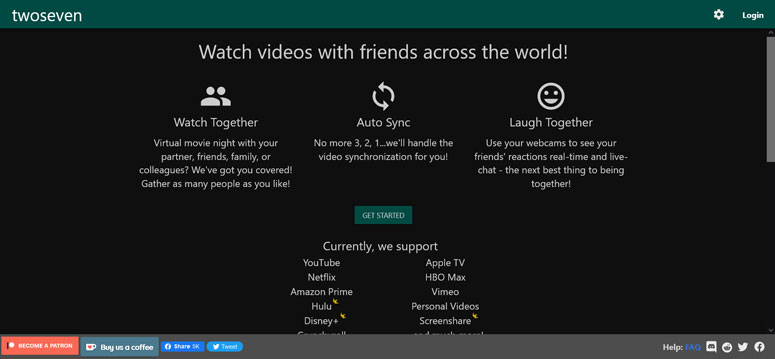 They have support for almost all the popular streaming platforms. When you install the browser extension, you can share almost any video with your friends. Though there's no latency, audio messages are unavailable.
With &chill, you can create public and private rooms. The user interface is simple. Once you visit the site, you have the field to enter the URL to the room you want to create. After doing that, you can share the address with your friends.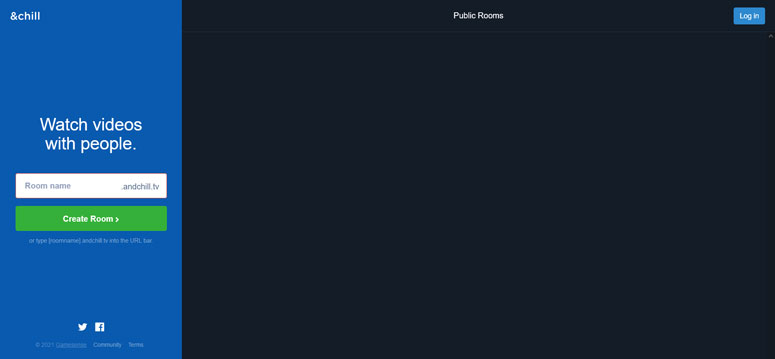 Moreover, it is also possible for you to join the rooms other people have created. If you want to watch movies from premium streaming platforms, &chill is going to disappoint you. At the moment, it only has support for YouTube.
Used to be known as Tutturu, Hyperbeam is one of the best sites like Rabbit. You need an account before you start watching your favourite shows with your friends. With this, people can browse the web together.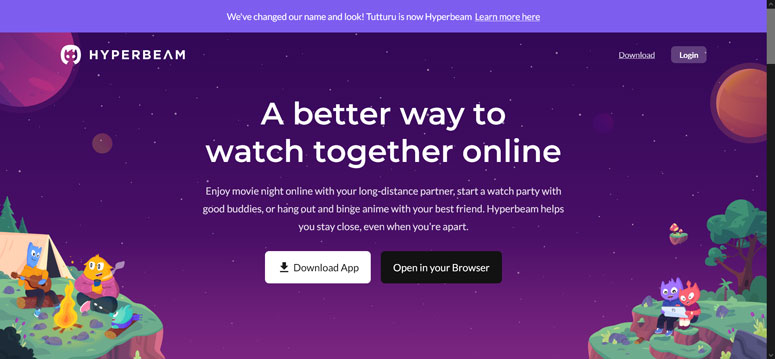 You get support for voice chat, video calling, emojis, and GIFs. So, the distance between you and your loved ones becomes thin as you use Hyperbeam. The shared browser is synchronised across everyone present at the party to give the best experience.
Trust us, we haven't seen such a simple website to watch videos with your friends. Sync Video needs the least possible clicks to start a watch party. Of course, having an account isn't mandatory here.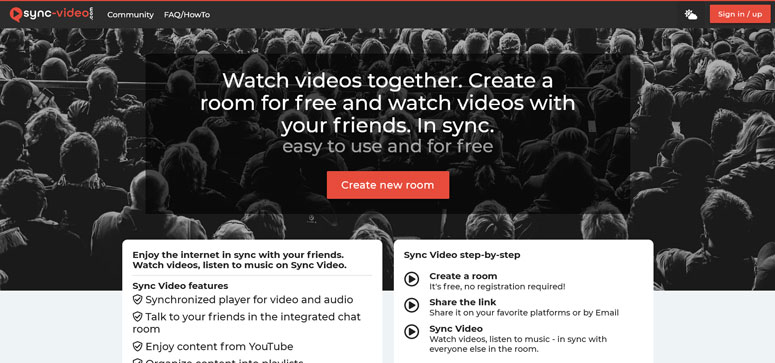 Visit the site, click on Create a new room, enter a user name, and voila! On the right side, you will get a text box to add the video address. At the bottom, a chat option is also available. All you have to do is copy the URL from the address bar and send it over.
You don't like the interface of Sync Video but want something without fuss to watch videos with your loved ones? Well, we introduce you to myCircle.tv. You can create a room within three clicks.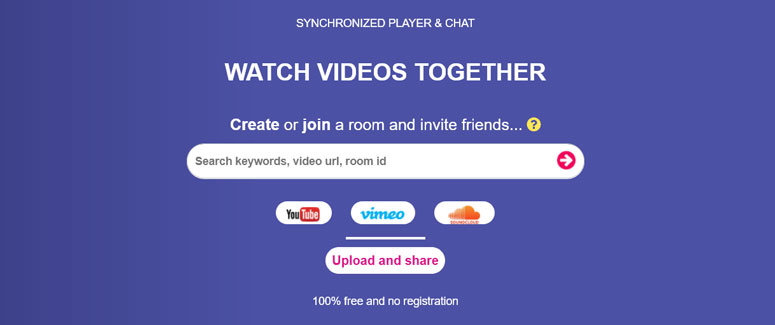 Even though the appearance of the site evokes a feeling that it has limited features, you get audio and regular chat options. You can add local files for group watching apart from streaming.
Do you not mind installing an application? Of course, Hearo is available to use on a browser. Yet when you do that, it only supports Twitch and YouTube. To reap the benefit of watching movies from all the streaming websites, you need to have the app.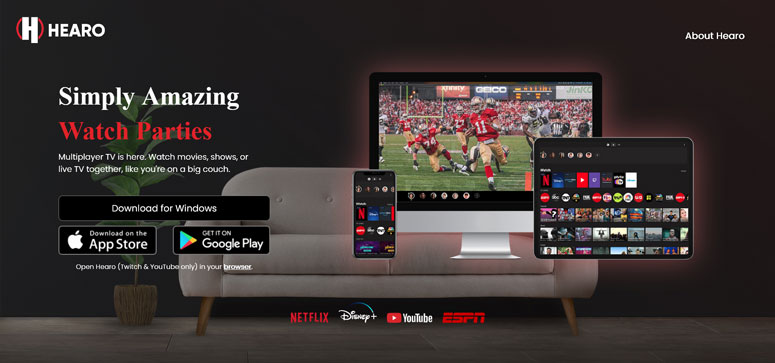 It's available for macOS, Windows, Android, and iOS. So no matter what device you or your friends use, everyone can always watch your favourite shows without any hindrances.
Here comes yet another alternative to Rabb.it which can vaporise the distance between you and your favourite people. With the video and audio support, it emulates a close-to-real experience.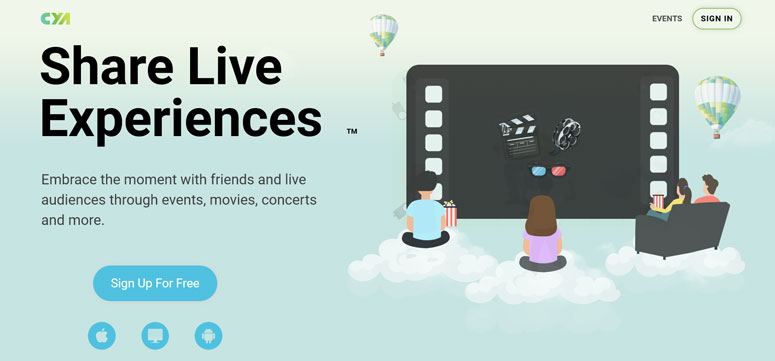 You need an account to start with. However, no paid subscription is involved. Moreover, Cya Live has mobile apps as well. Meaning, you can physically be in a subway alone and still have amazing moments.
More Sites like Rabbit
Frequently Asked Questions
● Why did Rabbit shut down?
Rabb.it shut down in 2019 May due to a financial crisis. They couldn't gather enough funding. So, the CEO, Amanda Richardson laid off the staff and shut down the service.
● Is Rabbit safe to use?
Yes, it was. Given the site is no longer available, we have to talk in the past tense. When you were concerned about security, you could always start a private room.
● Is Rabbit streaming legal?
The fact that Rabb.it couldn't face any legal threat speaks for itself. We don't think it's illegal. Started in 2014, Rabb.it had run for five whole years unless they exhausted the funding.
Also check: Backpage Alternatives Websites: 10 Best Similar Sites for Buy and Sell
Conclusion
You have got twenty-five Rabbit alternatives here. It's a herculean task to recommend one. If you are patient enough to spend a minute or two on these services, you can stumble upon the perfect one. Nonetheless, you have to set your priorities right first. For example, you can go with Sync Tube if you despise going through a signup process. Want a no-nonsense interface? Turtle is your way to go. See? That's how you land on the one you love.