Most people think about Craigslist when they think about classified advertising. For so much time, Craigslist has been the go-to choice for these advertisements, sure. However, it does not mean there was no kind of competition in the market. Probably one of the major competitors was Backpage.com, a classified ad website that got launched in 2004.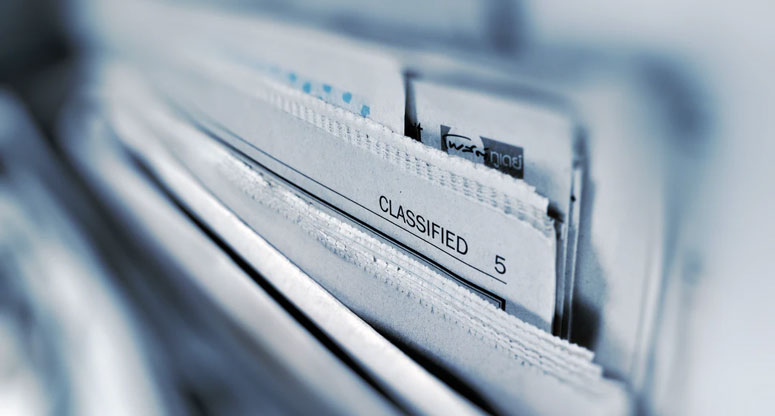 Photo by AbsolutVision on Unsplash
It soon became one of the go-to options for all sorts of classified ads — including the ones you would not approve. Here is what happened in 2019, though. Backpage.com got shut down due to the abundance of sex ads on the site. However, the shutdown did not just remove the sex ads but the whole site. And it is what we want to talk about here.
In this article, we have created a list of the best Backpage alternative websites out there. In fact, we curated 10 best similar sites for buy and sell. You can use any of these websites to sell new/used goods and buy them from prospective buyers. We have chosen websites that have stayed active in the industry for a long period. Therefore, you do not have to worry about sudden shutdowns.
More importantly, you can have a more filtered buying/selling experience than what you had with Backpage. We hope that is an assurance.
Bedpage is the closest alternative you can find to Backpage.com. This free classified advertising website has been optimized for different US states and Canada. Therefore, when you want to buy or sell products or services, it allows in-detail filtering.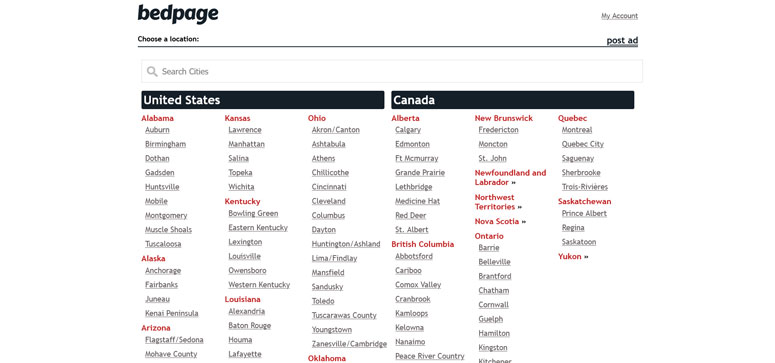 Apart from the simple User Interface, Bedpage has simplified categories as well. For instance, you can find subcategories such as Auto Parts, Auto-Truck-RV, and Services under the Automotive category. Similarly, if you check out the Jobs category, you can find sections like Finance, Office, Education, Focus Groups, medical, Real Estate, Sales, to name a few. In short, Bedpage is your best shot if you are looking for effective categories and hassle-free browsing.
Posting your ad on Bedpage is no Rocket Science, either. You can register for an account and get started in a few seconds. It does not have complex approval systems but keeps spam away.
If you are from the United Kingdom and want a Backpage alternative, you should check out UK Classifieds. It is one of the easiest methods to find what you are looking for. However, compared to our first pick, this site has a healthier blend of products and services.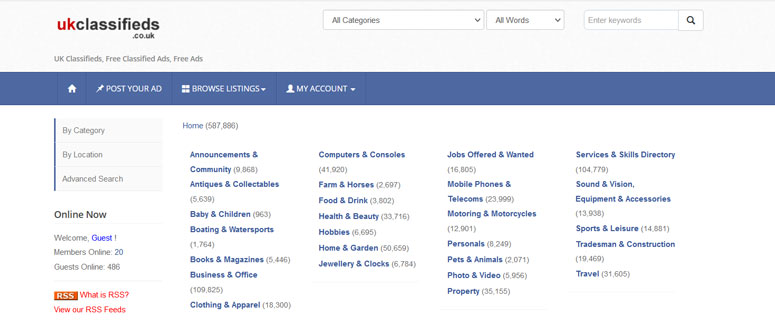 The first thing is that UK Classifieds does not want you to specify the location. You can start looking at ads from different categories as soon as you load the main page. Some of the categories include Business, Office, Clothing, Food, Health, Beauty, Sports, Personals, property, Telecoms, etc. On each of these category pages, you can find thousands of listings, each updated every second. In the same way, you can add the listing to the site.
We should mention that UK Classifieds is not as popular as other websites on this list. Therefore, you have to be patient until you find a responsive buyer/seller for the product or service.
Free Ads Time is another worth-considering option when you want the best experience selling or buying the product or services online. Like we mentioned in the case of Bedpage, Free Ads Time also shows you all the listings based on the US state you have chosen.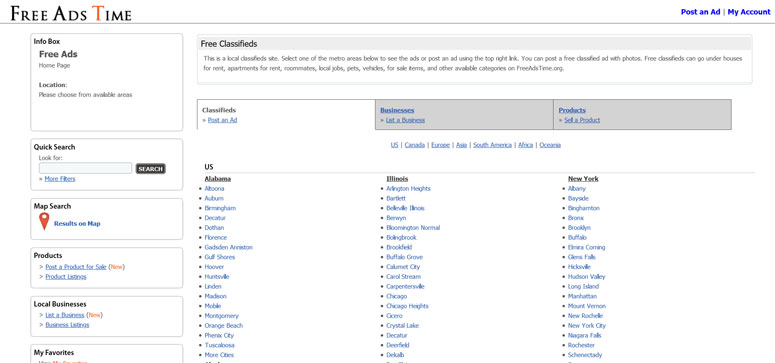 Once you have selected the location, you can explore thousands of classified ads based on the category you will choose. The best part is that you can find a number of categories such as Barter and Free Stuff. So, if you are looking for free products that people want to give away, you will find a special space on Free Ads Time. It is a great space when you do not have a lot of money to spend on the product. In that case, you may have to pay only the shipping/pickup charges.
We really appreciate Free Ads Time for the wide variety of categories it has. From dogs to mattresses, the site is home to so much.
If you are looking for a global alternative to Backpage.com, you should look at ClassifiedAds.com. It is one of the popular spaces where you can find classified ads from almost every category. It does not matter what you are looking for, there will be at least an entry.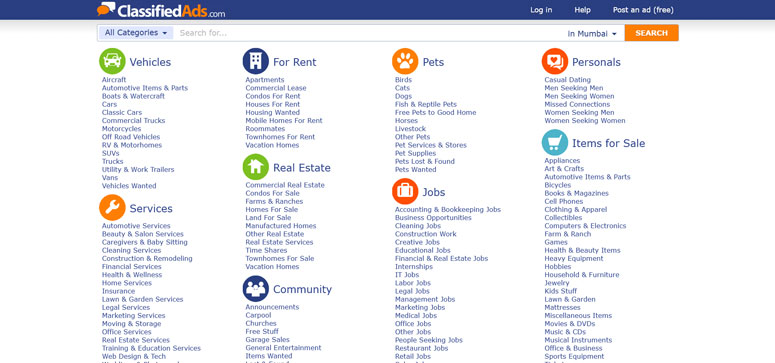 There are a few categories that you can explore. Vehicles, Services, For Rent, Real Estate, Community, and Jobs are available on the platform. You can also find a section for Personals, where propositions for dating can be found. Last but not least, ClassifiedAds.com has a dedicated category for Items for Sales. In this part alone, you can find so many categories such as Appliances, Bicycles, Music, Sports, Tickets, Tools, Collectible stuff, and Games.
You can filter the available classified ads based on where you are using the website from. It might not have the same number of ads everywhere, though.
Locanto is your best shot if you want a Backpage alternative with additional filtering options. The best part about the platform is that it is widely available. And you can find the best listings from each category within the specific regions.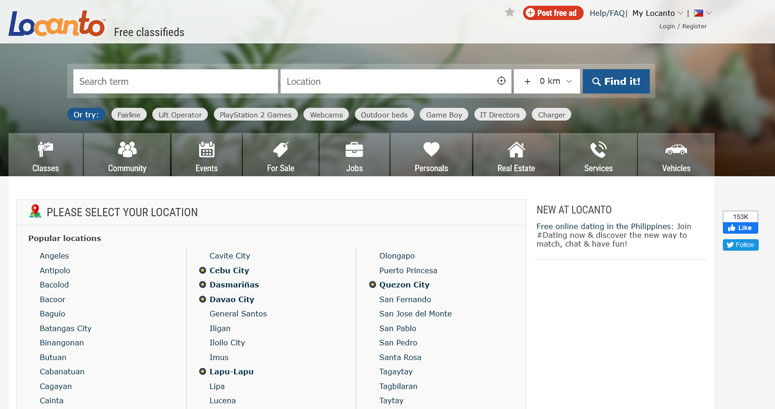 When you get started, you can provide the search terms, select the location, and the distance you are willing to cover. Or, you can see what is trending on the website and look for websites that way. For instance, you could be looking for a gaming console or a collection of jobs. The website has dedicated sections for vehicles and services, which make a lot of sense. In some countries, Locanto has introduced dating options too, but they are very subtle.
In short, if you want global coverage and easy-to-navigate User Interfaces, you should check out Locanto at the earliest. It would not disappoint you with the number of classified ads or their diversity.
Other Backpage Alternatives You Can Consider
Given below are the five other Backpage alternatives you can consider. While the five options we have added above will get the job done, you can check out the following options for amplified reach of your ad. After all, it is great to post an ad on two websites instead of one, right?
#6 Oodle Marketplace is a platform where you can find a variety of listings in an interactive way. It may not have as many subcategories that we saw in other platform. However, you can count on them.
#7 Kijiji is another platform for classified ads. However, this service is optimized for Canada and provides the best ratings based on the region. It does not offer many advanced filtering options, though.
#8 Geebo.com is another global website for classified ads. It is quite similar to the options we have listed in the above section. As we said, it is more about amplifying the reach of the ad.
#9 Hoobly is another place where you can post and view ads from different categories. It can automatically filter the results based on your location and you can find essential information about each listing.
#10 Craigslist is something we cannot ignore. However, we are sure that you already posted something on this website. So, you will not miss the most important audience.
Also Read:
The Bottom Line
We believe you found our coverage of the 10 best sites similar to Backpage. So, regardless of whether there is a comeback from Backpage, you can enjoy classified ads services from these websites. Did we miss any big shots? Do let us know through your comments.