Windows 8 is new version of windows operating system. Still in the development while I am writing this post. For increase in the security and make it more compatible with multi user environment password has been set. Please make sure to use a best antivirus program on your Windows like Bitdefender or Kaspersky which will stop possible computer virus infections. Even if you install windows 8 with a internet connection connected then it will automatically asks for create Hotmail use ID and password. If you already have you can login with it. Now the windows 8 will set that Hotmail email ID and password for your windows login. That is xyz@hotmail.com. You need to enter your password each and every time when you turn on the computer.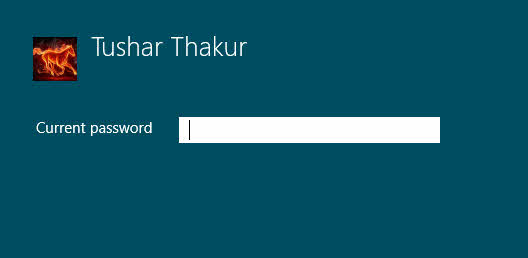 Need of disabling the logon password in Windows 8:
If you are home user or just single user of your computer then it will be time waste to enter the username and password each and every time when you logon the widows. No need to make this step? Then you can skip it and set as auto login in the windows 8, like Windows 7 or Windows XP.
The steps are very easy. To disable the password prompt you need to set auto login inside the user account settings.
Step 1)
Login to your user (Admin) i.e. just start the Windows 8 with your username and password.
Step 2)
Open command prompt (shortcut "Windows key+R") and type "netplwiz" without quotes. Or you can just open the Metro UI screen and start typing "netplwiz" it will give you the result under app search like this:



Step 3)
Click on that and other windows will open. In that window uncheck the box shown below: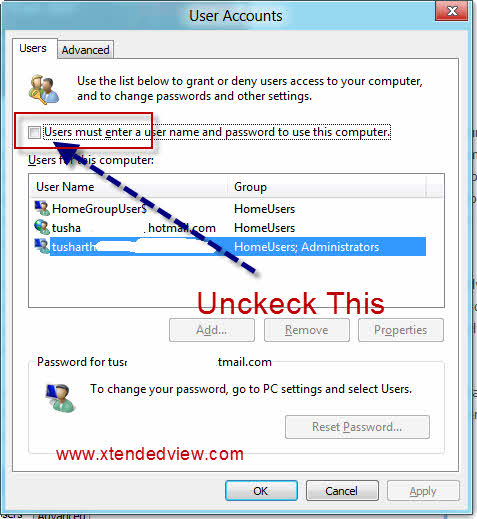 On the next window enter your username and password.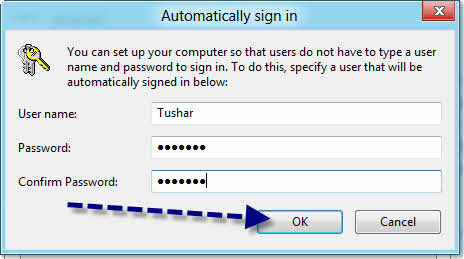 That's it now click OK and restart your computer to see the effect. Yup now you don't need to enter the username and password each time when you logon the Windows 8.
Part 2. Forgot Your Windows Login Password, Let's Reset it!
If you've lost the password for your Windows computer, and are now unable to gain access to your system, you can use 2 different methods to open it up again and log in. The first is to re-install Windows, and lose all your files, settings & data. This is a very costly process and is very complicated to do. The second is to "reset" the password of your system, and regain access by removing the stored password information that your PC has inside used Windows 7 Password Genius. This method will not lose you any settings/files, and will grant you access again by removing the stored password data on your system.
Here we highly recommend using iSeePassword Windows Password Recovery program to hep you reset your Windows login or admin password without system res-installation. What you need to prepare is an USB drive and another accessible Windows computer. It not only can help reset admin password on Windows 7, but also works with windows 8, 10, XP and vista.
See this guide: How to Reset Windows 7/8/10 Password with iSeePassword.
Step 1: Install iSeePassword Windows Password Recovery tool on this prepared Windows PC.
Step 2: Insert your USB drive and blank CD/DVD into the PC and click "Burn" to start burning an iso image of this software on the chosen media.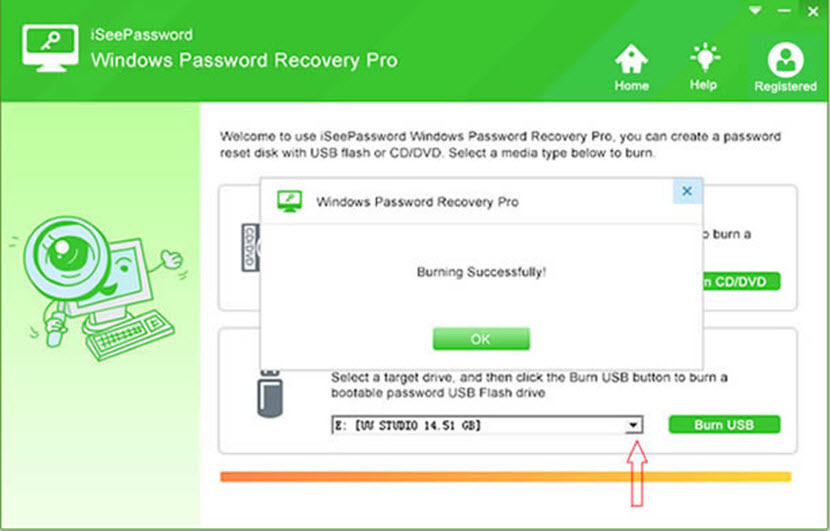 Step 3: Set your locked computer boot from USB drive in the BOIS setup, this the program will be loaded and detect all users on your computer. Select the type of your account password you want to reset. Click "Reset".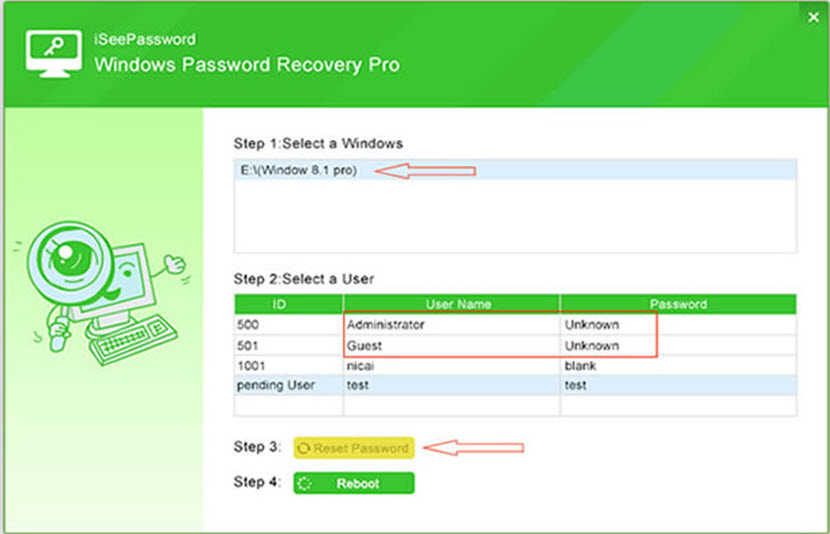 Now, you can login your Windows 7/8 computer without password. If you're Windows 10 users, this resetting tutorial also works fine.
Conclusion: When you forgot your Windows login password, and don't want to lost your important files on your computer, the most effective way is try iSeePassword Windows Password Pro program to reset it to blank and login without password protection. You can also burn a password reset disk with USB and DVD and use it for the future.