This Digital Ocean cloud hosting review will discuss the benefits of cloud hosting and unmanaged VPS(Virtual Private Server) with respect to the service offered by Digital Ocean. We shall review performance, features and security in addition to how the cost of this service compares with regular hosting and other popular cloud-based hosting services. So lets start with Digital Ocean review.
Digital Ocean is one of the fastest growing cloud hosting services today. It offers cloud hosting and unmanaged VPS at low cost with an easy-to-use control panel. Most that use it regard cloud hosting as being faster than regular shared web hosting and managed VPS. Even dedicated hosting is threatened by the expansion of cloud computing and its very attractive benefits.
What are Cloud Hosting and Unmanaged VPS?
Cloud hosting is fundamentally unmanaged VPS hosting, where your files are store on a virtual private server – server space on any of a number of servers operate by the host. If you currently use managed VPS hosting, then you will find unmanaged cloud hosting to be more difficult to operate though it offers a number of benefits as defined below.
Digital Ocean cloud hosting is designed for those with reasonable technical knowledge, and whose business is building websites, offering web-based software services or developing apps. Newcomers to internet marketing and hobby bloggers should start with a hosted service initially, until they are able to manage their own web space without the need for a commercial control panel such as cPanel.
Droplet overview
On-Demand Power
If you have a sudden surge in traffic, you can easily cater for this by adding more server capacity, known as droplets.
You can reduce these once your traffic settles down again. This renders cloud computing very economical because you use only the storage and computing power you require for your immediate needs.
You have no need to apply for extra server space and wait – it is achieved in minutes, often only seconds with Digital Ocean. You pay only for what you use, making it very easy to budget and manage your expenditure to your immediate computing needs.
Droplets and Prices
We shall discuss prices here so that you can read the remainder of this review with the costs to you in mind. This is better than you reading the amazing benefits of cloud hosting believing that they must cost you a fortune when Digital Ocean cloud hosting is extremely inexpensive.
'Droplets' are units of hosting space. The first droplet can cost as low as $5/month. This offers 512MB RAM, 20 GB SSD-backed storage and 1TB of data transfer. You can purchase extra droplets from six options, ranging in size from the same again to an extra 1GB RAM and 30GB SSD through to 60GB/160GB/6TB.
These cost $10 and $160 respectively per month, although you can pay per hour when you are charged 1.5c and 23.8c respectively for each hour of use. This is almost same price as Bluehost hosting with the use of coupon codes from Bluehost, the big difference is they provide shared hosting at this price and you will get VPS here. You pay only for the number of hours you used the extra space. You can also start your account with any of the six options at the monthly payment.
Each droplet can be initiated and ended in minutes. Each can also be configured independently of the others, so if you need more memory for one, you can do that with a couple of clicks. The droplets have their own control panel, and you can manage them on the go, thus maximizing their efficiency and minimizing your costs.
Cloud Computing Speed
Largely due to the SSD (solid state drives) the speed of Digital Ocean cloud computing is generally significantly higher than that of regular web hosting on hard disks. They also have several data centers and more are planned, including Asia. Those that use this service report no issues with speed, which is generally significantly faster that regular managed VPS hosting.
Security of Cloud Computing
The security of the Digital Ocean unmanaged VPS cloud hosting service is high and as good as any other cloud computing service. Credit card processing is handled by a PCI-compliant secure third party, and communications are transmitted via SSL (HTTPS). The SSH protocol is used for connectivity to the servers, and the company recommend clients to use SSH keys for their access setup. A free backup service is provided.
The server sites are manned 24/7, and access to the physical servers in each datacenter is strictly controlled. Security cameras offer additional security and personnel access is controlled biometrically.
List of OS supported:
List of one click install apps:
While the company offers several template images that includes five Linux distributions (of which Ubuntu is easily the most popular), it does not offer integration with Microsoft Windows. This is not only for licensing reasons that can easily be overcome, but also due to partitioning and security issues associate with Windows.
Easy to Use DNS:
Support
Support is top class and highly responsive. While online support is very quick – you can expect an average response time of an hour. If you have an emergency situation, such as your service is down, you can enter an 'emergency' support request. A user forum is also available for peer-to-peer discussions.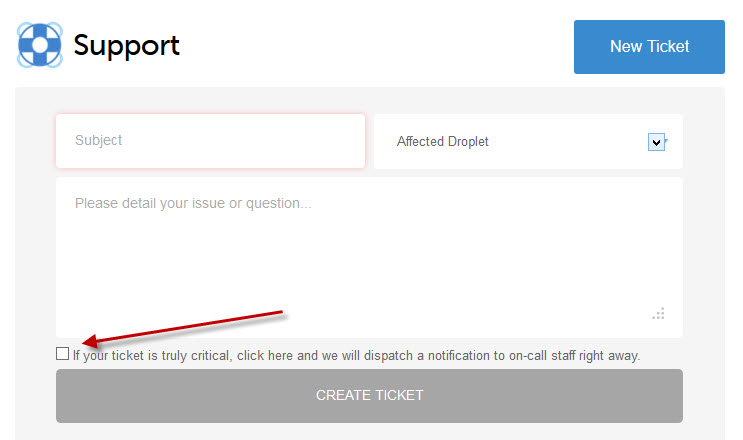 The documentation is excellent, and most issues can be self-cured by use of the documents and manuals available online. Digital Ocean cloud hosting is not a managed service, and is mostly use by people with reasonable technical knowledge who are generally able to diagnose their own problems. However, support is available from highly knowledgeable engineers when required.
Cloud Computing Billing
You are billed for what you actually use. You usage of droplets is calculated hourly, and the low hourly cost enables you to minimize your costs. If you are running to a budget, this is the ideal way to monitor your web hosting costs on an hourly basis.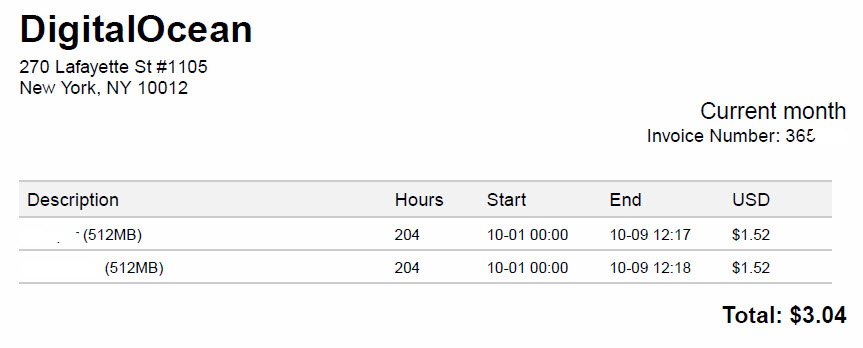 This is extremely useful as you can turn of and distroy your droplets whenever you dont need them online and save the money (Applicable when you are using it for some tracking software like Prosper202 or landing pages for PPC/PPV marketing campaigns. Just make sure to take a snapshot of your droplet so that you can restore it again with single click.) You can carry out live checks on you bill to find out where it stands at any time. You are billed monthly in arrears for the service used during the preceding month.
Digital Ocean Cloud Hosting: Conclusions
Digital Ocean cloud hosting is a form of unmanaged VPS suitable for those with technical knowledge of web hosting systems. It is one of the fastest growing hosting companies worldwide, and offers cloud hosting, or unmanaged VPS hosting, from as little as $5/month.
Droplets are available from 0.7 cents/hour, and can be raised and dropped when required. The company offers a great deal of free information on how to get your first unmanaged cloud computing project off the ground, and how to set-up and manage a VPS service.
Not only is Digital Ocean cloud hosting an almost unbeatable form of unmanaged VPS with significant advantages over shared hosting, but it also outperforms many dedicated hosting services. You cannot believe the server power that this service offers!
I am personally using it for my 4 WordPress self hosted blogs and PPC/PPV campaigns tracking software Prosper202 and CPVLab. They need much CPU resources and MySQL database partitioning, obviously not allowed on shared hosting.
One common question:
Q- Can we host any number of websites on one droplet ($5 per month VPS account)?
A-  Yes you can host unlimited websites on one droplet without any issue. Read this tutorial for how to do it: Virtual hosts on Linux
Still not agreed? Read what Techcrunch, Thenextweb and forbes.com said.