There may be multiple ways to direct-download and stream content nowadays, but peer-to-peer file sharing is still so important. There are thousands of people who share and access various types of content over the Internet, via P2P protocol. Even with the censorship and anti-piracy laws from governments, you can come across thousands of websites that curate content. it does not matter if you want to download some games or some latest movies, there are torrent-compilation websites for that.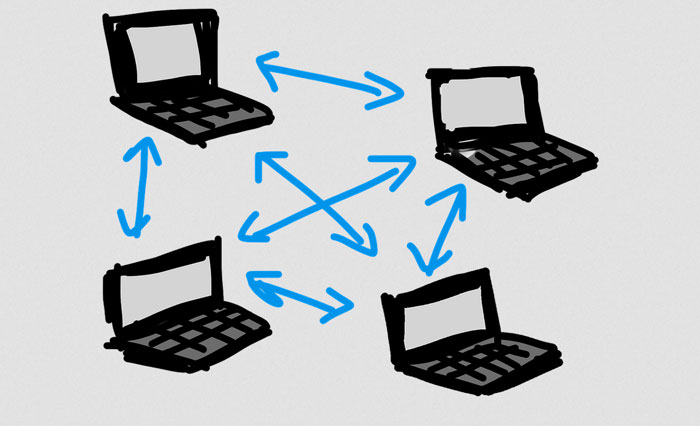 Nevertheless, you cannot go ahead and directly download a torrent file, you know. Instead, you should have a Peer to Peer file sharing programs in your computer. These programs have been designed to help you download content from peers by gathering information from the torrent file. Depending on the program you are using, there may be additional features as well. Most importantly, however, you have to choose P2P file sharing program that is safe, secure and privacy-friendly.
History of P2P Technology
The Peer-2-Peer technology, better known as P2P, is several decades old, which might come as a surprise to many. However, the first commercial success of the P2P technology had to deal with the increasing demand for services like Napster, Freenet, and Usenet. Despite the dedicated areas these services focused on, they allowed users to exchange information through a vast network.
As you probably already know, P2P technology is different from the centralized methods of file sharing. That is, instead of accessing the information from a single server — or a group of servers —, the P2P system would grab pieces of the same content from hundreds or thousands of internet-connected devices. Finally, the user gets to see the full version of the file.
Since the 2000s, however, the tech world has witnessed an increasing popularity of P2P-based applications. Enhanced connectivity options, additional bandwidth, and expanded access to the internet attracted more users to P2P platforms and P2P applications to share various information through the web. It should be kept in mind that P2P technology has never quite found itself in the good books of copyright owners.
Therefore, the history of P2P technology also involves many legal disputes targeting P2P applications as well as networks. This is partly because most of the P2P-based platforms are illegal from a copyright perspective. We will talk about the legal aspects in a later part, though. Over time, however, P2P technology has grown so extensively.
In this article, we will be listing some of the best peer to peer file sharing programs and applications you can try on your multiple devices. While features may vary, we have made sure that these programs do not pose any kind of security threat to you.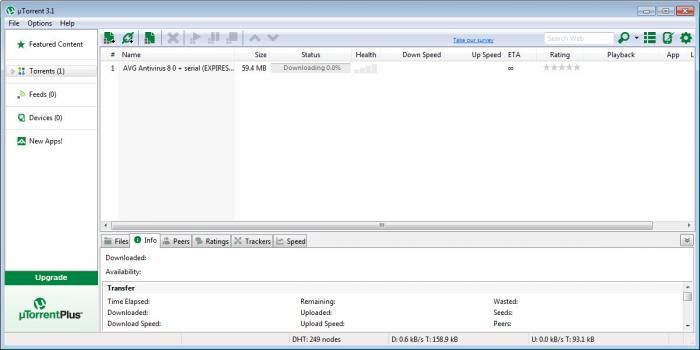 uTorrent has been the gold standard for downloading files via P2P protocol for quite some time. Compared to other tools for the same purpose, uTorrent is incredibly simple to use and does not confuse the user. Even if you are using torrents for the first time, you won't have trouble in using uTorrent. It should also be noted that the download speeds offered by uTorrent are just as awesome as what other applications are offering. uTorrent does all these without even eating up resources from your computer, to begin with. As though all these were not enough, you can also avail automation and remote-control features in uTorrent.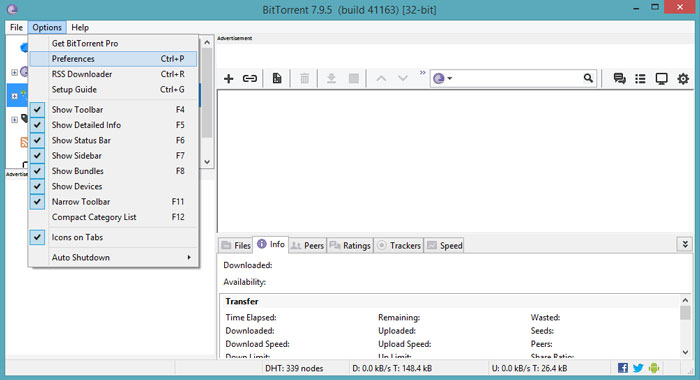 Another popular name in the world of torrenting, BitTorrent is something you can download for Windows, macOS and other platforms. The difference between BitTorrent and uTorrent is simple: BitTorrent is actually a freemium product and it's pretty heavy for beginners. You will find that the tool is taking up a lot of digital resources from your computer. But that is actually compensated with the download speeds as well as the amount of control you have over the torrenting process. There is also a bandwidth booster for better speed, while BitTorrent Remote allows remote-control torrenting as well.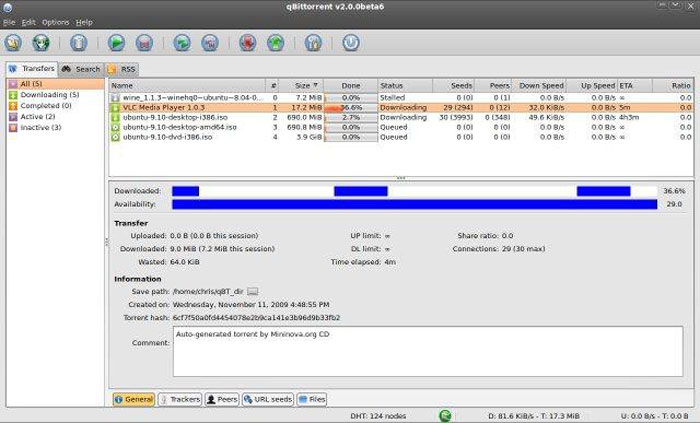 If you are looking at multi-platform peer to peer file sharing programs and applications, you should give the qBittorrent client a try. It's available for almost all major platforms and offers the best UI you can expect for the purpose. Because it's completely free, you don't have to worry about feature-based restrictions either. One of the best things about qBittorrent is that the whole program is in active development. You can expect more features and other overhauls in the course of time, you know. There are also security-oriented features like encryption support.
Are you a macOS user looking for a minimal yet powerful per to peer file sharing program? In that case, you should check out Transmission, which is completely free to use. Compared to other tools we've listed here, Transmission does not take up much resources or screen-space from your computer. It's also worth noting that the overall download performance of the tool is up to the mark.  Despite the consumption of very fewer resources, Transmission does not compromise features. First of all, Transmission offers the best speeds you can expect. As if that's not enough, you can also get encryption-related features on the go.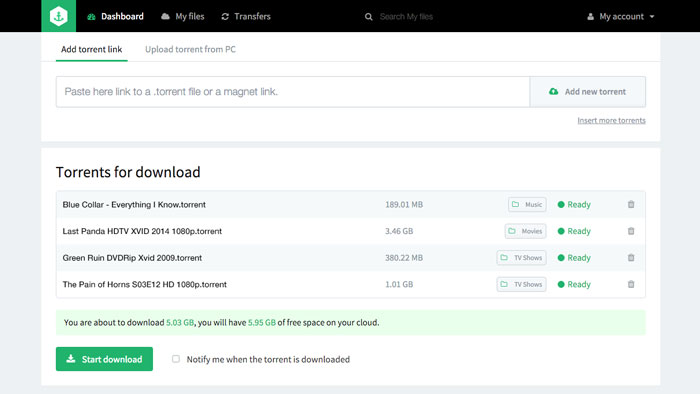 Bitport.io takes a new approach towards how you download and use torrenting files. Instead of downloading the torrent files to your computer, Bitport.io will transfer them to its own web servers. Thereafter, you can decide what to do with the files. There may be options to stream the content or download it directly to your desktop space. Bitport.io is actually a paid service but there is a limited free plan that you can check out. You will be able to download only one torrent per day, that too with a size limit of 1GB but the overall experience is just awesome. Together, Bitport.io offers the best.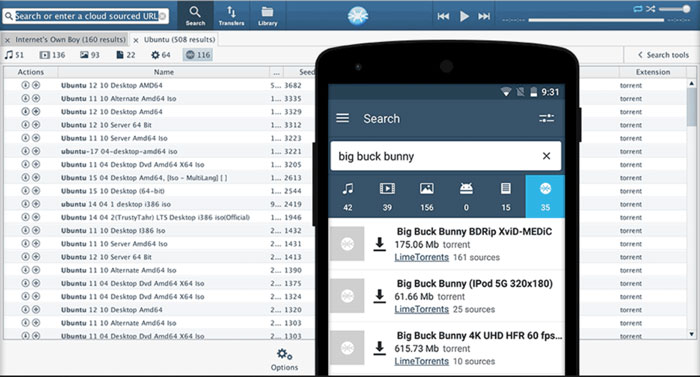 FrostWire is another great choice when you want to download torrents via peer-to-peer protocols. It's a fully functional program that is rich in terms of features. In addition to these, FrostWire makes sure that all your data is super-secure throughout the transmission process. It has been one of the most popular options for secure torrenting. In case you are wondering, yes, FrostWire is available for almost every digital platform in the world, including but not limited to macOS, Android, Windows and Linux. There are even some cool set of options like the one to preview while you're downloading.
There are times when P2P downloading speeds can get really slow, especially if your ISP is throttling it. The solution is a website like Seedr.cc, which will download the torrent file on your behalf and then allow you to download the actual file with full speed. Seedr.cc is also great when you cannot find many seeders for some particular torrent files. Because Seedr.cc is powered by super-fast servers and high-end internet connection, Seedr.cc can find seeders and copy the file in lightning fast speeds. That's something great. Here too, you're getting a limited plan but there are no restrictions on speeds.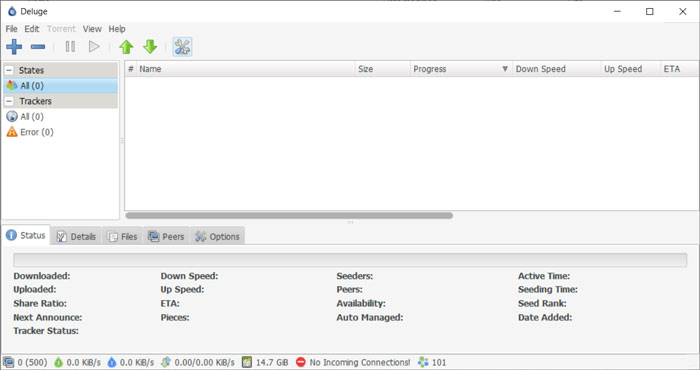 Deluge is a super-customizable torrent downloading client that you should try. We won't recommend it for those who are new into torrenting. However, if you are looking for some professional features on the way, this is the perfect shot. Despite having so many features, the UI of Deluge is super-simple. Because it's been powered by a plugin system, you can keep adding new features as modules. On the bright side, you will be having features only if you really need them, you know. Last but not the least, Deluge is cross-platform and free software.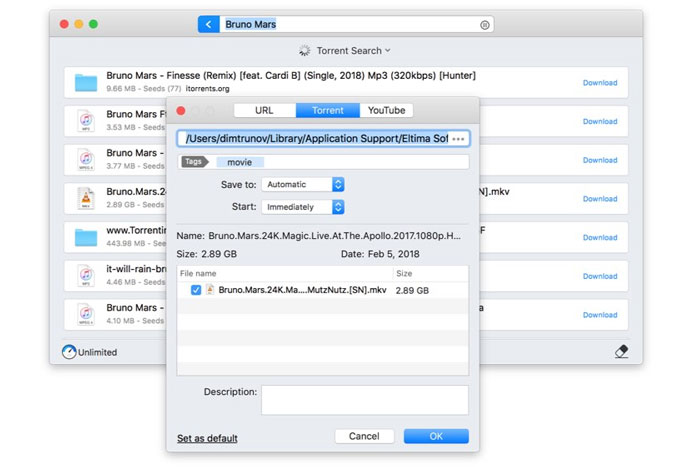 Folx is not a dedicated peer to peer file sharing program, though. It's a fully-fledged downloader utility that is available for multiple platforms. On the bright side, though, you can use Folx to download torrent in a very easy manner. Folx used to offer an integrated search engine that lets you find torrrents and other contents from the web, but that seems to be non-functional at this point. It is also worth noting that Folx can easily be integrated with other software such as your browser and other GUI utilities. The point is that you would have an easy job at getting things done.
Webtorrent.io is a web-based platform that allows you to stream torrents using your web browser itself. It's incredibly easy to use the web interface and the chances of you getting mis-navigated is very low. There are some limitations, though. You can use Webtorrent.io only if you are dealing with some streamable content. Other types of content may have trouble in getting processed in the first place. However, if you don't want the hassle of downloading and installing the program but just want to stream a movie, you should consider going for Webtorrent.io. It's free to use too, in case you are wondering.
Technology Evolution
The most significant form of evolution concerning P2P platforms had to do with how accessible the platforms have become over the past decades. From being a thing that only people with technology expertise enjoyed into being a ubiquitous way to share information, P2P has come a long way. As we said, the dusk, dawn, and sustenance of several services enabled this transition.
Although P2P technology has had support for mobile devices from the very beginning, the skyrocketing use of mobile technology and Android/iOS smartphones contributed to the development of P2P in the 2000s as well as 2010s. Even today, despite the expanded availability of content-sharing platforms and paid services for streaming, thousands of users have P2P apps installed on their smartphones.
Amidst all this holistic development, P2P technology was fast-tracked by some protocols. For instance, we've to take notice of the BitTorrent protocol, which enabled easy tracking of resources via the P2P network. We should also mention the launch and growth of Bitcoin, which is essentially a combination of the P2P network and some radical tech for decentralized financial methods.
Today, however, P2P tech has taken a rather interesting turn, but they are also a variation of what Bitcoin had introduced. We are talking about p2p file-sharing platforms like Filecoin, Storj, Maidsafe, and Swarm — which revolutionize the use of P2P networks by incentivizing secure storage options. These services may not be blooming as of now, but they are indeed the future.
Long story short, P2P has diverted from a road synonymous with content piracy and embraced this outfit to enable secure, encrypted, and profitable storage options for everyone. Of course, these changes have severe economic impacts as well.
Economic Impact
Depending upon the section of P2P technology development we talk about, we have to classify the economic impact of P2P technology into two sections. First, we have to talk about how P2P platforms impacted content sharing options. Second, we need to look at how radicalizing services like Filecoin and Storj.
On the Entertainment Industry
From the very beginning, P2P platforms have impacted the entertainment market. I mean, there was a DVD industry alive and kicking before the platforms became popular. Ever since people found a way to make portable video files out of DVDs and share the files via platforms like BitTorrent, we started to see the end of the DVD industry.
Even when the entertainment industry embraced the world of streaming services like Netflix and Prime Video, the P2P platforms stood as a problem. Movies and TV series were out in the form of torrents within minutes of their streaming service releases. Now, we are talking about a problem that the stakeholders are still fighting.
Platforms like Netflix have been trying to prevent users from quickly capturing copyrighted footage from the service without much success. So, the not-so-legal aspect of the P2P platform has had a noticeable yet mostly negative impact on the entertainment industry.
On all things decentralized
The past decade has seen many products, services, platforms, and movements that want to decentralize the way things run. We are talking about cryptocurrency and decentralized storage services. Essentially, the people behind these movements look for a power shift. Instead of relying on a big, old corporate, people want to rely on collective resources — and there you have the reason why the movements use P2P platforms.
So far, the economic impact of peer-to-peer platforms has been equated to the impact of cryptocurrencies like Bitcoin and Litecoin. However, working under the hood and preparing for the real battle are services like Storj and Filecoin. Once these projects are their fullest potential, even the most stable tech companies here may have a tough time keeping things profitable.
In short, the economic impact of P2P technology is always changing. To put things in context, someone else would have shifted to cryptocurrency payments and secure private storage by the time you've finished reading this article. At the rate, it won't be long before you see a revolution of the decentralized entities on the web.
Security Risks
Like every other platform, the P2P platform also poses several security risks to the user. Because you're downloading content from a set of computers and not a central server, the chances of coming across faulty, malicious stuff are very high. This may not be the best case if you are concerned about your privacy and want to use the system freely.
In the past, vulnerabilities in the P2P platforms have been exploited by people to victimize the customers. A number of these attacks resulted in the loss of data and sensitive information. However, that's an old story, and P2P platforms have changed their game dramatically since then. Now, almost all the useful p2p apps are powered by multi-level security measures.
Besides, there are ways you can follow to stay safe while using P2P file sharing.
How Can You Stay Safe When Using P2P File Sharing?
The first step of staying safe while using a P2P file sharing service is knowing what you are downloading. You won't have to worry about this aspect while downloading something legal through the network. There are even some advanced methods to double-check the file that you have downloaded. You may have to take a look at these proposals in the long run.
The other option is to follow the standard set of security measures, such as,
Using a Virtual Private Network while browsing the Internet
Keeping a premium antimalware solution installed on your computer
Checking your computer and web browser for malicious trackers and extensions
Practicing a safer internet etiquette
These steps will ultimately save you from the potential risks you come across while using a p2p platform for file sharing.
How does peer-to-peer (P2P) file-sharing work?
We don't want to get too technical here. Instead, we will explain this in the simplest way possible.
P2P file sharing works because of a network of computers that are ready to share resources. Let's take the case of a video file that you want everyone to watch. Now, instead of hosting the file on a single server, you share it with a number of internet-connected devices. All these devices engage in a protocol that keeps the file shared with other internet-connected devices using the same protocol.
Using the said platform, anyone can download the video file into their computer. When they do, they would be downloading pieces of the file from many devices — consider tens, hundreds, or thousands of devices — and joining them together. The simple-looking p2p apps that you see have to do this job of locating the files and bringing them together so that you can watch the video as though you downloaded the full-sized file.
As you can guess, there are many advantages to this process. First of all, you don't have to rely on a single webserver to manage traffic data. Considering that the platform has many devices that are willing to share resources, the next user can enjoy blazing-fast download speeds. As we said earlier, this aspect of the p2p technology also works through the spirit of collective resources.
Therefore, to get the maximum out of the P2P platforms and technology, you need the right set of tools and a steady internet connection.
Are peer-to-peer file-sharing systems illegal?
No, peer-to-peer file-sharing systems are not illegal. In fact, they happen to be one of the safest ways to pass around information. However, the problem is that what you share through the file-sharing systems can alter people's viewpoint of the overall technology.
According to a CBS News poll, nearly 70 percent of 18- to 29-year-olds thought file-sharing was acceptable in some circumstances, and 58 percent of all Americans who followed the file-sharing issue considered it acceptable in at least some circumstances. (en.wikipedia.org)
The abovementioned statement points out that people have a changing attitude towards these file-sharing platforms as well. Just to make things clear here: if you share copyrighted content to the public via FTP or the more traditional forms of file sharing, the process remains illegal.
Similarly, the legality of peer-to-peer file sharing is dependent on what you choose to share. If you open the official website of BitTorrent, you can easily find legal content to download using the P2P apps and the platform.
So, there you have it.
The Bottom Line
Apparently, these are the best peer to peer file sharing programs and applications you can try today. As we said earlier, we have included only the working services here. That is because many of such applications got shut down during an attack from governments and anti-piracy initiative. We, however, believe that there is a non-piracy side to torrenting and that everyone should try to find that before starting to blame P2P for all the issues together. We hope this helps.