There may be multiple ways to direct-download and stream content nowadays, but peer-to-peer file sharing is still so important. There are thousands of people who share and access various types of content over the Internet, via P2P protocol. Even with the censorship and anti-piracy laws from governments, you can come across thousands of websites that curate content. it does not matter if you want to download some games or some latest movies, there are torrent-compilation websites for that.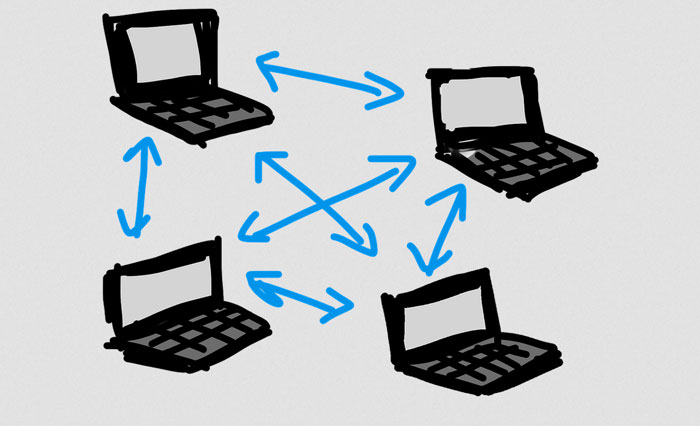 Nevertheless, you cannot go ahead and directly download a torrent file, you know. Instead, you should have a Peer to Peer file sharing programs in your computer. These programs have been designed to help you download content from peers by gathering information from the torrent file. Depending on the program you are using, there may be additional features as well. Most importantly, however, you have to choose P2P file sharing program that is safe, secure and privacy-friendly.
In this article, we will be listing some of the best peer to peer file sharing programs and applications you can try on your multiple devices. While features may vary, we have made sure that these programs do not pose any kind of security threat to you.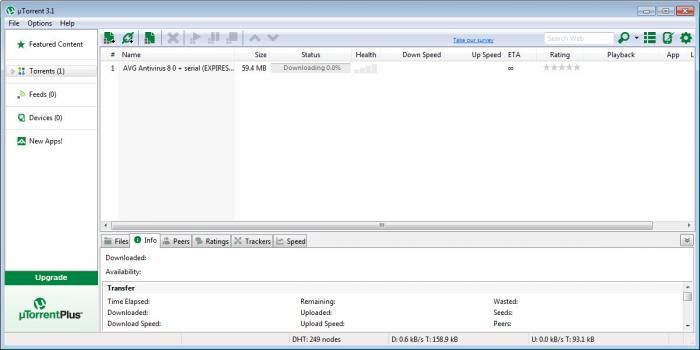 uTorrent has been the gold standard for downloading files via P2P protocol for quite some time. Compared to other tools for the same purpose, uTorrent is incredibly simple to use and does not confuse the user. Even if you are using torrents for the first time, you won't have trouble in using uTorrent. It should also be noted that the download speeds offered by uTorrent are just as awesome as what other applications are offering. uTorrent does all these without even eating up resources from your computer, to begin with. As though all these were not enough, you can also avail automation and remote-control features in uTorrent.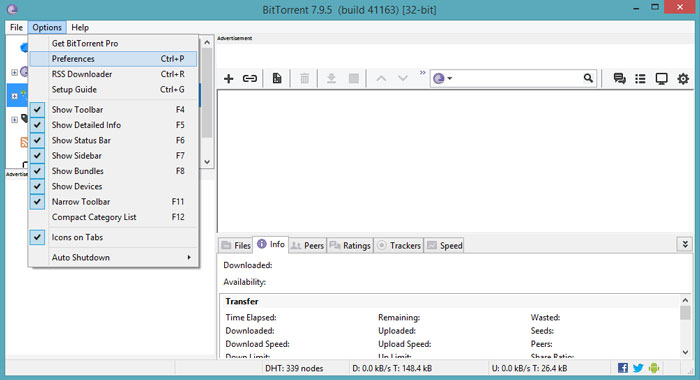 Another popular name in the world of torrenting, BitTorrent is something you can download for Windows, macOS and other platforms. The difference between BitTorrent and uTorrent is simple: BitTorrent is actually a freemium product and it's pretty heavy for beginners. You will find that the tool is taking up a lot of digital resources from your computer. But that is actually compensated with the download speeds as well as the amount of control you have over the torrenting process. There is also a bandwidth booster for better speed, while BitTorrent Remote allows remote-control torrenting as well.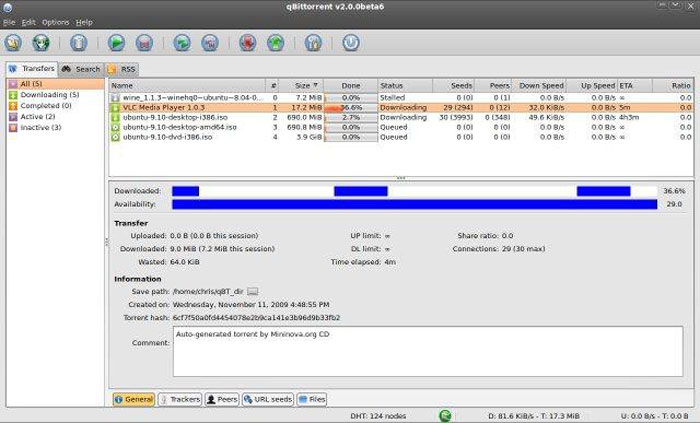 If you are looking at multi-platform peer to peer file sharing programs and applications, you should give the qBittorrent client a try. It's available for almost all major platforms and offers the best UI you can expect for the purpose. Because it's completely free, you don't have to worry about feature-based restrictions either. One of the best things about qBittorrent is that the whole program is in active development. You can expect more features and other overhauls in the course of time, you know. There are also security-oriented features like encryption support.
Are you a macOS user looking for a minimal yet powerful per to peer file sharing program? In that case, you should check out Transmission, which is completely free to use. Compared to other tools we've listed here, Transmission does not take up much resources or screen-space from your computer. It's also worth noting that the overall download performance of the tool is up to the mark.  Despite the consumption of very fewer resources, Transmission does not compromise features. First of all, Transmission offers the best speeds you can expect. As if that's not enough, you can also get encryption-related features on the go.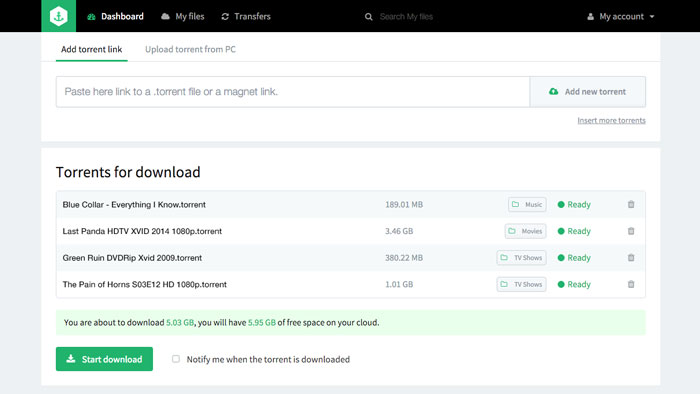 Bitport.io takes a new approach towards how you download and use torrenting files. Instead of downloading the torrent files to your computer, Bitport.io will transfer them to its own web servers. Thereafter, you can decide what to do with the files. There may be options to stream the content or download it directly to your desktop space. Bitport.io is actually a paid service but there is a limited free plan that you can check out. You will be able to download only one torrent per day, that too with a size limit of 1GB but the overall experience is just awesome. Together, Bitport.io offers the best.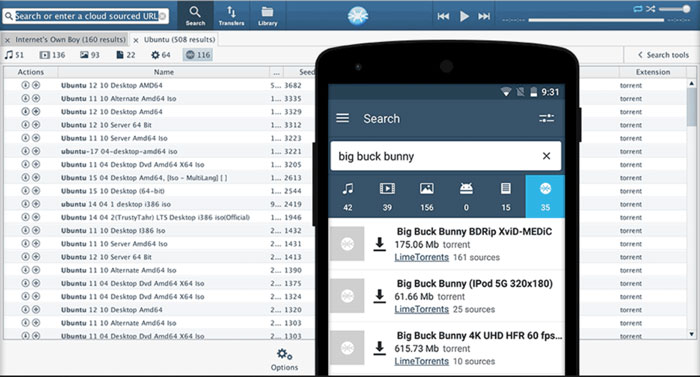 FrostWire is another great choice when you want to download torrents via peer-to-peer protocols. It's a fully functional program that is rich in terms of features. In addition to these, FrostWire makes sure that all your data is super-secure throughout the transmission process. It has been one of the most popular options for secure torrenting. In case you are wondering, yes, FrostWire is available for almost every digital platform in the world, including but not limited to macOS, Android, Windows and Linux. There are even some cool set of options like the one to preview while you're downloading.
There are times when P2P downloading speeds can get really slow, especially if your ISP is throttling it. The solution is a website like Seedr.cc, which will download the torrent file on your behalf and then allow you to download the actual file with full speed. Seedr.cc is also great when you cannot find many seeders for some particular torrent files. Because Seedr.cc is powered by super-fast servers and high-end internet connection, Seedr.cc can find seeders and copy the file in lightning fast speeds. That's something great. Here too, you're getting a limited plan but there are no restrictions on speeds.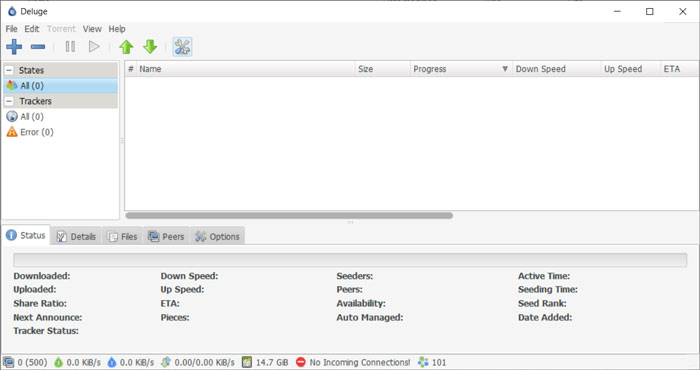 Deluge is a super-customizable torrent downloading client that you should try. We won't recommend it for those who are new into torrenting. However, if you are looking for some professional features on the way, this is the perfect shot. Despite having so many features, the UI of Deluge is super-simple. Because it's been powered by a plugin system, you can keep adding new features as modules. On the bright side, you will be having features only if you really need them, you know. Last but not the least, Deluge is cross-platform and free software.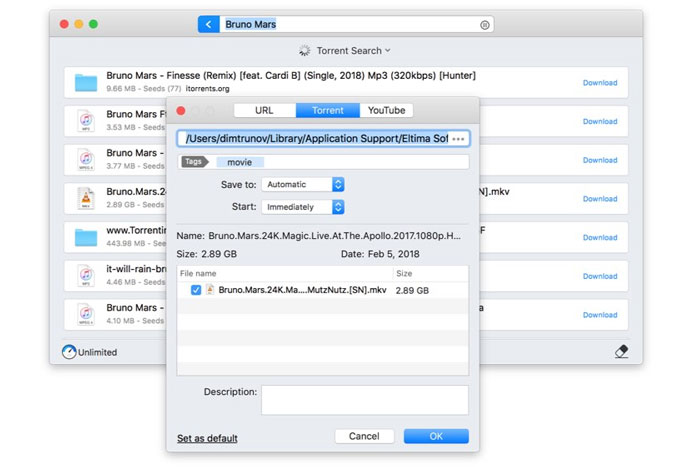 Folx is not a dedicated peer to peer file sharing program, though. It's a fully-fledged downloader utility that is available for multiple platforms. On the bright side, though, you can use Folx to download torrent in a very easy manner. Folx used to offer an integrated search engine that lets you find torrrents and other contents from the web, but that seems to be non-functional at this point. It is also worth noting that Folx can easily be integrated with other software such as your browser and other GUI utilities. The point is that you would have an easy job at getting things done.
Webtorrent.io is a web-based platform that allows you to stream torrents using your web browser itself. It's incredibly easy to use the web interface and the chances of you getting mis-navigated is very low. There are some limitations, though. You can use Webtorrent.io only if you are dealing with some streamable content. Other types of content may have trouble in getting processed in the first place. However, if you don't want the hassle of downloading and installing the program but just want to stream a movie, you should consider going for Webtorrent.io. It's free to use too, in case you are wondering.
The Bottom Line
Apparently, these are the best peer to peer file sharing programs and applications you can try today. As we said earlier, we have included only the working services here. That is because many of such applications got shut down during an attack from governments and anti-piracy initiative. We, however, believe that there is a non-piracy side to torrenting and that everyone should try to find that before starting to blame P2P for all the issues together. We hope this helps.