Thanks to the better, clearer, and powerful camera sensors on smartphones, scanning essential documents and sharing them digitally has become easier. You just have to point your smartphone towards the document and click the picture. Once this is done, you can share these images via email, Instant Messengers, and other platforms.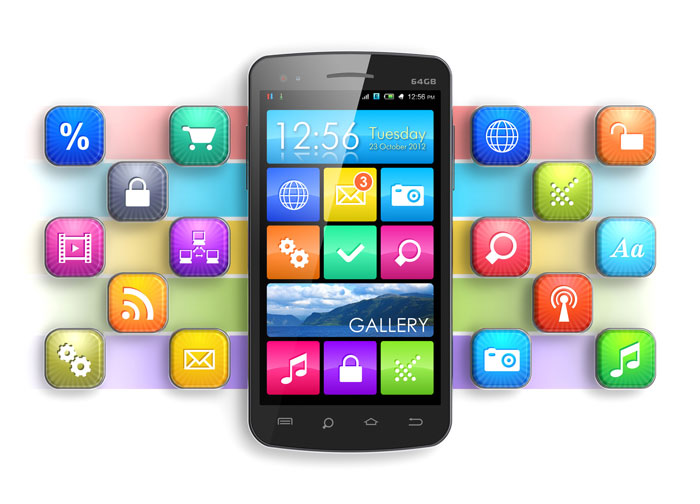 Why Document Scanner Apps for Android?
Nevertheless, you cannot just rely on your smartphone's stock camera app to do this job. Even if it captures documents in a good manner, you will have to make some minor edits, such as cropping and light correction. This is why you have to use some dedicated Android apps to scan documents from your mobile with ease. A lot of these apps use AI and ML to provide you the best user-experience of digitizing records.
In this article, we have listed 10 of the best Android apps you can use to scan documents from your mobile! We have included both free and paid products so that you can choose according to your needs. In almost all scenarios, you don't have to pay for merely scanning or sharing the photos. Instead, the extra charges come in when you want a better integration and advanced features.
Without further ado, we will get into the list.
Adobe Scan is currently your best choice when you want to capture documents and convert them to easy-to-share digital files. Because this product comes from Adobe, you have some definite advantages. First one, if you are willing to pay, you can get integrated options for PDF scanning, Optical Character Recognition, and document creation. Even when you don't pay for in-app purchases or subscriptions, Adobe Scan does its job.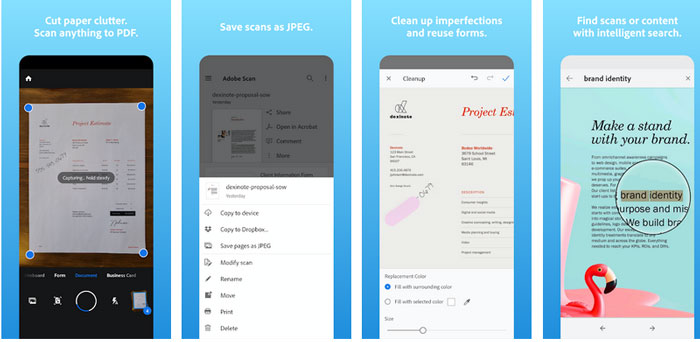 For instance, you don't need any subscription to capture documents and turn them into JPEG or PDF. We'd also loved that the app has different modes for different documents like full-sized documents, business cards, whiteboard, and form. While scanning a form, Adobe Scan can automatically recognize elements where you have to put your data. The app also provides a nifty amount of editing and correction features.
Altogether, Adobe Scan should be your first choice for straightforward document scanning and easy sharing options. As an added advantage, you can use powerful features like cloud access and OCR options if you already use Adobe ecosystem products.
Did you know that Microsoft develops some of the best Android apps you can get today? Well, it makes one of the document scanners you can get for Android. Microsoft Office Lens is an excellent choice if you want to scan documents and convert them into Word, PowerPoint, OneNote, OneDrive, and JPEG/PNG in addition to PDF documents.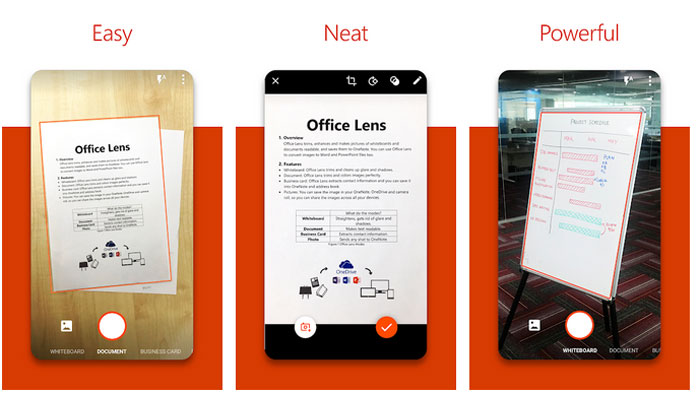 We believe that Office Lens is one of the neatest ways to scan documents. It can also recognize and zoom in on documents and whiteboards even before you hit the Capture button. Once you press the button, you get the scanned documents, as clear as the sky. There are some features like converting business cards to contact details on your phone.
At the same time, Microsoft Office Lens does not offer any form-based options. You also don't see any OCR options in the package. But, regardless of whether you use Microsoft Office products, you can use this neat document scanner without any doubt.
Here is an Android document scanner that offers an optimized way to digitize books. Easy book scanning is one of the best features in the package. Simply holding the device against an open book would make the job easier for you. Because of the optimized design, you can handle curved pages with ease. Once you have done scanning, you can create an eBook from the scanned content.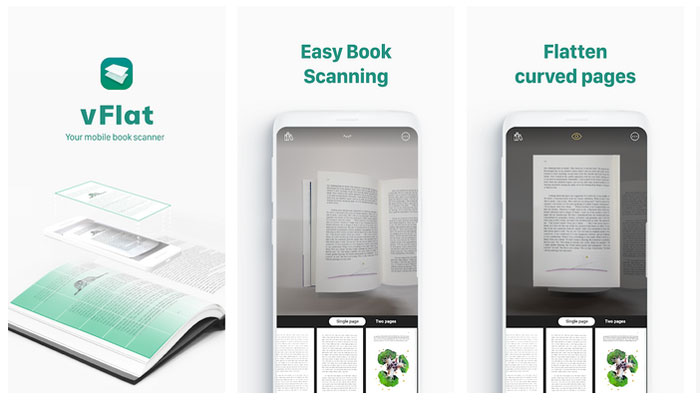 Compared to other apps on this list, vFlat is a new app, and the developers keep adding new features to the package. Because of this, you can get better text recognition and two-page scan mode as you move forward with this application. Here is something we can say for sure: scanning books using vFlat is hugely easier than when you use other apps.
Of course, vFlat offers some standard features like document scan mode and automatic page number detection. You can always get in touch with the developers if you want more features added to the app. In the end, if you are dealing with book scanning, you can count on this app.
Tiny Scanner is an all-in-one document scanner available for Android devices. This app comes with most of the features we have seen on the apps we mentioned before. For instance, you can use it to scan documents and business cards and turn them into PDFs and JPEGs with the same efficiency. More importantly, it comes with advanced sharing options that are handy.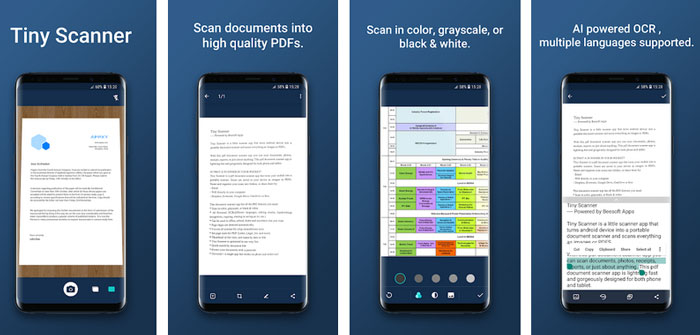 For instance, you can directly email the scanned document, send it to your computer over Wi-Fi or share it via services like Dropbox, Evernote, Google Drive, and OneDrive. Some of these features may be available in its subscription model only. For instance, if you want to use the AI-powered OCR with support for multiple languages and handwriting, you should make the in-app purchase.
While Tiny Scanner is a neat document scanner altogether, you have to pay for batch mode scanning and the ability to add signatures to the scanned documents. However, considering that its subscription plans cost as much as a good coffee, the premium option seems viable.
Here is a paid Android app for scanning documents from your mobile. There are a few reasons why we think this is one of the best investments you can make. By paying less than $6, you get some advanced set of scan and editing features. For instance, you can scan different elements and switch the layout as per your needs and convenience.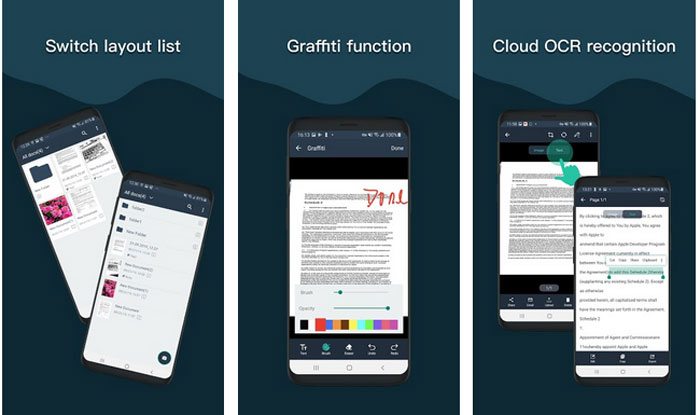 Once you have captured a document, Simple Scan Pro will move the JPG/PDF files to the cloud disk, and you can enable syncing between different devices. Of course, you can expect easier sharing options via Google Drive, Evernote, WhatsApp, etc. Some other useful functions include its support for email, print, tagging, and OCR.
We also hope you understand that the app comes with the standard features you need for scanning. You'd get password-protected documents, quick search options, multiple color options, automatic edge detection on pages, different image processing modes, etc.
Other Best Android Apps for Scanning Documents on Your Mobile
Above, we have listed some of the big guns when it comes to scanning documents. Now, we will take a look at some of the other apps you may want to check out. We don't cover them as detailed as we cover the first five options, but you may choose these for a different feature or a better UI.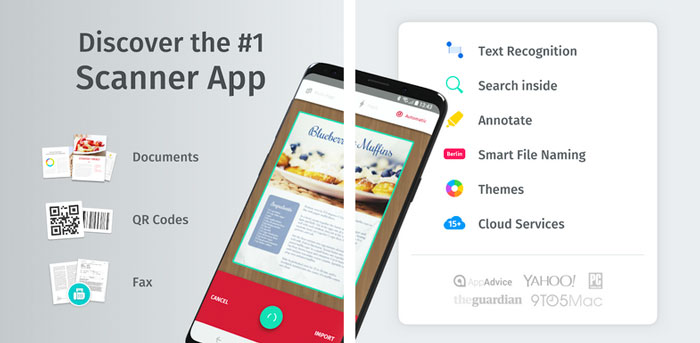 SwiftScan, previously known as ScanPro, is another app you should check out. It packs almost all the superb features you'd expect from a similar package, including PDF scanning, OCR support, and even QR options. It would also keep all your scanned documents secure on the cloud, just in case. You should choose this app if you are looking for advanced options like smart file naming, multiple themes, and in-depth search, etc. As it goes without saying, some of these features are available only in the premium version.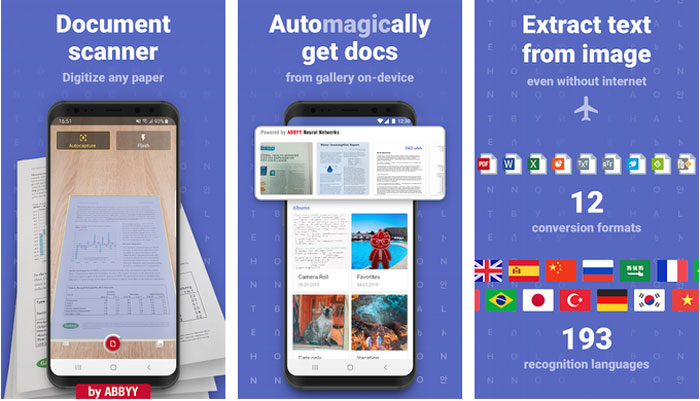 FineScanner AI comes from ABBYY, a developer active in the scanning and document software industry for decades now. As you can guess, the best possible feature in the package would be the OCR function. If you have to handle complex documents and extract text without failure, you may want to check out FineScanner AI without a doubt. Sure, while you get the basic features for free of cost, AI-based OCR is going to require a paid description.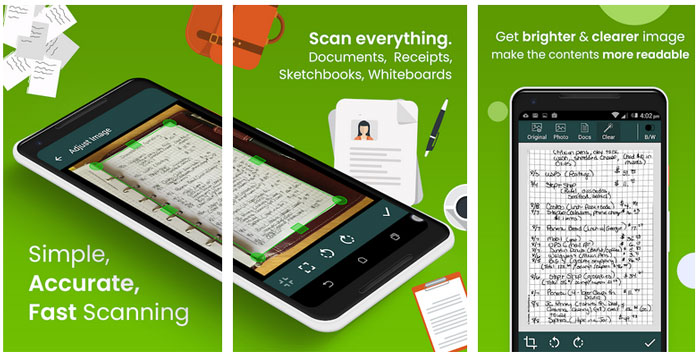 Clear Scan is one of the most widely installed document scanning apps for Android. Probably the best aspect of the app is that most of its features are free to use. You won't have to pay a single penny to efficiently scan documents, whiteboards, sketchbooks, and receipts. Thanks to the simple User Interface, mastering the app isn't rocket science, either. One problem here is that you may have to tolerate quite a few ads while using the app. At the same time, you have an option to pay for the in-app purchase as well.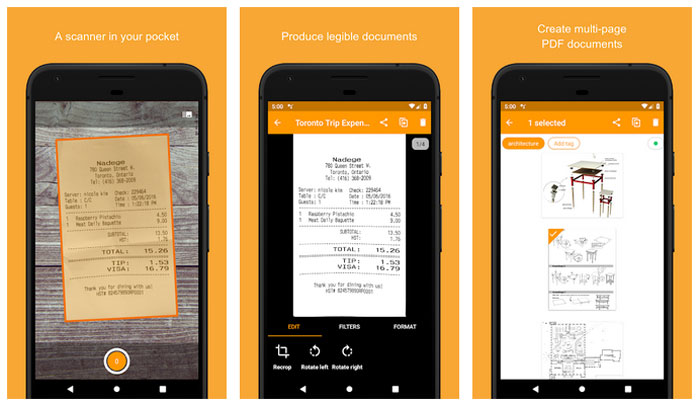 If you are not looking for many advanced features like OCR or advanced scanning, you should check out the Genius Scan app for Android. If you have looked for scanning apps on PC or Mac, you may have found the counterparts of these apps there. When it comes to the Android app, however, things are simple. There's an OCR feature, but you may not get the best results from there. Having said that, you can expect one of the best speeds while capturing and saving documents.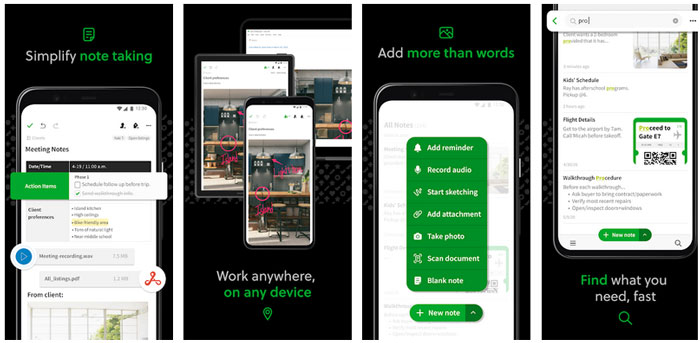 Now, we know that Evernote is not a dedicated document scanner for Android. Nevertheless, when it comes to apps that get the job done, we have to include Evernote. While you may have to pay for features like OCR and multi-device syncing, the basic Evernote app is more than enough to keep your clippings and business cards in an accessible place. In the end, if you ever want to upgrade, there are amazing plans for personal as well as business customers.
The Bottom Line
We sincerely believe you loved our list of the best Android apps for scanning documents, business cards, and other things you find on paper. As we mentioned, we have included these many options for the sake of diversity. As a user, you get to choose the UI and features you need, although Adobe Scan or Office Lens would be our go-to choice on any day.