No matter how many features come to smartphones, the significance of calling will always continue. The fact that you are here searching for the best dialer apps for Android proves it.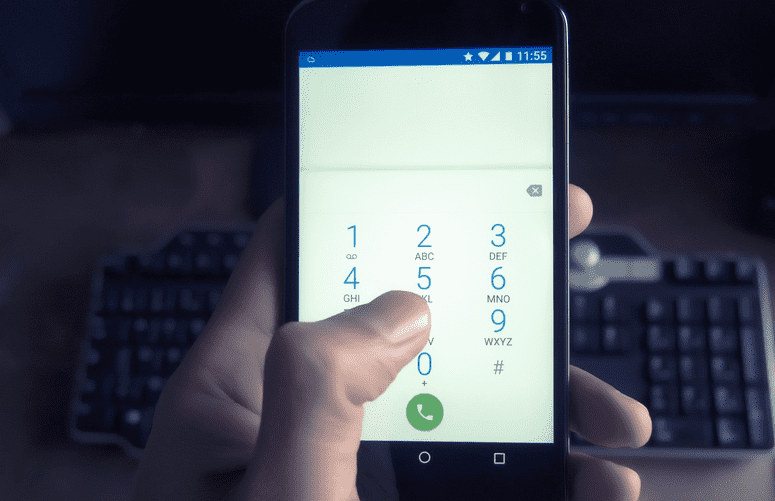 You may need some advanced features, or you may be fed up with the same old outlook of the stock app. Whatever the reason be, you are in luck. We will give you some hand-picked options.
Best Dialer Apps for Android Smartphones [Free]
We won't give you a single app. The features and appearance differ from each other. So, it's up to you (based on your requirements) whether to stick to an app.
Also Read:-
Phone by Google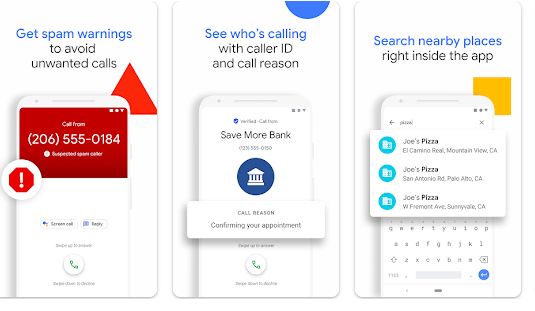 Coming from a reputed company, Google's Phone app is something to look at. On many phones, this app comes preloaded. Hence, you have to ensure it isn't available on your phone. With Google's caller id, it can identify unknown numbers. 
From the app itself, you can listen to or delete voice mails. The emergency feature helps you send your current location to your loved ones. Of course, there is spam blocking too. In some regions, you can record voice calls. The app is also available on Wear OS. 
Truecaller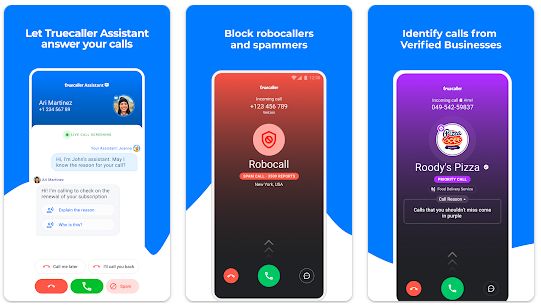 For many smartphone users, Truecaller needs no introduction. Began as a caller ID app, it has grown into a full-swing dialer with extra features like money transfer. Truecaller has the biggest database of numbers. So, you will never get a caller ID as accurate as this one.
That's exactly why we have placed this in our list of the best Android dialer apps. Yeah, you can identify spam calls and block them. They update the app every now and then. And chances are high for new features to sneak in.
drupe Phone Dialer & Contacts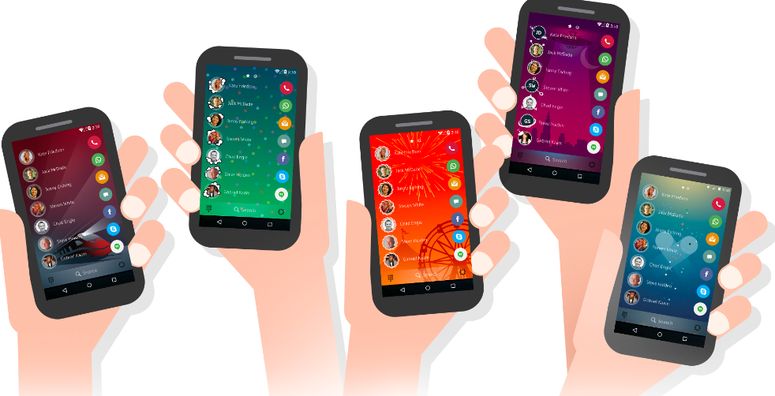 Do you want a refreshing look for your call screen? Look nowhere but on drupe. Akin to a typical dialer app, it does have a call-blocking facility. And, it can list all the messenger options (Telegram, WhatsApp and more) in a single place.
The intelligent missed call manager helps you set reminders to get back to the people who reached out to you. The app has a semi-transparent trigger button always available on the screen, which helps you open the dialer in a brisk. Moreover, the app comes with a few free themes so that you can always change the outlook.
Download drupe Phone Dialer & Contacts
Right Dialer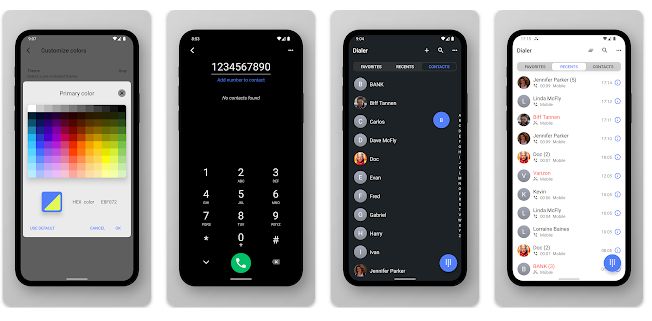 Next up in our list of best dialer apps for Android is Right Dialer. Have you ever wished to have a phone app just like on iOS? If you have, then Right Dialer is what you need. It follows the appearance of iOS 16. 
It's intuitive and follows a fast response. What we like the most is the absence of advertisements. Moreover, you can install it without spending a single buck. It's possible for you to customise the icons and the colour of the background text. A quick dial option is available to save you time. Not to mention, the call blocker is here as well.
Contacts+

Are you looking for an Android dialer app with features, which doesn't make your head whirl? Well, with more than ten million users around the globe, Contacts+ should be your pick. It packs in all the features a standard phone app should possess.
What we like the most is the duplicate contact finder. We tend to save the same number twice or thrice with different names. Contacts+ helps you find such contacts. Moreover, the merging option is really a magic wand to link two or more contacts (possibly with the same name and different numbers).
BIG Phone for Seniors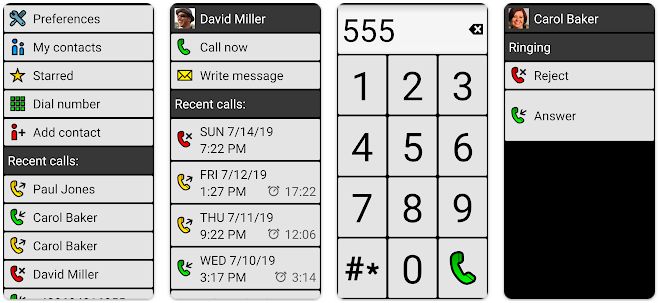 Though not the best in terms of features, BIG Phone deserves a place in this list due to the purpose it serves. Not every elderly person can work on the regular dialer apps because of the small font size. BIG Phone, as the name indicates makes it easy for elders to make a call.
The colours, font, and font size are chosen by the developers with elders in mind. However, their free version comes with a couple of limitations. You can't see more than five recent items on the call log. Plus, with the free app, it's impossible to open the dialer during an active phone call.
Download BIG Phone for Seniors
Simple Dialer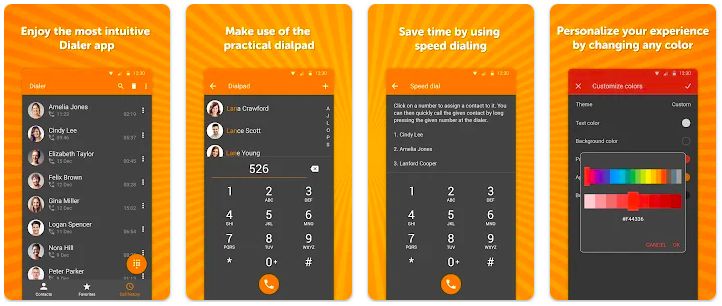 You want one of the best dialer apps for Android, but you expect it to be light. Can you relate? Well then, Simple Dialer is not going to disappoint you. With 4 MB in size, it does its job. The smart contact suggestions make it easy for you to find numbers.
The search function is available for call logs too. The blocker makes you the boss by giving you an option as to who can call you. The blocking facility is available for both saved and unsaved numbers. You can make any contact as your favourite so that it becomes seamless to call them.
True Phone Dialer & Contacts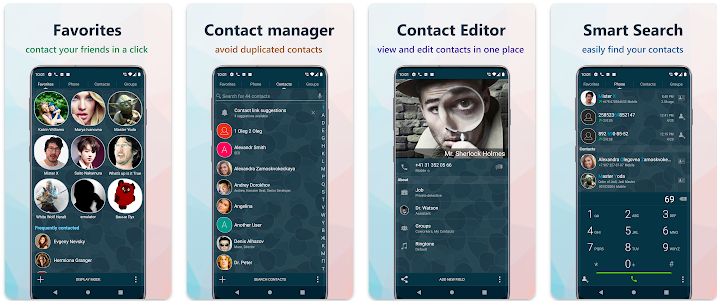 Are you a person who forgets your loved ones' birthdays? With True Phone on your device, it is not going to be the case anymore. True Phone has the option to add the contact's birthday.
On some stock apps, the contact photo size is too small to recognise. However, this app has a big contact photo to be displayed on the call screen. The built-in theme manager makes it an interesting app because you can change the appearance every now and then. Call recording is also available and you get a powerful contact manager as well.
Download True Phone Dialer & Contacts
Eyecon Caller ID & Spam Block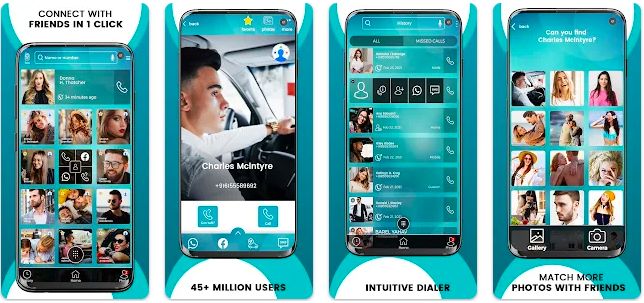 Here comes one of the most downloaded android dialer apps. With over fifty million downloads and a 4.4-star rating on Play Store, Eyecon is a worthy stock app contender to look for. The fullscreen caller ID makes it easy for you to tell who's calling even from a distance.
Needless to say, a call blocker is there. Plus, the design profile makes the contacts screen a visual gallery. The reverse lookup feature on the app gives you the Truecaller profile and thereby the social media handles of a number. The free version comes with apps. 
Download Eyecon Caller ID & Spam Block
ZenUI Dialer & Contacts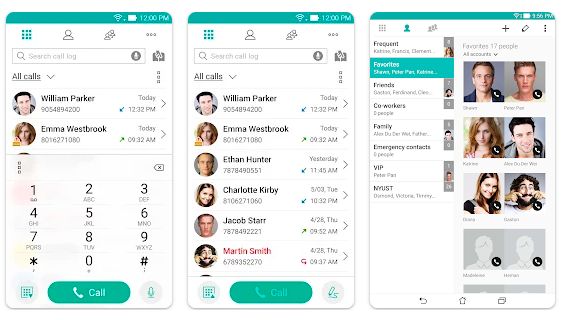 Let's get this off of our chest. ZenUI Dialer got its last update in 2019. If you want a decent dialer app with no extravagant features, you should get this one. Just check whether or not it's available for your device by clicking on the link given below.
Apart from the call-blocking feature and theme-supported phone book, what we like the most is password protection for contacts. Eight numbers are available as speed dials so that you can assign your frequency contacts to them.
Download ZenUI Dialer & Contacts
Clever Dialer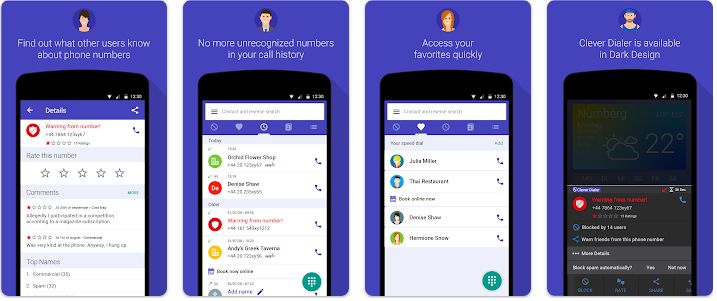 Next up in our list of best dialer apps for Android is Clever Dialer, which functions more as a call blocker than as a phone app. Yeah, the app has a dialer. Its vast database helps us with the real-time identification of unknown numbers.
Clever Dialer doesn't need an active internet connection to identify spam calls. Moreover, it has a reverse search option that you can use for free of costs. A unique feature is the review system for callers. Each review functions as a pointer to whitelist or blacklist the number on the database.
iCallScreen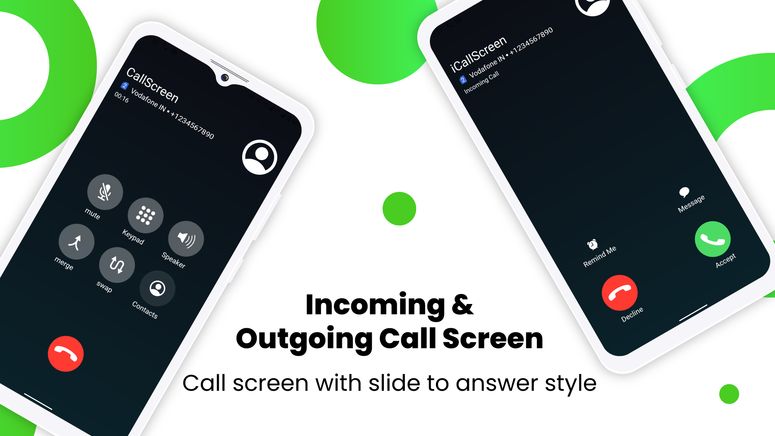 We have already given you an app to imitate the call screen of the iPhone. Let's give you one more if you don't want to go with the previous one. Named as iCallScreen, the app has got over ten million downloads.
Not just for its cool appearance, you can use it to block calls, merge calls, and add reminders. All the basic features are available. Plus, you get the look of iOS 14 or 15. Plus, the iOS ringtones are also present.
A Few More Best Android Dialer Apps
Frequently Asked Questions
What is a phone dialer?
It's an app you use to dial a number or choose a contact. On all the phones, there's a stock application. You can download similar but effective ones from the Play Store.
Does Google have a dialer app?
Of course, Google has one. Phone by Google comes with all the necessary features. You should try installing it.
How do I activate the dialer on my phone?
The first step is downloading a dialer app. Once you do that, go to Settings>> Apps & notifications>> Default app. Tap on the Phone app. You will see the dialer apps present on your device. Just choose the one you just downloaded.
Also Read:- WhatLeaks.com – The Best Tool to Test the Effectiveness of Your VPN
Final Verdict
What do you think? You have got fifteen best dialer apps for android smartphones. As we told you in the beginning, it all comes down to your requirements. Go through each and install a few. Once you land on one with all the features you want, stick to that and uninstall everything else. That's the way you should go.