While we know MP3 is the popular format, you may want to use MIDI sometimes. When you hear a tune and you want to interpret it with another instrument as a musician, Having the source file in MIDI helps. That's why you need the best MP3 to MIDI converters.

MP3 is a lossy audio format as opposed to MIDI. However, you can't just play MIDI in an audio player. It needs special software or configuration. The best thing about MIDI is the tiny file size.
Best MP3 to MIDI Converters
We have listed the best options here. You will find AmazingMIDI, BearAudio, and a lot more. The key lies in sticking with the software that has all the features you need.
Also Read:–
AmazingMIDI
AmazingMIDI is not the perfect tool you want, but it gets the job done. You can convert audio files into the MIDI format like a walk in the park. However, the software hasn't received updates for a long time. If you want an application with frequent updates, you may want to skip this one.
The software is available for Windows only. Apart from MP3, it can also convert WAV files into MIDI format. As an audiophile, we hope you know the difference between monophonic and polyphonic music. Guess what! AmazingMIDI can handle both.
BearAudio

Here comes the best MP3 to MIDI converter available online. Many people don't want to install software if the purpose is a one-time thing. Is MP3 to MIDI conversion such a process for you? Well, you should look into BearAudio.
Though it's available online for free, you can't do unlimited conversions. The best feature is its ability to capture audio files from a URL and convert them. Being an online tool, BearAudio doesn't require any installation. Moreover, you can use it on any device, irrespective of the operating system.
Widisoft Home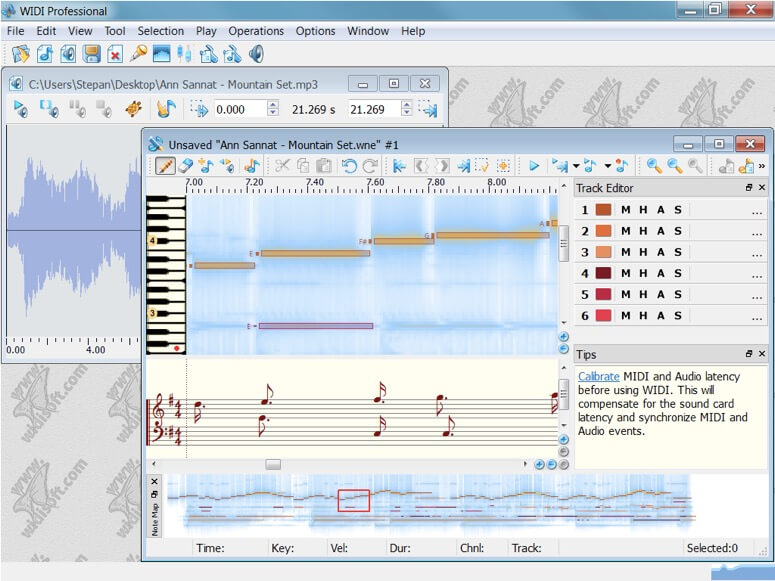 Widisoft supports both Windows and macOS. We all know MIDI has been around for quite some time. No wonder the Widisoft website feels ancient. Keeping that aside, you need a plugin to convert MP3 to MIDI. Before you jump in, let's get one thing off of our chest. It's a paid application.
You need both the software and the plugin bought separately. Don't want to do that? Well, in that case, you may have to look elsewhere. All the versions of the software have a trial edition. So, you can test the tool before making the purchase decision.
Audacity
With an outdated UI, Audacity still is our favourite digital audio workstation. It's available for free for Windows, Linux, and macOS. When you want the conversion option only, this tool may not come in handy. Being a workstation, Audacity offers a ton of features.
Of course, you can import an audio file and convert the same to MIDI. Setting that aside, you can do a lot more. Convert tracks from mono to stereo and vice versa, reduce noise from a recorded audio file, and name a task, it will do that. A beginner may take some time to master the options.
Basic Pitch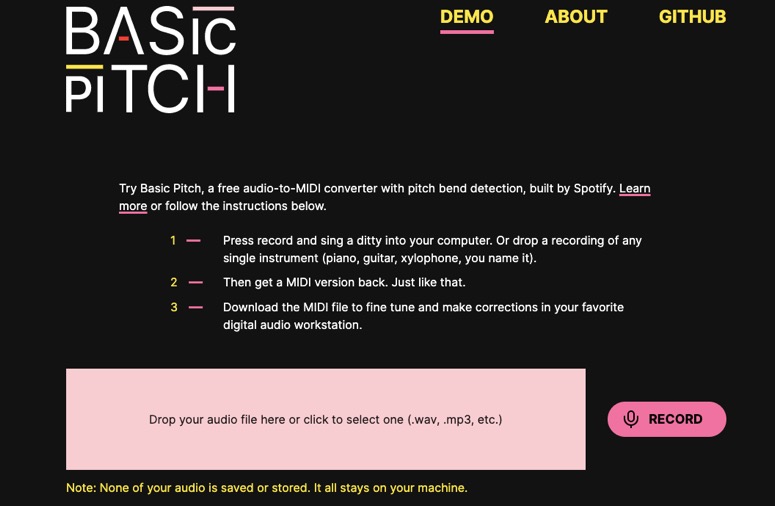 We are quite sure you haven't heard this name. Get ready to have a surprise! You know Spotify, don't you? They are the makers of Basic Pitch. Being an online tool, Basic Pitch doesn't urge you to go through a tedious installation. 
So, what should you do? First, visit the website. If you have an audio file, you can either drag and drop or select that. Wait, you can even record audio right there on the browser window itself. Once that gets out of the way, you will receive a MIDI file as the result.
AnyConv
The name says it all! AnyConv is a website with support for over a hundred file types. Not just audio, you can convert any type of file into any format. Given the broad support, you can't expect exposure to the MIDI format.
All you have to do is just uploading the file. After clicking the Convert button, you can download the MIDI version. Although they keep the uploaded files live on the server for an hour, no one else will get access to them. 
Evano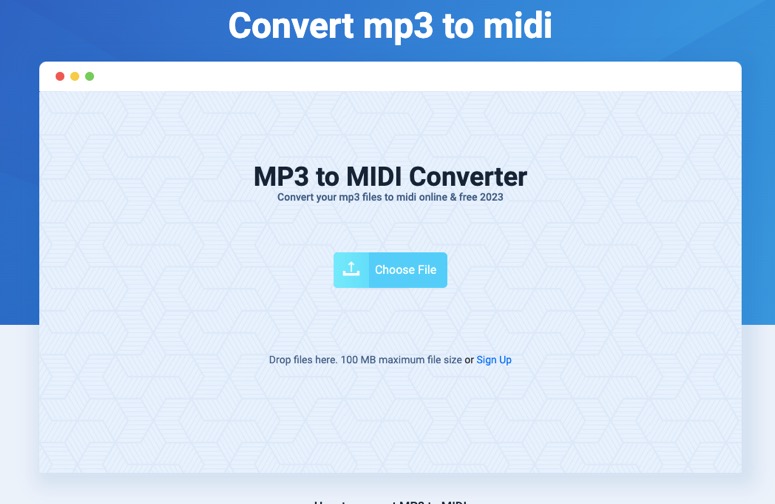 Evano is one of the best online MP3 to MIDI converters. As is the case with most free tools, you have a few limitations. The permitted daily conversions are 20 and you can't convert a file over 100 MB. Moreover, you will see advertisements as well.
If you become a paid subscriber, you will get a pass on these limitations. There are three premium plans you can opt for, of which Pro offers unlimited conversions. By becoming a subscriber, you will get access to other tools including an audio editor.
Conversion Tool
Just like AnyConv, Conversion Tool is a collection of utilities. When you visit the website, you will see a list of about fifty converters. You don't have to go through an installation procedure, and neither do you need a specific platform. Being an online converter, Conversion Tool doesn't come with any hassle.
You can upload the source file in three different ways; local file, URL, and file from a cloud storage service (OneDrive or Dropbox). The Conversion Tool doesn't support YouTube links.
Converter App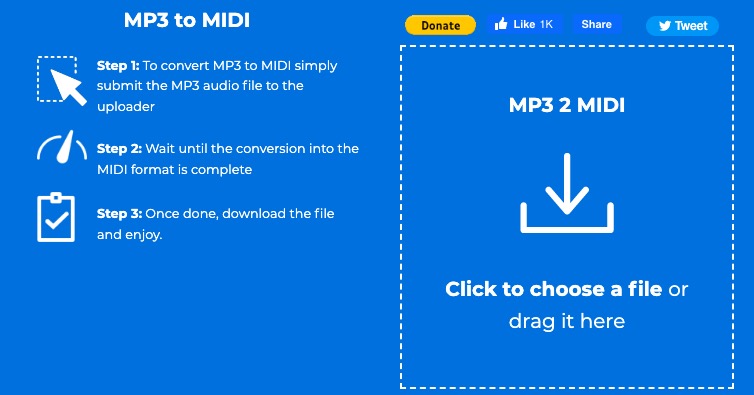 Are you not satisfied with the MIDI converters we have shared above? Well, Converter App may quench the thirst. They have many converters, not just file, but currency and units as well.
On the homepage, you will get a search field just to find the converter you are looking for. Akin to any online converter here, you can just browse the source file and hit convert to begin the process. 
Zamzar
Zamzar is a pioneer in the field of file conversion. The company has been doing the same thing for over 27 years. So, they know what they are doing. The interface is intuitive and doesn't feel like one that was built years ago.
You can upload an MP3 file from the computer, URL, or cloud storage service. Then, choose the output format as MIDI. As the final step, hit the Convert Now button. That's it. You don't get the editing option here, though.
Frequently Asked Questions
Do professional producers use MIDI files?
Yes, it's a lossless format. Moreover, even a MIDI file with a long duration doesn't weigh much in size. At the same time, it does include a lot of details. For the same reason, professional music producers use MIDI files.
How do I turn my voice into MIDI?
You can turn your voice into MIDI using any of the converters above. Just record your voice. Save the output file in WAV or MP3 format. Use a converter to convert the file to MIDI format. There you go!
Is MIDI better than digital audio?
Of course, MIDI is better than digital audio. As compared to a CD digital music, the size is around 200 times smaller. And, it contains more details too. 
Is MIDI better than MP3?
MIDI hands down! MP3 loses tons of details in compression. On the other hand, MIDI is a lossless format. However, it, most of the time, needs special software to be opened.
Conclusion
So, what do you think? You got the ten best MP3 to MIDI converters. Can you make the conversion now? For Android, we couldn't find a worthy contender. You may find a few on Play Store with minimum ratings. We don't think they are worth your time. If you happen to know of any other good tool, let us know about it.