Remember the time when learning the piano was such a tiresome task? To begin with, you needed to have a colossal piano and someone qualified enough to teach you. Well, thanks to the versatile keyboards you can find today, the first part has become more accessible. Nevertheless, you may not find many talented piano teachers in your area. Even if there are, the ongoing social situations are not ideal for in-person piano lessons. In the end, without proper analysis and feedback, piano lessons cannot be that effective.
If you are stuck in the same dilemma, you should check out Skoove, an online piano learning app. This app changes the way people think about learning piano — by introducing an effective, accurate, and impressive way to learn it. In this article, we have shared our review of Skoove Piano. We have reviewed this app from a beginner's perspective. You may have a different experience with the Skoove Piano app, but we are sure it will be better.
An Introduction to Skoove
Before we check out the Skoove Piano Android app, we should understand Skoove as a learning platform.
So, Skoove is an online piano learning app that allows you to learn piano and keyboard lessons with the utmost flexibility and accuracy. Instead of relying on individual teachers, the platform connects you to some of the world's best and most interactive piano lessons. The platform currently offers classes to more than 1 million users, including beginners and advanced players. We must also add that the platform has made it to the list of the top recommendations of many publications and piano experts.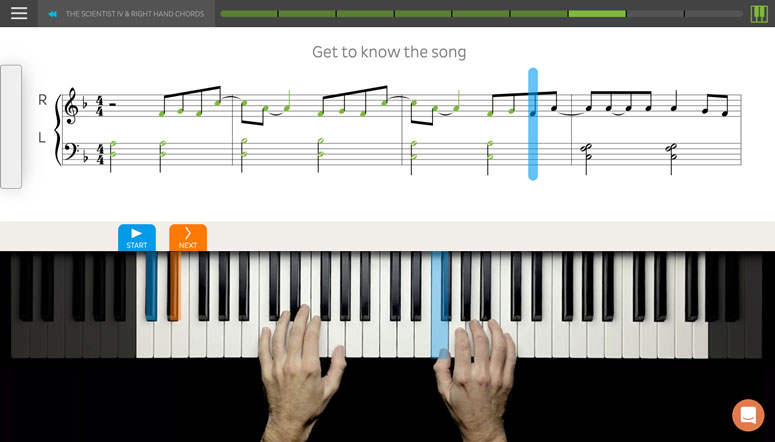 Skoove was founded back in 2014, and the company has since improved its learning platform. The team consists of piano enthusiasts, audio engineers, machine learning experts, and some dedicated artists.
As you can guess, Skoove has its dedicated applications available for PC, Mac, iPad, iPhone, and Android. So, even if you do not have a dedicated workstation, you can use Skoove Piano apps to master your piano or a keyboard. Furthermore, the interactive features on Skoove allow you to acquire these lessons regardless of the device you have at home. So, you can learn these things even if you do not have a piano! But, of course, you should better have one if you need long-term knowledge.
The Skoove Piano App
Not all of us may not have constant access to a PC, Mac, or iPad. Furthermore, it is difficult to accommodate an iPad or PC when you have a rather bulky piano or keyboard at your disposal. So, an Android app for smartphones is the best way to learn piano lessons from the Skoove Piano platform.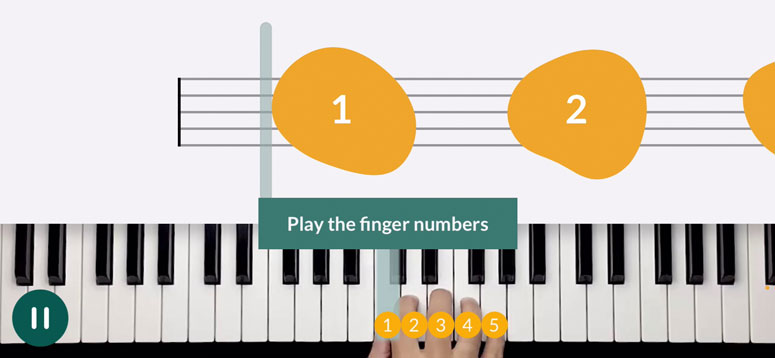 Fortunately, after some amount of wait, the company has released the Android version of Skoove. You can download this app from Google Play Store and enjoy the lessons from almost everywhere. Even though it is in the Beta version, the Skoove piano app works like magic.
We will share our experience of using the Skoove Piano platform via the Android app.
Getting Started with Skoove for Android
You can get started with the Skoove Piano app within a few seconds. As we said, you do not need an actual piano to get started. For instance, you can master the basics using the built-in piano software and then get a device of your own. There are a couple of things we loved about getting started with Skoove. These make a huge difference when compared to other piano learning apps we have seen.
Choice: Depending on your skill with keyboards and pianos, you can pick the lesson you want to get started with. You can find many lessons on the Dashboard page. Beginner: Basics, Beginner Theory: Sight Reading, and Piano Beginner are some options. We loved the extra flexibility of the app, as it paves the way for personalized learning.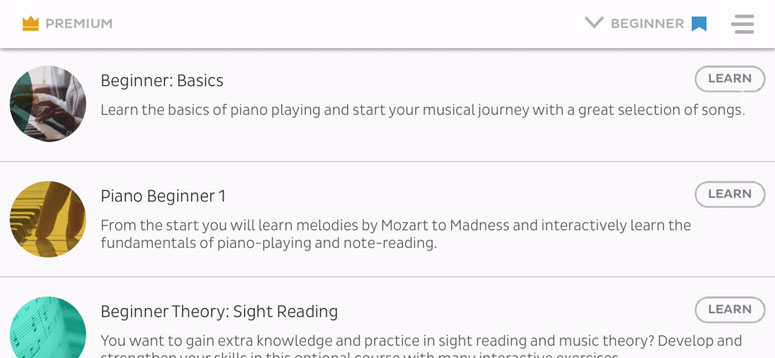 Incredible Collection: From Twinkle Twinkle Little Star to We Are the Champions by Queen, a superb variety of songs can be found in the Skoove Piano collection. The best part? You can customize how you learn these songs based on the experience you have. In addition, the platform keeps adding new tracks to its collection, which is further impressive.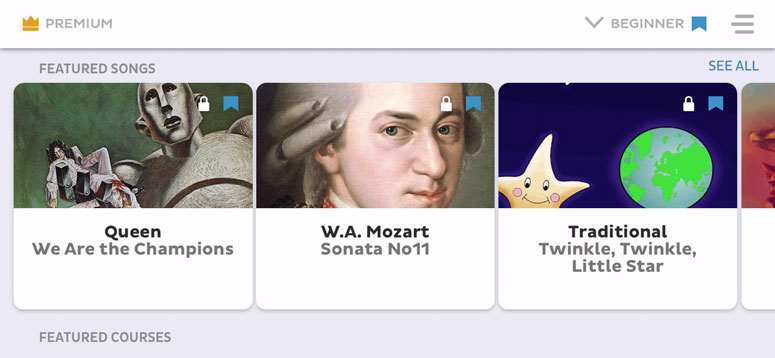 Accurate Feedback: One reason that distinguishes Skoove Piano from YouTube piano lessons is the presence of precise feedback. The app listens to the environment to capture each note you play and gives you feedback. As a result of this continuous feedback system, you will have more control over learning the piano or keyboard.
We also commend the valuable yet straightforward features in the package. For instance, the Hand videos on Skoove are an effective way to understand how you register each note. On the other hand, the Play by ear mode would make it easy to reproduce tunes by listening to them. It is excellent that Skoove gives equal importance to visual learning and muscle memory additions.
In short, getting the right start with the Skoove Piano app for Android is a piece of cake.
Some Other Features We Loved
Here are some other features we loved on the online piano learning app for Android.
Skoove Piano comes with an impressive collection of popular songs. You can find pieces by famous artists like Adele, Coldplay, Ed Sheeran, The Beatles, and John Legend. So, if you want to learn to play these songs, you can shift from the classic piano lessons.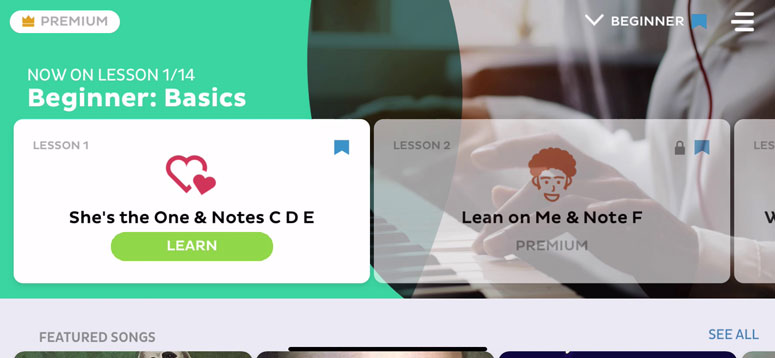 The app also uses Artificial Intelligence to ensure that you are playing the right notes. The interface consists of a moving score, which will highlight the notes you should play. If you want to take your lessons slowly, this feature is a huge help.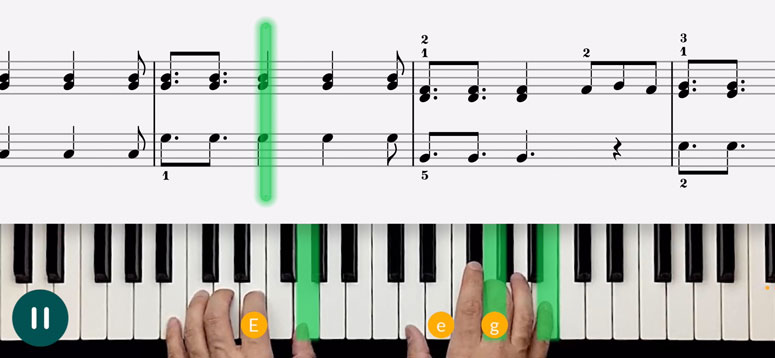 The premium version of the Skoove Piano app also offers support from Skoove music instructors. So, if you come across challenging notes or complex concepts, you can seek help from professionals who have spent a lot of time with pianos and keyboards.
Pricing
As of now, Skoove Piano for Android gives you access to most features for free. However, once the app gets out of the Beta stage, you have to choose between the Free and Premium versions. The Free version gives you up to 25 piano lessons and unlimited time. However, if you want monthly updated songs, special courses, and support from Skoove music instructors, you can get the Premium version for as low as $9.99 per month.
The Bottom Line
If financial and logistics have stopped you from learning the piano so far, you should check out Skoove Piano. It is an effective way to acquire incredible piano lessons without spending a fortune. The Android app becomes an interactive learning companion instead of showing you piano notes and videos. So, we recommend that you check out this app for assured results.