Some days ago, we had posted about the necessity of Antivirus software in your Android device and had concluded that Android devices actually don't need Antivirus if you are not installing Applications or downloading files from illegal and unofficial sources. But we're taking our word back because a large number of cyber-attacks have been reported around the world which extends to the world of Android devices as well. Even if you are not installing apps from non-play source, and visiting malicious sites, there is a chance for you to get caught by the criminal mind of cyber hackers and virus spreaders.
And another interesting fact I found is that at least a few smartphones are pretty costly on the market and there's a chance that your phone get stolen by terrify thieves who will further sell it after unlocking. Most of the antivirus apps available in Google Play market have features to protect you from those mentioned problems.  So, today we're giving you a list of top Antivirus applications for devices that run on Google Android. All these applications provide their superb security features completely for FREE despite the fact that some apps are having a Premium variant as well. So, let's get to the list quickly.
As you may know, BitDefender is one of the best antivirus software available for your Personal Computer. But when it comes to Google Play, BitDefender has grown a little bit and have published a number of Apps in play store such as Anti-Theft App, Parental Control, Safebox etc. along with Mobile Security and Antivirus. Quite naturally, then the antivirus application has to offer you more and they do. Like all other antivirus apps do, BitDefender has a good malware scanner which will help your device from getting caught by malicious stuff.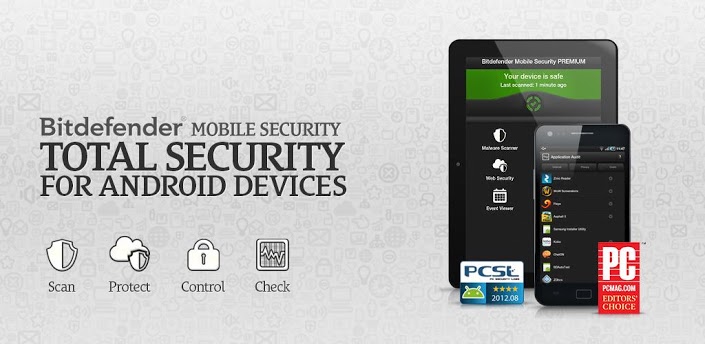 Even though there's a feature called Application Audit to lock specific apps from stealing your privacy the free version of Application lacks Web Security and Anti-Theft features. You will have to pay around $10 per year to enjoy this feature while the others are offering this for you. Still, we must say that the antivirus is apt to be in the top list.
Another giant from the PC World is here. Just like BitDefender, KasperSky has published a number of apps such as KasperSky Mobile Security Lite, KasperSky Mobile Security, Tablet Security, and Parental Control. But our desired one is KasperSky Mobile Security Lite which is available for FREE. As its name says the application is a lightweight version of KasperSky Mobile Security which usually comprises less features than the PRO version.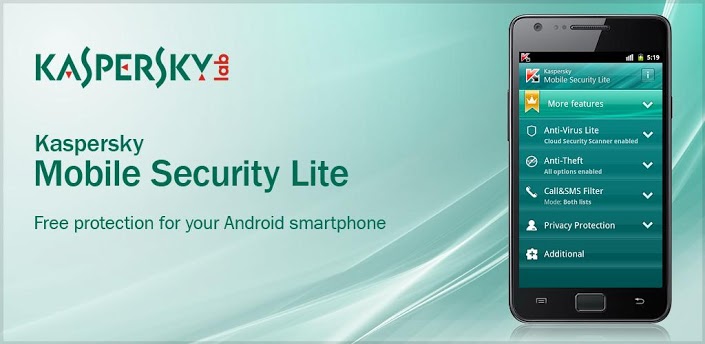 The lite version includes some standard antivirus features including Scanning, Anti-Theft, Call & SMS filtering etc. If you're purchasing the PRO version you'll get some cloud based scanning and privacy as additional features. Altogether, it won't suits to be the best Antivirus for Android, ever. But reports and reviews say that the app is quite pretty as a standard Antivirus.
You might be very familiar with the PC version of this antivirus software. Like the PC version, Android version also has become selected to the top list. As you can guess, the company has published both FREE and premium versions of Antivirus. AVG Antivirus serves much good as an Antivirus for your Android device and offers some other services as well as a truly effective device scanning. Let us go through some of those awesome features. The best I found is the capacity to find/locate your stolen android device with the help of Google Maps, which is pretty impressive.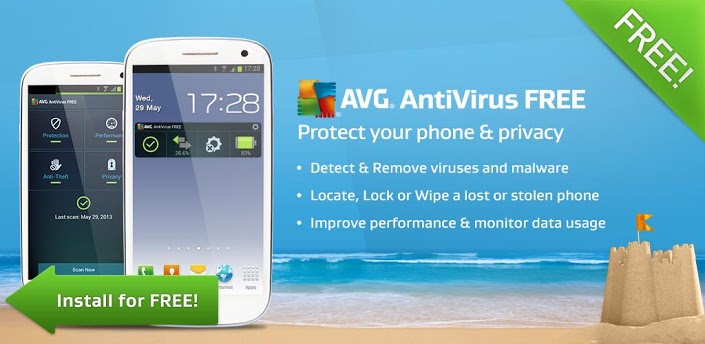 Some in-built monitor systems are included in the software so that you can monitor your battery usage, data usage etc. through a single tap. Through the latest update, the company has added the feature to Block Call and Text Messages from your device so that no one can misuse your device even at your absence. There's also a useful feature called Safe Web Surfing which will redirect you to a 'safe' page when you are about to visit a malicious URL. The support of various languages is also a noticeable feature in AVG Antivirus for Android.
Here comes my favorite antivirus, both for Android and Windows. Avast app you download from Google Play isn't just an antivirus but a true Mobile Security Application. Avast's security features constitutes a privacy scanner, Web shield for scanning URLs you visit through device, along with a strong USSD Blocker. If you are using a rooted android device, you'll be getting a firewall as well with Avast.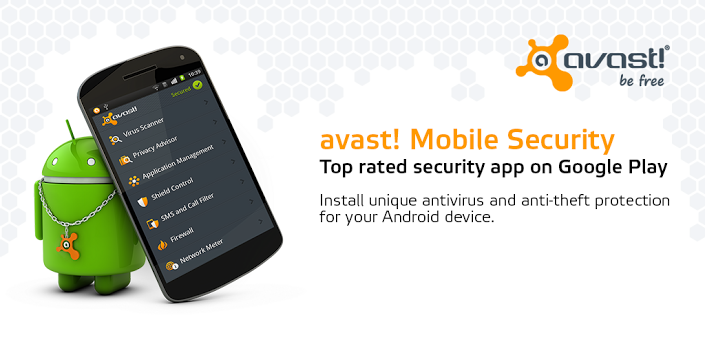 Along with these extra features, Avast keeps itself a good antivirus by including some standard features like Anti-Theft, Network meter to measure outgoing and incoming transfers, Sitecorrect to autocorrect misspelled URLs. We saw that all the apps mentioned above have a premium version with more features. But has no premium version which means you will get all good stuff from developers without paying any penny. As far as I know, Avast is one of the top Antivirus software used in Android devices.
Does this name seem familiar to you? No but once you have used this antivirus; you will be a fan of this. Proving that the name is apt, the application has both phases of Security and Antivirus (hope you know security isn't complete with just an antivirus) simultaneously. This application has some superb feature in it which will surely help us in daily life. It has a privacy protector, URL Blocker, Scheduled scanning etc. along with a feature to find your lost phone.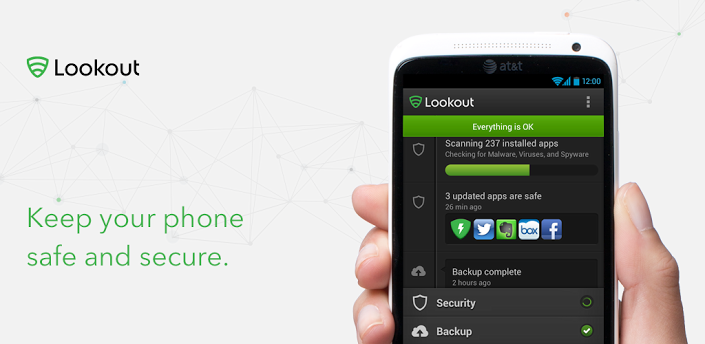 Find My Phone feature in Lookout seems very impressive. You can log into lookout.com and find where your lost phone is with the help of Google Maps. You are able to make your phone SCREAM even you/burglar have put a silent mode. When others used to charge fees, Lookout provides you backup and Restore features for completely FREE which means all your valuable documents and contacts will be preserved on Lookout's servers.
Finally here's one from the desktop antivirus giant, McAfee. The application comprises all standard features of an antivirus in it such as scanning, safe web surfing, remote data wiping, and device lock. A little special comes with is App protection, to evaluate your App's integrity and hence to protect your Device. Call blocker and SMS Filter features are also packed with McAfee Antivirus & Security for Android.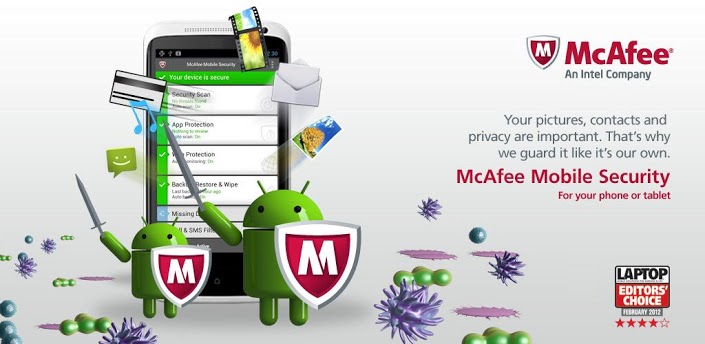 There are also some additional features called uninstall protection which will prevent thieves or other user from uninstalling an application from device.  The next addition comes with McAfee is a centralized portal for managing your security stuff. Even if you're not near to your smartphone, you can control your device even through SMSs.
Note: What we have done is having a look on top FREE antivirus apps in 2013. But still, there are some cool but FREE security based applications in Google Play which won't waste your time for checking. The list goes on with IKARUS Mobile Security, Webroot Security & Antivirus.
Conclusion
The list is currently over. But as you can guess, the list can get expanded according to your personal interests and preferences. But if you're totally unaware about antiviruses and the best among them, you can surely make use of this list. By the way, don't forget to mention your favorite Antivirus software for Android.