We do not have enough time. Society lives in a constant hurry, causing stress and numerous distractions, sometimes preventing us from completing the simplest tasks. What do you think about this? Do you also have problems with productivity?
Scheduling, deadline control, resource allocation and productivity apps are our biggest helpers. Only good task management saves us from deadlines.
Today we are going to introduce you to the 10 best apps for MacBook that have really helped our workflow and hopefully will help you too.
Many app developers believe that it is absolutely necessary to put an icon in the menu bar of their app to access it quickly, but sometimes it is completely useless and just takes up space in the menu bar. In this case, you can remove the icon through the settings. If you run a lot of apps and do not have enough space in the menu bar, as can be the case with notebooks with 11- or 13-inch screens, you can use a simple utility called Bartender.
The main function of Bartender is togather all the icons you need in one place, also it's allows you to move rarely used icons to submenus, and automatically launch the application. If you want to put away the Bartender icon, you can remove the Bartender from the menubar and open it with keyboard shortcuts.

iStat Menus is an application that allows you to monitor all the settings of your system.
What is it used for? For example, if a certain programme consumes most of the resources of CPU, the loading time of other apps will be affected. As a result, your Mac may run slower. With iStat Menus you can track down the culprit.
In addition, iStat Menus monitors your Mac's temperature, free and used RAM, hard disc activity, CPU, Internet connections and remaining free disc space. If you need to monitor specific information about your MacBook, you can always set up widgets and get comprehensive data on a specific topic.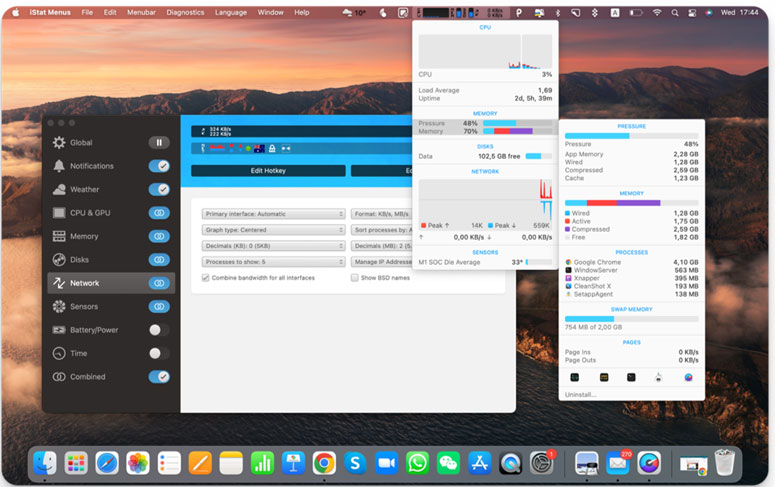 As a side note, the Sensors menu offers fan speed control, which is very useful in hot weather.
It's difficult to multitask and get the best performance out of your Mac if you do not know what the resources are used for, iStat Menus solves this problem.
iOS seems to have everything you need to take screenshots, but if you're still editing your screenshots using third-party apps, you might want to check out a more powerful Mac utility called CleanShot X.
Here are a few features it offers us:
Capture the area, full screen, or even a scrolling capture;
Self-timer that gives you 5 sec to catch the right moment;
Hide all desktop icons, files and folders;
Change the photo format to PNG or JPG;
Save and share screenshots in the Coud;
Record screen and create GIFs.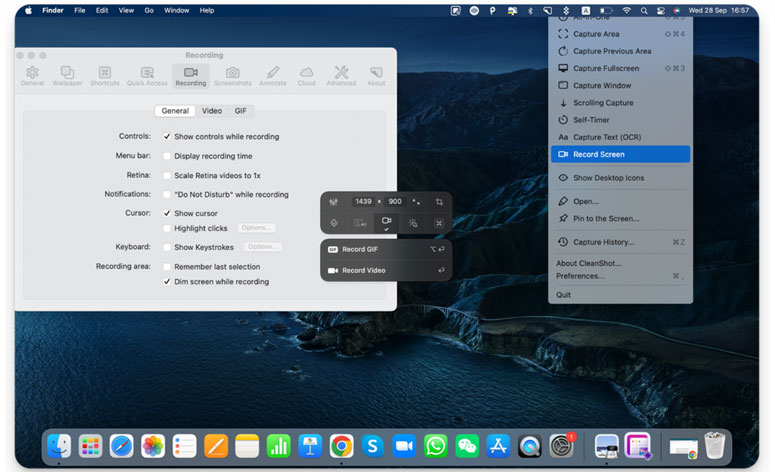 The built-in screenshot editor in CleanShot X allows you to edit the image with one click. You can crop the image, mark it with a line, arrow, rectangular or circular frame, add text, draw, pixelate, mark it with highlighted main information, use a button to create steps and markers. With Scrolling Capture, CleanShot X solves the problem of taking a screenshot of a long page. Just start Scrolling Capture, mark the area you want and slowly scroll the page.
Screen recording in CleanShot X has reached a new level. The application lets you overlay recorded audio with the computer's built-in microphone, create GIFs, and the FaceTime support function, during screen recording to give a comment on the video, is especially useful for bloggers who shoot screencasts. 
A program like CleanMyMac X is designed primarily to delete junk files, since finding and removing them manually can sometimes be problematic, and this negatively impacts your Mac's performance.
What exactly does CleanMyMac X do? It scans all files for their usefulness. Various browser caches or unused local packages go straight into the trash. And not only those. iTunes data and temporary program files are not useful either, they just take up space. CleanMyMac X extracts this and much more and shows the user what to do with the extracted garbage.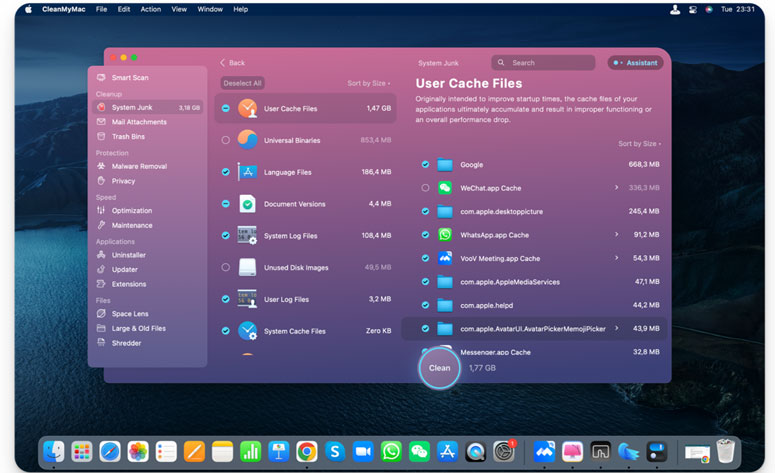 The amount of data that has been deleted is displayed after deletion. This way you can free entire gigabytes of garbage files that were previously dead and taking up valuable space.
Besides, CleanMyMac X lets you protect your computer from malware, completely remove unnecessary programs and, with the built-in shredder function, permanently remove files that need to be hidden.
The next, and no less important app is Paste. It is obvious from the name that it works with the clipboard. But what can be easier than Command (⌘)+C and Command (⌘)+V, then why do we need Paste?
Simple, Paste is a powerful clipboard history manager, which automatically saves everything you have copied and allows you to copy and paste several items, while by default Mac allows you to paste only once.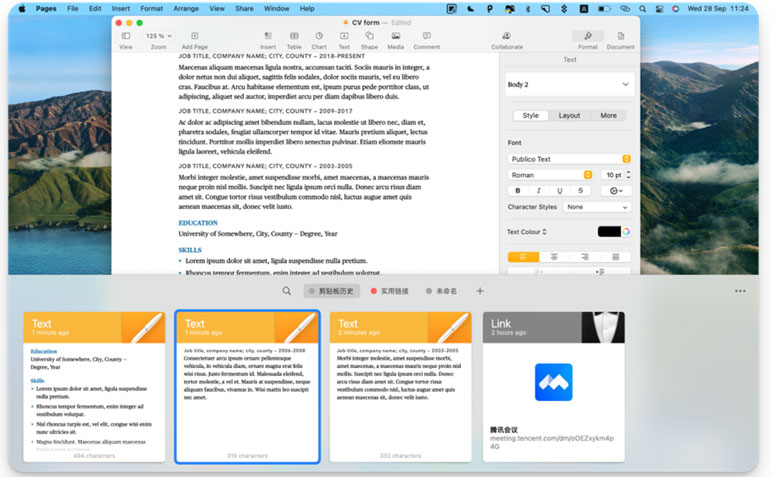 Paste also has an intelligent search function that will quickly find that snippet of information you lost a long time ago.
The MacBook has an excellent touchpad with flawless touch detection and multi-touch gestures. But unfortunately, despite these smart Mac aspects, there are times when it's not convenient for everyone. For example, opening the OSX Notification Center panel (with two fingers from the right edge of the trackpad) is great on a MacBook, but virtually impossible on the Magic Trackpad – because you can't just blindly swipe across the edge, and if you're not careful, the device itself will move.
BetterTouchTool solves this problem, and also allows you to configure other gestures that Apple engineers missed out on, because BetterTouchTool lets you set things up exactly the way you need them.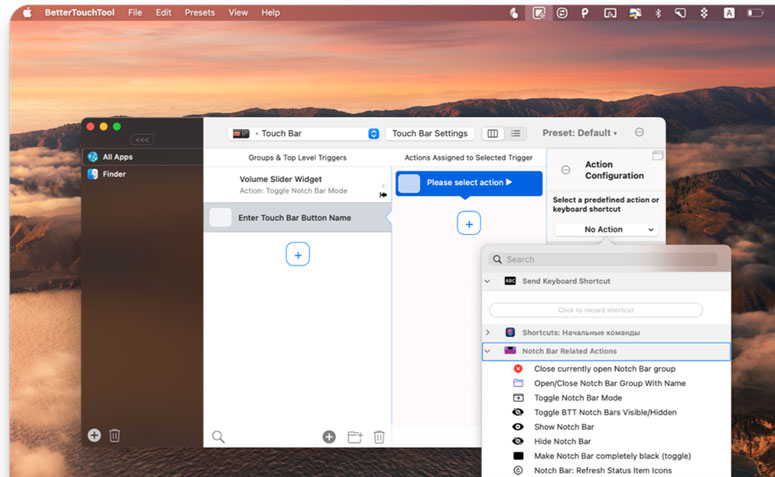 Some of the basic gestures we set up with BetterTouch Tool on our computers are:
Touching with index finger and then touching with middle finger without taking your index finger off – switching to the next Safari tab;
Middle finger swipe followed by touch with index finger without taking your middle finger off – switches to previous Safari tab;
Five-finger swipe down to close the current Safari tab;
Five-finger swipe up-opens new Safari tab;
Three-finger swipe to open link in new Safari window;
A two-finger swipe from the top edge of the trackpad to open the Notification Center.
Meeter is a simple but very necessary utility that, in an age when most people work remotely and using online conferencing services is an indispensable part of work and communication, allows users to easily join scheduled Zoom, Microsoft Teams or Google Meet meetings directly from the macOS menu bar.
Once you connect your calendar, all pending calls are captured and a button is provided to initiate the call. Meeter works with the built-in macOS Calendar, Google Calendar, and Microsoft Exchange, just plug in the right one and get started.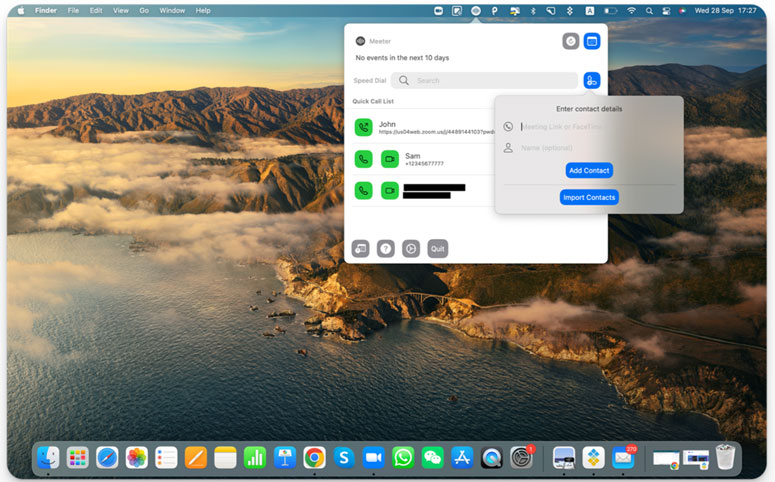 The app also lets you add personalized contacts and call them directly from the app. This feature is useful if you have frequent phone calls with certain colleagues. It saves you from having to dial their phone number or search for their contact information.
If you want to go beyond Apple Mail, but are concerned about the security of your data, you should definitely try Canary Mail. Developed specifically for iOS, the app can fully ensure the privacy of your personal information.
Canary Mail offers end-to-end encryption of your data, there is support for Gmail, iCloud, Office365, Yahoo, Exchange, IMAP and ProtonMail accounts, offers you the freedom to add any type of email account and keep track of it easily.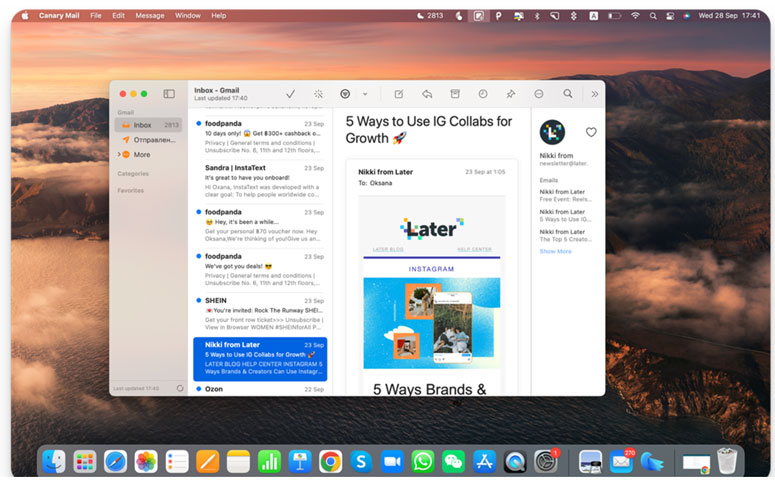 Features like read notifications, one-click unsubscribe, call deferrals, templates, contact profiles and a full calendar make it a safe choice for email management. It is, by rights, one of the best alternatives to Apple Mail for Mac.
One Switch lets you bring the settings you want on your Mac to the menubar, so you don't have to navigate through your system settings and waste valuable time. The main features of One Switch are quick Desktop Cleanup, dark theme on schedule, disabling going to sleep mode, do-not-disturb mode on schedule, fast connect to AirPods, show hidden files on macOS, change display resolution, etc.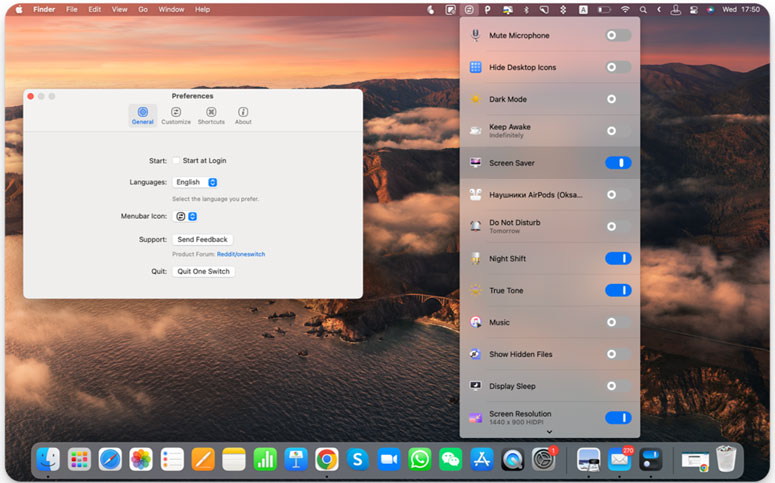 One Switch is a good assistant to improve the productivity of your workflow.
Our personal information needs to be protected in these volatile times of security and Internet censorship. Let's not deny the fact that our Mac knows everything about us and is intuitively connected to all other gadgets. Together with a VPN, you can securely protect all of your personal data, while at the same time bypassing any restrictions from your ISP.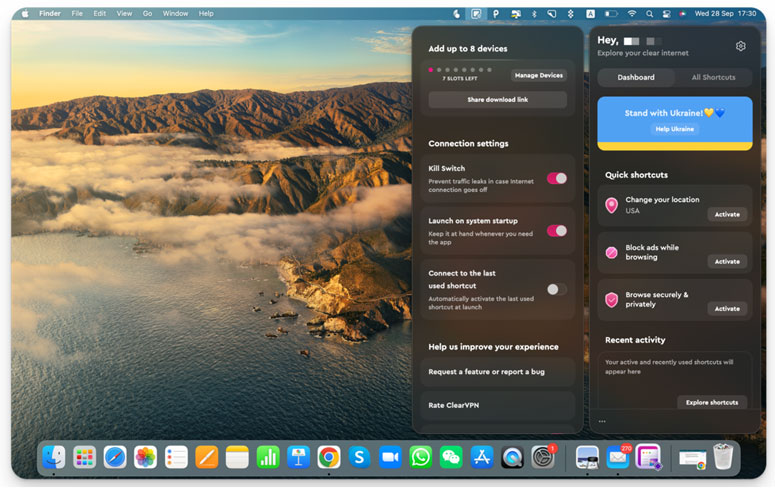 Clear VPN for iOS is our choice because it encrypts data, uses DynamicFlow to provide users convenient access to the most popular fast solutions, including geo-blocking bypass, social media access, improved online gaming, ad blocking while browsing, and more. In addition to IPSec IKEV2 and OpenVPN, ClearVPN uses its own protocol to provide high data security and high-speed connection. Keeping your data confidential is very important in today's reality.
Verdict
Obviously, not all of the apps we use are listed here, so there may be a second part.  In the workplace, however, these apps are the most important software tools that allow us to multitask and improve productivity. You can download all of these apps from the developers' websites or use Setapp to try them out for 7 days absolutely free.
Setapp also has other tools for managing tasks. And if you have your own tools that you think should be installed on every computer, write them in the comments. We are sure that it will be very useful for those who are new to the macOS world.