Almost a decade back, most people had an Android smartphone that struggled to play full HD videos. Judging by that standard, it's fantastic that you can now edit Ultra HD 4K video from the comfort of your smartphone screen. Of course, thanks to the customization and control developers can afford on Android; the platform offers a richer collection of video editing apps.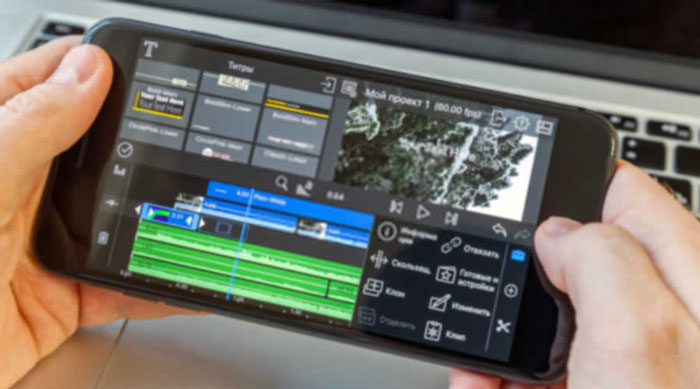 Sometimes, however, the number is so big that you'd have a tough time choosing the right one. While we can't find the 'perfect' video editing app for Android, we can always point you in the right direction. And that is what we have done in this article. We have listed the 10 best video editing apps for Android that you can check out today.
Without further ado, we will check out the list. We have tried our best to make this list a diverse collection of video editing apps. That is, you can find video editors for making bite-sized videos for Instagram Reels and fully-fledged video editing apps that can help you make lengthier clips while adding effects, transitions, and other bells and whistles.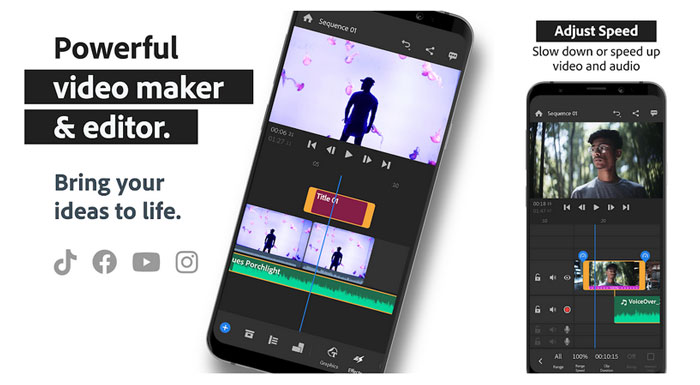 Adobe Premiere Rush is your best shot at editing videos on an Android device. In case you do not know, Adobe Premiere has been the go-to video editor for most professionals. With this Android app, Adobe has tried its best to squeeze in the best parts of that video editor into a small package. Because the app ships with a Pro camera module, you can shoot, edit, and share videos from the same app. There are also options for speed adjustment, combining clips, and a fantastic collection of soundtracks. Once you have completed the edits, you can export/upload the video as well. The catch? Many of its features are premium-only.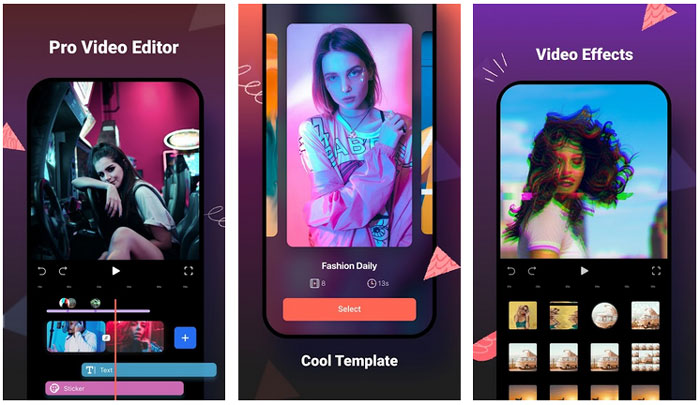 If you think Adobe Premiere Rush is too complicated, you should check out FilmoraGo. FilmoraGo comes from a developer called Wondershare, which has built an easy-to-use video editor for the past years. FilmoraGo is its optimized take on Android video editing. Like its desktop counterpart, FilmoraGo comes with an optimized design and enhanced performance. Therefore, even if you have an underpowered Android smartphone, you won't have trouble handling full HD video editing. Spread in sections like Music, Effects, and Share, the video editing app comes with everything you need for professional video editing on the go.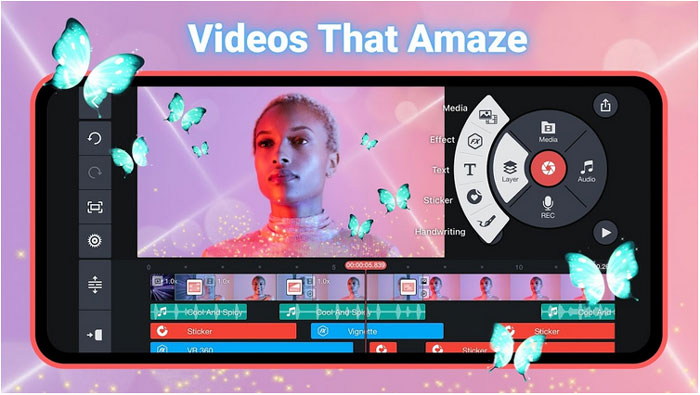 KineMaster is another popular Android app for video editing. Just like FilmoraGo, KineMaster is exclusive to Android, and you have the corresponding benefits. For instance, the app comes with some advanced options, such as color adjustment tools, blending modes, voice-over support, keyframe animation, EQ presets, and a detailed collection of audio editing tools. Once you are done, you can export your videos at 4K UHD quality as well. One of the premium features in this package is the KineMaster Asset Store, which provides a well-curated collection of music, fonts, stock footage, transitions, etc.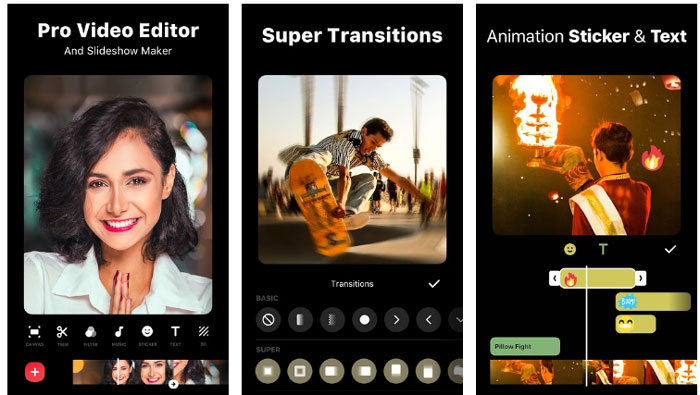 While the other apps we have mentioned above focus on video editing alone, InShot brings together the best worlds of video and photo editing. It is also worth noting that the program does not consume many resources from your Android device. Therefore, unless you are dealing with UHD 4K footage, you won't have trouble exploring the various effects and transitions. While it keeps almost all the significant features intact, we did love some of them a little more. For instance, you can even extract music from video, which is a handy feature while creating some unique content.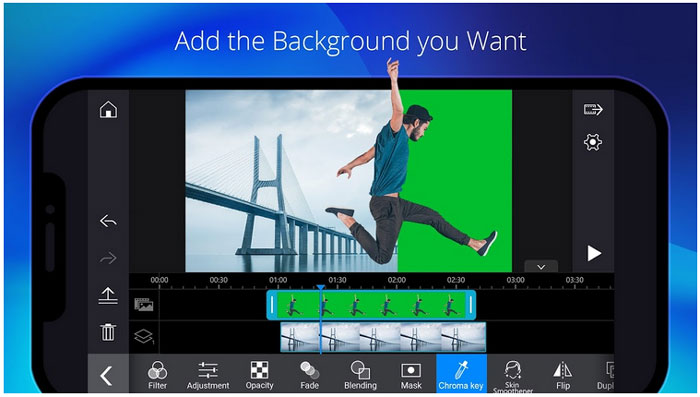 Just like Adobe Premiere Pro, PowerDirector is a premium application for editing and creating videos. This is, however, focusing on the easiness part of video creation, though. So, you may want to try the PowerDirector app for Android if you are looking for the best control and a friendly User Interface. Given that you can pay for upgrades, this video editor would give you options like 4K video support, chroma-key options, blending modes, voice-changer, and video stabilizer. All these features come in handy when you want to perfect one of your videos for the best audiences.
Read More:
Quik is a free video editing app for Android and iOS from GoPro. Despite coming from the company behind the action-camera lineup, Quik has been designed to be used by everyone. Regardless of your experience in the video editing domain, you can use Quik to create crispy videos in no time. Unlike the other apps we've mentioned here, Quik has been designed to give you the best output in the shortest time possible. So, you can follow the steps shown on the screen, choose a theme, make a few customizations, and boom! You will have an excellent video ready to be uploaded. Of course, there are built-in sharing options in the package.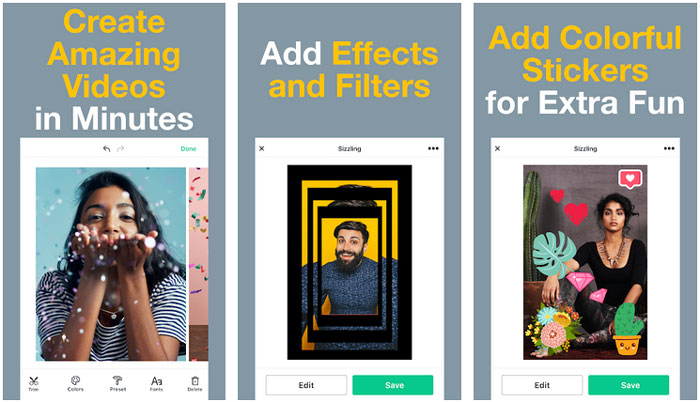 Magisto is another Android video editor that is recommended alongside the Quik app from GoPro. Whereas the Quik app has focused almost completely on creating in fewer steps, Magisto brings you more room for customization. You will be able to add effects and filters as you please, and there is a regularly updated collection of stickers and customizable elements. So that you know, Magisto is owned by Vimeo, a popular video-sharing platform. If you are willing to pay a monthly subscription, the Magisto editor can get you a set of advanced editing features.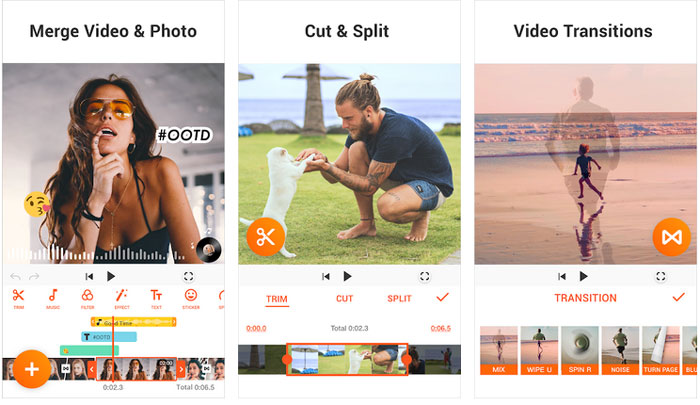 YouCut comes from InShot Inc, one of whose apps were mentioned above. However, when compared to the fully-fledged version, YouCut has been optimized for low-length movies and clips. It also happens to be one of the completely free video editors in town. You don't have to worry about watermarks or ads when you'd like to focus on video creation. At the same time, you cannot go that advanced with the YouCut app. Indeed, you can merge, cut, split, and add transitions between videos. You can also take the best input from a royalty-free music collection.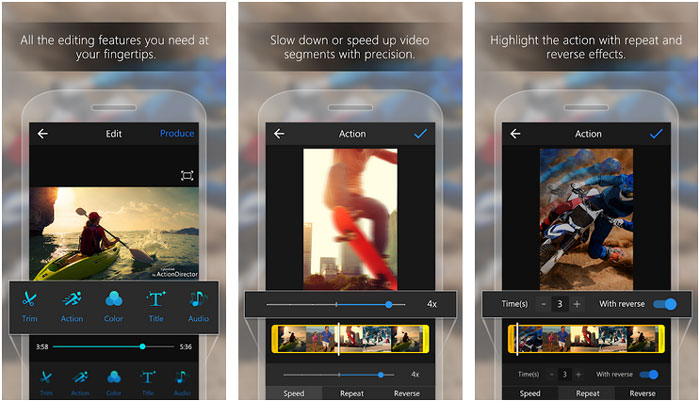 Do you capture action-based clips on your Android smartphone? Do you want to edit them in the best ways possible? In that case, you should check out the ActionDirector app from Cyberlink Corp. Because it has been designed for a specific use, you can enjoy some extra features and optimized performance. You should also note that the app comes with a built-in camera. Therefore, even if your device has a subpar native camera app, you can ensure the best quality videos on the way. In addition to the standard video editing features that we have seen before, a few action movie effects are included in this package.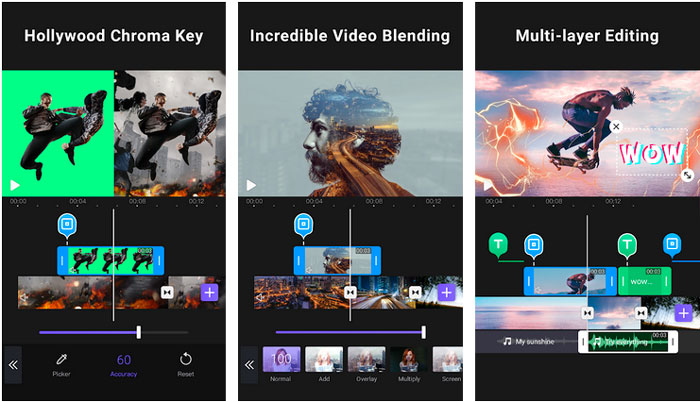 The last one on the list is a video editor called VivaCut. While it's as popular as any of the other video editors we have mentioned, this app claims to be a PRO editor. The VivaCut app brings several key features that we see on desktop editors only. For instance, you can use a Hollywood-style Chroma key and an advanced form of video blending. Combined with multi-layer editing and the support for multiple sources, it takes only a few minutes for VivaCut to produce the best video in town. You can expect the best-in-class results if you have a powerful smartphone with a bigger screen, by the way.
The Bottom Line
These are your ten best options when it comes to creating neat, impressive, and worth-publishing videos on your Android smartphone. We should mention that many features on these apps are paid. However, suppose you can narrow things down to the best options and get a corresponding subscription plan. In that case, nothing should stand in the way between you and the best YouTube/Instagram video.