We already seen the way to disable and completely uninstall the Windows 8 Defender antivirus from your computer. The ultimate aim of that tutorial was to use any other antivirus program that can protect your computer at an optimum level. In this article, we discussed the 2013 anti-malware software and internet security, the latest and finest creations from Bitdefender. This is the best time that you switch your antivirus program and select the antivirus software from Bitdefender. If you previously used some programs like Kaspersky, Avira, Net Protector then you don't need to explain how to use antivirus. And I guaranty that you will be happy with the security and online protection provided by Bitdefender. This program is very similar to a bodyguard of your computer and all online activities. We will see the easiest way to secure your computer.
Bitdefender launched the Internet security and Antivirus product line for 2013. You can experience the version by going and downloading from the official website.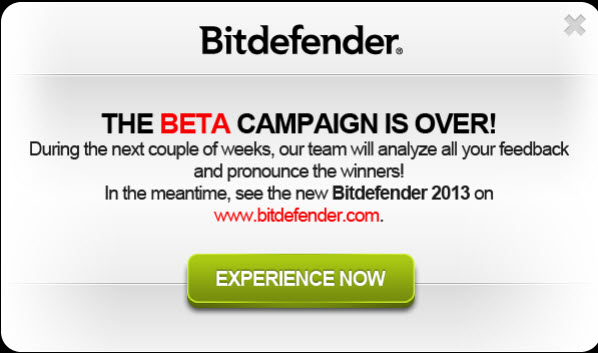 How Bitdefender can protect your computer from viruses and malware, online security holes etc,
Why you should go with Bitdefender Internet security:
1) Block Phishing scam and give best online security:
The Bitdefender Internet Security or Total Security 2013 has the ability to block phishing websites and online scams. The technical team updating the information of new online scams daily and you can feel yourself safer than any other antivirus while doing online activities. Your all credit card information will be safe and you cannot open that websites which collect your credit card information and finally leads to misuse. Usually these types of websites will be block by the Bitdefender.
2) Better help and support:
They have the 24/7 live online support. You can ask your question to Technical, sales and business department anytime online from the website across globe. You can expect your resolution within few minutes. Even the fact that you rarely require to take any help from them as the installation procedure is very simple then are offering the professional email help service about same.
3) Live Bootable CD:
Sometimes virus or even the users delete the most important system files by mistake. In that case the windows crashed and your computer can not start normally anymore, and you don't have any choice other than formatting your computer and get back our operating system files. For such a situation Bitdefender already provided the Bootable CD from which you can boot your computer can fix your system, remove viruses and get back to your OS files that are accidently deleted.
4) Game Mode:
The game mode provides you to play the games without any interruption. Other antivirus usually disables their protection to run the games smoothly but the Bitdefender manage to do security and performance simultaneously. Game mode disables all notifications and run the security modules in the background. Take decision without asking the users. This mode runs under the least memory and CPU use so that you can play your game as smoothly as possible.
5) Parent control:
This mode provides the control of your computer activity with some passwords. In this way you can avoid to the access of adult, gambling or any non useful websites and applications with the help of password. This will help you to keep your students away from the things
6) Two way firewall:
Firewall protects your computer from internet attacks and any types of unauthorized access to your computer. It has two way firewall, and that will prevent the remote access to your computer any way. Also it includes the Wi-Fi scanner and protector, it continuously monitors your Wi-Fi traffic and you can find who is using your network.
7) Best Memory and CPU management:
You all know that many antivirus programs slow down your computer. The main reason behind that is the software uses CPU and memory resources from your computer. The result is that your computer slow down its process and sometime may be hanging. But the Bitdefender has the best Memory and CPU management feature that insure you about no resources uses while deep scans.
8) Cheapest price than any other antivirus:
Many times Bitdefender running many types of sale likes summer sale, in which you can grab your license at very low cost than any other antivirus program available. Also the nominal cost for one license is 50$ for one user.
Apart from this there are many reasons that you should go with the Bitdefender Internet security program and Total security.