Discord has come a long way from its initial days of having been labelled as the gamers' messenger. So, can you stream Netflix on Discord? Or is it just a myth?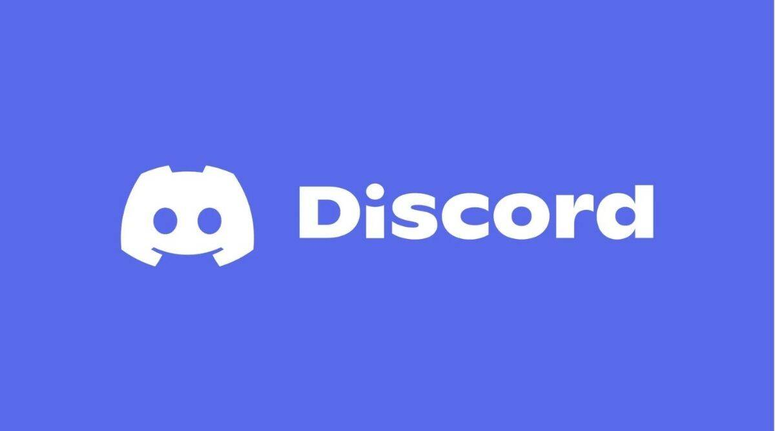 Well, you can't stream Netflix on mobile with Discord. Android and iOS versions of the app don't offer such a feature. However, you can do the same on PC and that's exactly what we are going to check out today.
How to Stream Netflix on Discord with No Black Screen?
It's impossible to explain the method in a single sentence. You need to download the official app on your PC. Once you do that, follow the steps given below.
Also Read:-
Download Official Discord App
Though we can use Discord on the computer via the web version, it's not going to work here. You need to install the official app. Click here to download the setup file. Don't forget to begin the installation and sign in using the credentials or the QR code.
Open Netflix
Now, you should open Netflix on your browser of choice. Log into your account and browse a movie or a TV series episode to get it ready. After setting up Discord, you will have to return to this page to play the video. For the time being, minimize the browser window.
Setup Process to Stream Netflix on Discord
We are going to explain this session in different steps so that you will have no trouble following it.
Step 1: Open Discord and go to Settings. You can locate the Settings icon on the left-top portion of the screen (where you see your username).

Step 2: To stream Netflix on Discord, you have to go to the Activity Status from the left sidebar.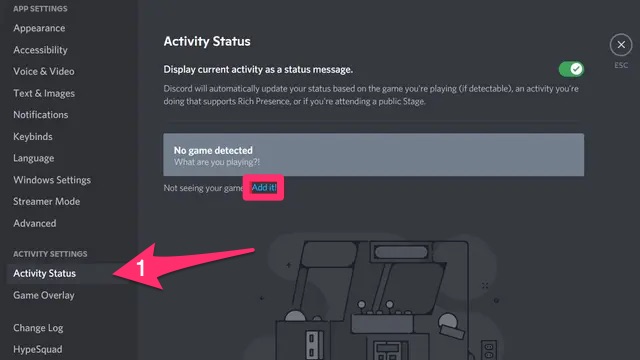 Step 3: Have a look at the main content area. Right next to Not seeing your game?, you get an Add it! button. Click on it.
Step 4: What you see now is the list of apps running on your computer. Here your selection should be the browser in which you opened Netflix. Then, opt for Add Game.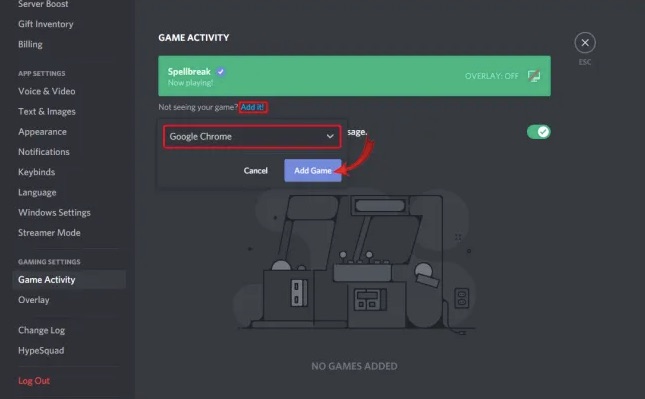 Step 5: Go to the server where you want to stream Netflix on Discord. And, click on the stream button.
Step 6: You can also choose a voice channel. When you do that, don't forget to hit the Share screen and then select the browser.

Step 7: You have to select the resolution. Provided you don't have a Discord Nitro subscription, the maximum resolution you can go with is 720p at 30 frames per second.
Step 8: After choosing the server and the streaming quality, hit the Go Live button.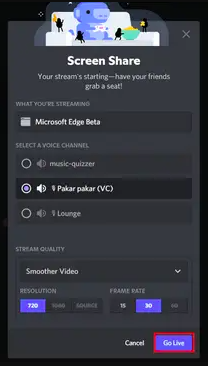 There you go! The members can now tap or click on the Live tag to see the watch party. When you want to stop the stream, you should press End call.

Isn't that easy? For a regular Discord user, the steps given above aren't going to be a threat. However, the real issue for many people is the black screen.
Black Screen with Netflix on Discord; How to Fix?
Are you getting Netflix black screen on Discord? The real culprit may be hardware acceleration on your browser. So, we are going to disable that feature.
Disable Hardware Acceleration on Google Chrome

Open Google Chrome and press the More button (three dots). Click on Settings.
You will see many options on the left sidebar. Locate System and go with it.
Make sure the "Use hardware acceleration when available" toggle is off.
Don't hesitate to restart the browser to see the change in action.
Turn off Hardware Acceleration on Microsoft Edge

Akin to the first step on Chrome, you need to open Settings here as well.
The steps are almost similar to Chrome. Follow System>> Use hardware acceleration when available. Disable the option.
Restart Edge.
Deactivate Hardware Acceleration on Mozilla Firefox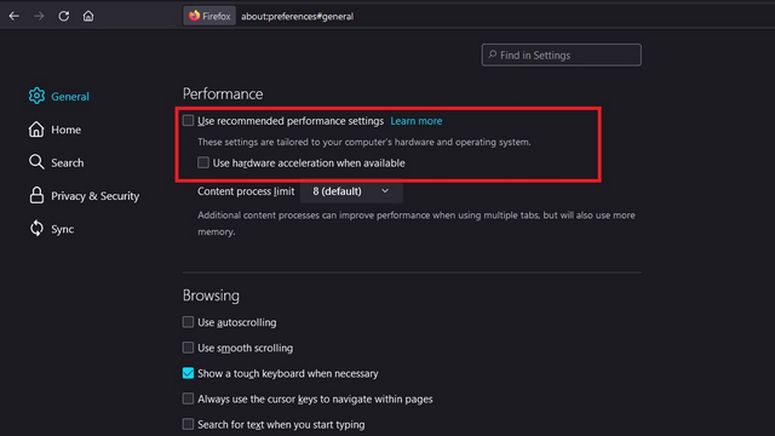 Open Firefox and choose Settings after clicking on the More button.
Go to General>> Performance. Make sure you have turned off the "Use recommended performance settings" checkbox.
One more step is there. Untick the Use hardware acceleration when available option.
Close and open Firefox.
That's it! Once you disable hardware acceleration on your browser, the black screen issue will disappear from Netflix on Discord.
Oopsie! Are you still getting the black screen problem? Well, you can try doing a few more fixes.
Run Discord App as an Administrator
The fix is quite simple. Just right-click on the app icon and choose Run as administrator from the menu.
Close All the Running Discord Processes
Press Ctrl+ Shift+ Esc. Or you can right-click on the taskbar and choose Task Manager.
You can see all the running processes there. Right-click on those which are related to Discord and press End task.
Now, restart Discord. Start streaming from Netflix using the method given above.
Update Your Discord App
An outdated piece of software can create a ruckus. So, we are going to check whether or not any updates are available for Discord.
Open the app and press Ctrl+ R. It will check for updates by itself. Or, you can right-click on the Discord icon on the taskbar. From the menu that appears, opt for Check for updates.
Stream in Windowed Mode
When you stream Netflix on Discord in full display mode, a black screen issue may appear. So, you should do it in windowed mode. For that, press CTRL+ SHIFT+ F simultaneously.
Frequently Asked Questions
Can you Stream Netflix on Discord mobile?
We have already answered this question at the beginning of this article. Discord mobile app doesn't have this feature as of now. So, the answer is a big NO.
Is it legal to stream Netflix on Discord?
Netflix's terms and conditions clearly mention it is illegal to stream the content of Netflix anywhere else. That means what you are trying to do is not legal. We are not preaching to practice this illicit procedure. The article is created only for learning purposes. And, avoid going this route if possible.
How to stream Netflix on Discord with sound?
The streaming method is the same. You have to install the Discord app and then open Netflix from a browser. Then, follow Settings>> Activity status>> Add it. In any case, if you hear no sounds, run the Discord app as an administrator. The issue should go away.
Also Read:- Roku Keeps Freezing and Restarting (How to Fix)
Caution:- We are not endorsing the illegal streaming of Netflix content to any other platform. Use this article as learning material.
Conclusion
You know how to stream Netflix on Discord now, don't you? We have shared with you a few solutions to evade the black screen issue as well. A small percentage of users reported having experienced audio issues. If you are one of them, you must run the app as an administrator. That's it.