It's tedious to do the same task over and over again, isn't it? That's where the importance of the best macro recorders kicks in. Once you record a macro, you won't have to repeat the task.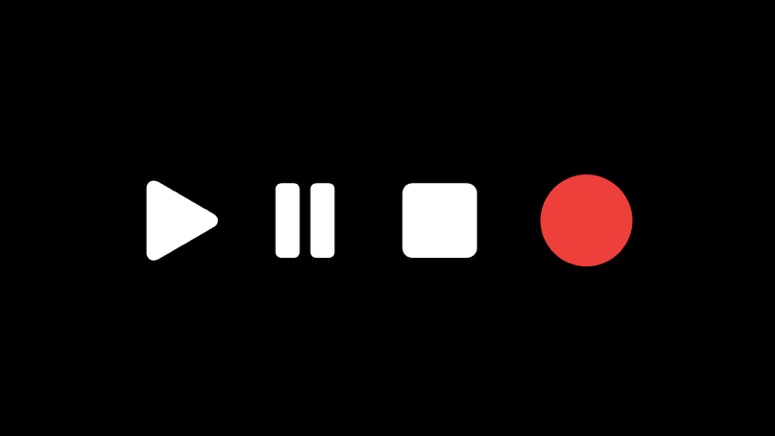 A macro contains mouse clicks, movements, and keystrokes. And, a macro recorder helps you record all these. By saving the macro, you can do the task anytime by simply opening a file.
Best Macro Recorders to Automate Your Tasks [Free and Paid]
We have handpicked ten tools to record your macros. Each of them differs in features and interface. Hence, it's your job to pick one.
Also Read:-
Pulover's Macro Creator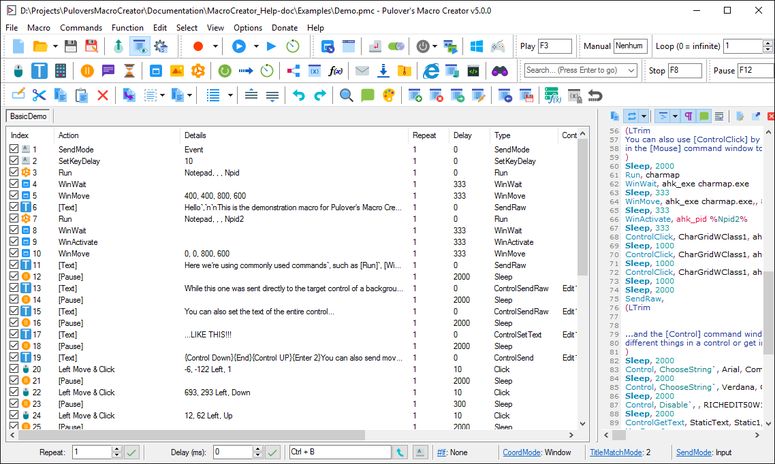 We have used this many times. By decreasing the delay between every action, you can quicken the whole process. Pulover's Macro Creator comes with advanced loops and if statements. Moreover, it can search for pixels and images on the screen.
As we have told you in the beginning, you can record a macro and save the same into a file. Whenever you want to perform the same task, just double-click on the file. The software is available free of cost. In case you are a developer, you can suggest modifications as the source code is present on GitHub.
Are you a macOS or Linux user? Then, you should skip this one. Pulover's Macro Creator, right now, is available only for Windows.
Download Pulover's Macro Creator
Macro Recorder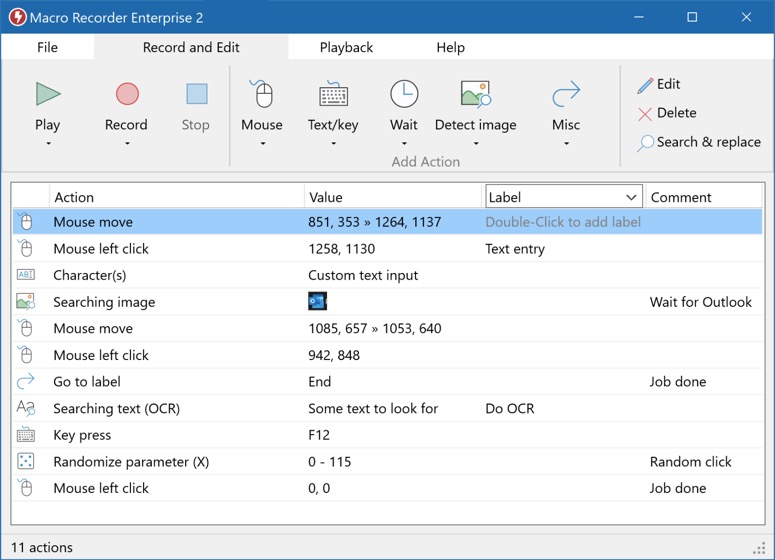 You can use Macro Recorder for both Windows and Mac. Though a free version is available, you can upgrade to one of their three paid plans to get advanced features. That means the freeware comes with a few limitations. For example, you can't use more than 10 repetitions with the free version.
The jump labels allow you to skip any actions from the list. And, the software now has an improved colour selection, which chooses a colour from the screen. Going to Settings reveals many options that you might not think were possible. 
Those who are new to computers may need a small learning curve. Otherwise, you are good to go!
TinyTask

The name says it all. TinyTask is the smallest of all the keyboard macro programs. The software came to life as a personal project of a programmer. Since it didn't cost any money to make the program, he decided to make it public for free. The software weighs only 36 KB in size. 
You see a small window with a few buttons when you open it up. The buttons are Open, Save, Record, Play, .exe, and Prefs. Owing to the small size, you won't get advanced features or program documentation. Those who want extra facilities will have to look elsewhere.
The application is available for free. And, the app only has essential options, which makes it one of the easiest macro recorders to use.
Atbswp Macro Recorder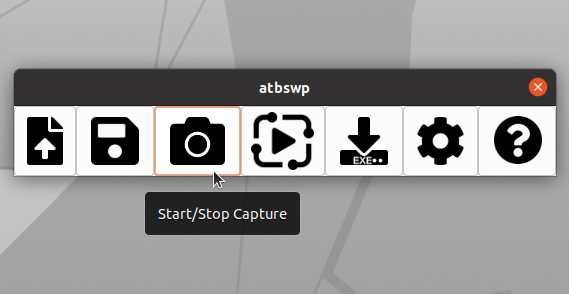 We have given you three of the best macro recorders. If you are a Linux user, you may be wondering about getting one for your operating system. Don't worry! Introducing Atbswp, which is available for both Windows and Linux. The tagline says it's a minimalistic tool. So, you won't have to rack your brain about losing disk space.
Once you install the app and open it up, you will get a toolbar. The camera button is used to start and stop the recording. Right next to that is playback, which when clicked will initiate the process you just recorded. The next button saves the recorded macro.
The usage is quite simple. And, you can use this video tutorial in case you feel stuck.
Download Atbswp Macro Recorder
JitBit Macro Recorder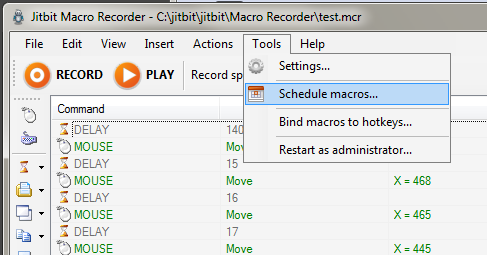 Are you ready to spend some bucks on the effectiveness of the macro recorder? Well, you should have a look at JitBit's keyboard macro program. You will get your money back when you feel the software isn't up to the mark.
There are three plans for you to choose from; Basic, Pro, and Premium. It's quite obvious that the Premium plan has the most number of features including macro scheduling, debugging features, and priority support. Moreover, the same plan allows you to add C# code snippets to macros.
JitBit doesn't charge you a monthly or annual fee. What you pay gives you access for as long as you want to use the software. And, it has free version upgrades too.
Download JitBit Macro Recorder
AutoIt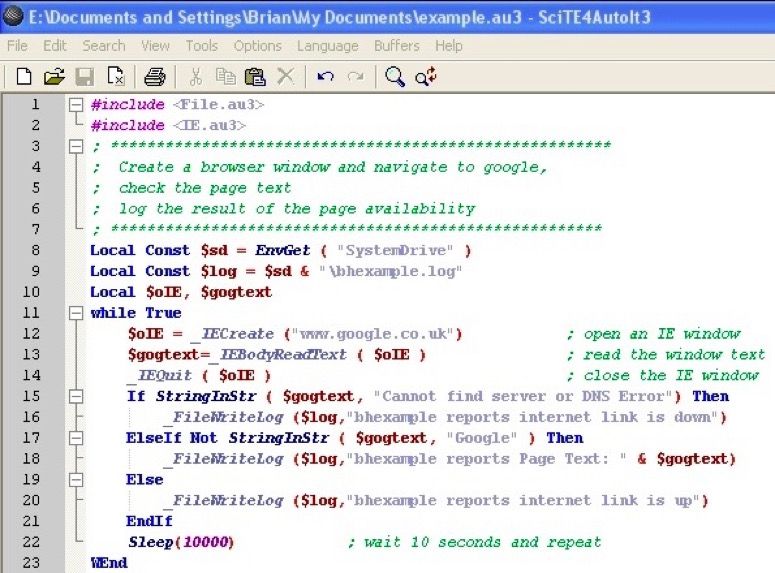 Are you accustomed to programming? If you have zero programming knowledge, AutoIt is going to disappoint you as it doesn't have a proper graphical user interface. You need to carry out macro recording by writing scripts. No, the syntax isn't complex. Once you make up your mind, you can be an expert by spending one or two hours.
The best thing about this program is the frequent updates. Unlike many macro recorders available on the web today, it supports even the latest Windows version. Akin to any other software in this list, it can record keystrokes and mouse movements.
And, you can compile the script into standalone executable files. That means, when you want to run a macro, you don't have to open AutoIt.
Mini Mouse Macro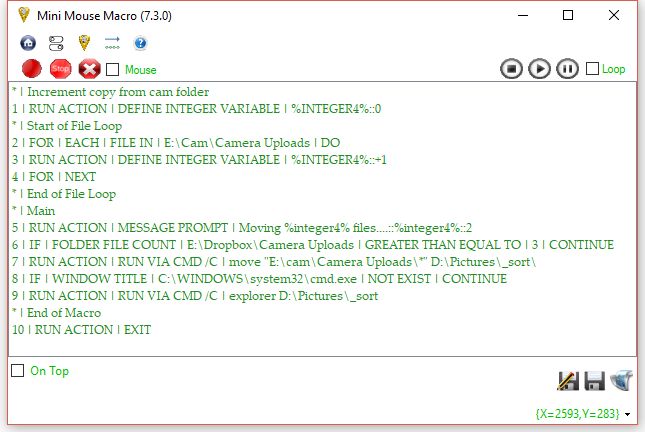 Going by the name, you may get the idea that it only records mouse movements. Nope, that's the reason we have included this in our list of best macro recorders. What we are talking about here is the free version. However, by being a Patreon or sending a video of your macro, you can avail the Pro variant.
The software is a Windows exclusive. And, you don't have to go through an installation procedure as the .exe file you download is the standalone program. You won't get any ads or premium banners when you use Mini Mouse Macro.
It helps you schedule macros and script custom ones too. The app offers all these features without going too big in its size. 
AutoHotkey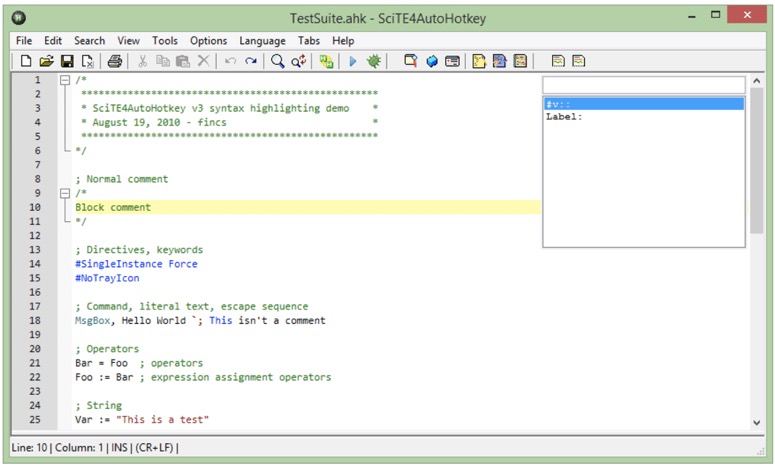 Came out in 2003, AutoHotkey has created its own user base. The program gets frequent updates. However, you may not like it if what you want is a go-getting user interface. Here, you have to build scripts to automate a process. 
You can do anything like opening a document, writing something in a word file, launching a program, emulate mouse movements, and keystrokes. The possibilities are endless only when you know how to use the software. It can even monitor the whole system and close unused programs.
Similar to AutoIt, this tool can also help you save your scripts into executable files. AutoHotKey can achieve even more complex tasks by working with the system registry.
MouseKey Recorder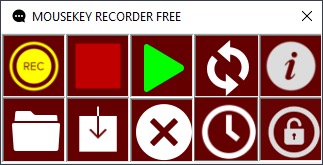 Don't get confused by the name! It can record both keystrokes and mouse movements. The software is available for Windows. If you don't want to go all-in by buying the premium, you can just download the trial version. Apart from adjusting the playback speed, you can also set the time and date to initiate the playback.
After the installation, you have to open the software. Once you do that, you will get a toolbar with a few buttons. Before you want to do the repetitive task, you have to press the record button. Then, hit the stop button. You should save the macro in case you want to do the same task in the future.
That's it! As we always say, you should go through all the entries before sticking to one.
ReMouse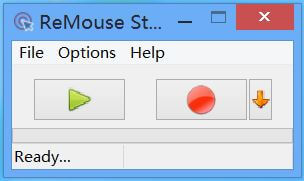 ReMouse is a simple mouse and keyboard macro program. It has a tiny window that doesn't hinder the way you use the computer. After recording, you can press the play button right away to start repeating the macro. 
Plus, you can schedule the macro to trigger at any time. The convenient user interface helps you configure the macros without having to wander around. Of course, the save option is available, with which you can do a task at the expense of a double click.
Unlike AutoIt and AutoHotkey, everything is available on the user interface of ReMouse. That means you don't have to have any knowledge of programming. If you want to extend the features, you should go for the premium version.
Frequently Asked Questions
What's a macro in Windows?
In Windows, macOS, or Linux, a macro is a sequence of keystrokes, mouse movements or clicks that constitute a task.
Does Windows 10 have a macro recorder?
No, Windows 10 doesn't have a default macro recorder. When you feel the need to have a macro creator, you should download it from a third-party website.
Can I record a macro on my computer?
Of course, you can record a macro on your computer. For that, you need a macro recorder. From the list given above, choose one and you are good to go.
What are the benefits of recording macros?
The most significant benefit is you can save time. You don't have to frustrate yourself by doing the same task again and again. By decreasing the delay time, you can do any task in a flash.
What makes a macro recorder so special?
We have given you the answer already. A macro recorder can do the same task over and over again with only a double click. And, it can do the task at a speed you never imagine.
Is the macro recorder safe?
Of course, it is safe. However, when you do something on someone else's computer, make sure the macro recorder is not running. If it is running, anyone can replicate what you do.
Also Read:-
Final Verdict
What do you think? You have got almost all the best macro recorders. We have handpicked a few programs for both macOS and Linux as well. It's time for you to get to work. Go through each and stick to the one that gives you the features you always wanted.