One of the major problems of working late at night is the stress to your eyes. The first few months won't be a problem, but things can get worse over time. That is why you can now find software like F.lux in the digital market. These software programs are supposed to help you reduce the eye strain from looking at the screen for far too long.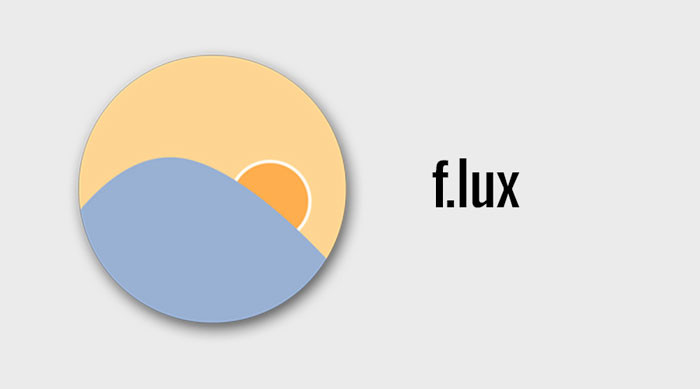 Today, however, things are a tad different. Most of the Operating Systems already have one of the efficient methods to control eye strain and it's Night Light in Windows. The problem is that people are now confused about picking one from the duo — F.lux and Windows 10 Night Light. That is why we've decided to compare these two options.
F.lux vs Windows Night Light – Intro
F.lux, as we said earlier, is a complete solution for reducing eye strain that you get from looking at a computer screen for a long period of time. It was launched years back when Operating Systems did not have a default option. As it is, F.lux offers control when it comes to adjusting what kind of light is used on the display and when. The best part is that F.lux is available for Windows, macOS, Linux, iOS and Android. What F.lux does is that it warms up your computer display to meet the intensity of your indoor lighting.
Windows Night Light was introduced much later, in 2017, as a part of a major Windows Update. Of course, it was a blog against F.lux, as the core features of the third-party program were brought to the OS. However, there are a few differences when it comes to the level of control you have. The next obvious issue is that it is available only for Windows devices. You may have to depend on F.lux after all on Mac and Linux even if you manage to use Night Light in your PC.
Now that you have the basics idea, let's compare.
Ease of Use
F.lux, despite the advanced options it offers, is incredibly easy to use. Once you have installed the program, free of cost, you can open the interface from Windows taskbar. The easiest method is to provide your own location so that F.lux can adjust the rest. According to the location and time, F.lux would make changes to the screen temperature. There are also various scheduling options.
Accessing Windows Night Light is very simple. You have to go to Settings  System  Display and choose the sub-section named Night Light. Just so you know, you would see this option only if you have installed the Fall Creators Update 2017. Once in the section, you can enable Night Light and control the Temperature of screen light. Simple enough, isn't it?
It's definitely a tie between F.lux and Night Light.
Scheduling
F.lux comes with a hell lot of options for scheduling color temperature change. You will be able to set up the program to turn the temperature at specific times or according to the light outside. As we said earlier, you have an option to provide the real-time location so that the best settings can be set. Regardless the location you have set, however, you can always change the current temperature to something of your choice.
Windows Night Light also offers basic scheduling options. Here too, you get two options. The first option is to schedule Night Light according to the times of sunrise and sunset. The second option is to set up your own timings for turning on and turning off Night Light. Because we are dealing at system level, everything works so seamlessly.
F.lux seems to be the better choice, thanks to the variety of options.
Control
F.lux does not compromise when it comes to the level of control. You can change different aspects of light temperature from the context menu itself. There are even different modes for different occasions such as Movies, Darkroom etc. The point here is that you can choose a mode according to the needs without even opening the fully-fledged interface.
This is also where Windows Night Light fails miserably. As it was said earlier, you get only the basic scheduling options with Night Light. This could be a problem if you want to change the temperature at higher levels. It is also worth noting that Night Light does not have many advanced features that make F.lux unique. At the end of the day, it all comes down to what you want.
F.lux wins here, quite unsurprisingly.
The Bottom Line
After comparing all these aspects, we think the better option is F.lux. However, that decision also depends upon whether you need advanced control and other features like scheduling. On the other hand, if you are looking for a simple way to reduce eye strain and automate the process, you can go with Night Light.