We update our operating systems in the hope to improve the overall performance. However, some updates do botch up the entire functioning of the device. Apple's iOS 13 has brought new iPhone messages are indexing always problems.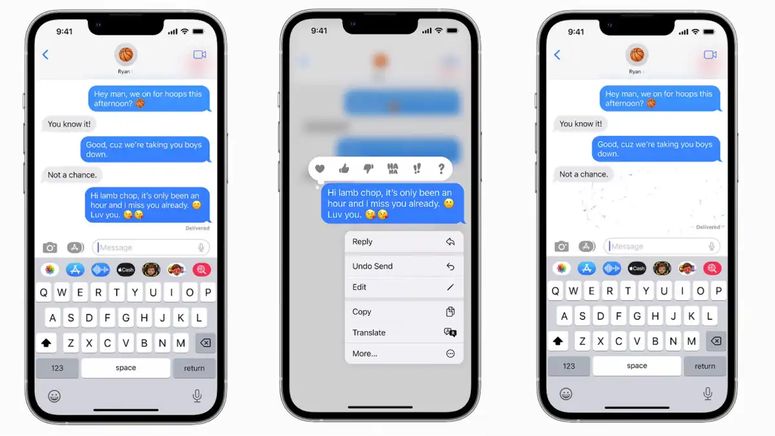 This trouble will taunt you when you want to search for a contact or find an image you sent or received. The 'i' button to go through attachments disappeared. We will help you resolve the issue.
How to Fix iPhone Messages Keep Indexing Problems?
The issue isn't as severe as you think. You can sometimes solve it with a simple restart. If that doesn't work, make sure you run the latest iOS iteration. And, re-enable Messages in iCloud. That's not all! Find out every solution below.
Also Read:-
Solution 1: Restart Your iPhone
Not all tech fixes involve complicated steps. A simple procedure like a restart can save you a lot of time by solving the trouble.
How do you restart your iPhone?
Press and hold the volume + side buttons.
You will see the power-off slider. Drag the slider.
Wait for half a minute for the device to turn off.
Press and hold the side button to power the device back on. Do not release the button until you see the Apple logo.
Didn't that work? Let's have a look at another workaround.
Solution 2: Disable and Enable Siri & Search Settings
The messages indexing issue in iPhone occurs when the system prepares the catalogue for Siri and search. Here, we are going to turn off and on Siri & Search settings to see if it has any positive impact.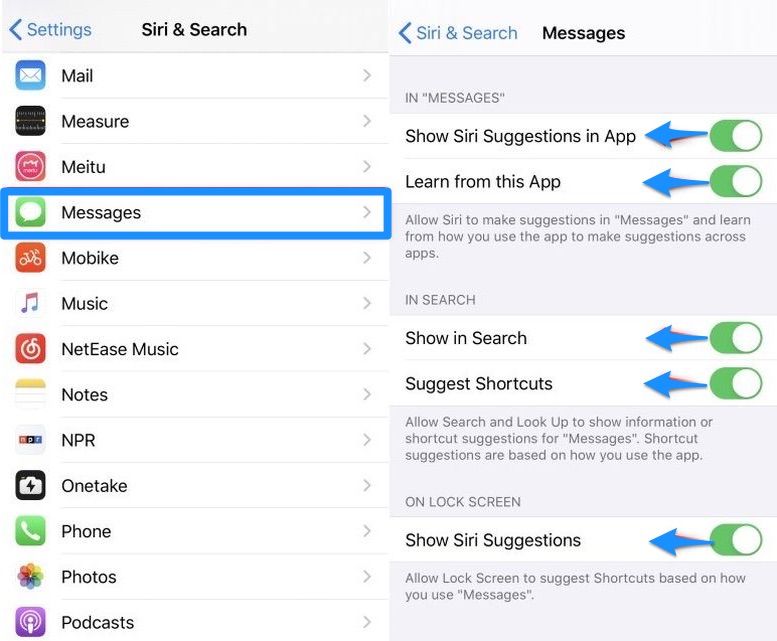 Go to Settings>> Siri & Search.
Scroll down a bit to see the Messages app there. Tap on it.
Most probably, you will see all the options in the green toggle. You need to toggle them all off.
Restart the device (refer to the first solution).
Now, follow the first step to re-enable all the Siri and search-related options.
Go back to the Messages app to verify whether or not the issue persists.
Caution:- You may have to be patient here based on the number of messages. By following the steps given above, you are forcing iOS to rebuild the index.
Solution 3: Disable and Re-enable Messages on iCloud
The next solution to iPhone messages are indexing issue is quite simple. You need to go to Settings>> Apple ID>> iCloud. Don't forget to disable Messages there. Once you do that, restart the device and return to see if the issue is present.
Solution 4: Turn off Spotlight Search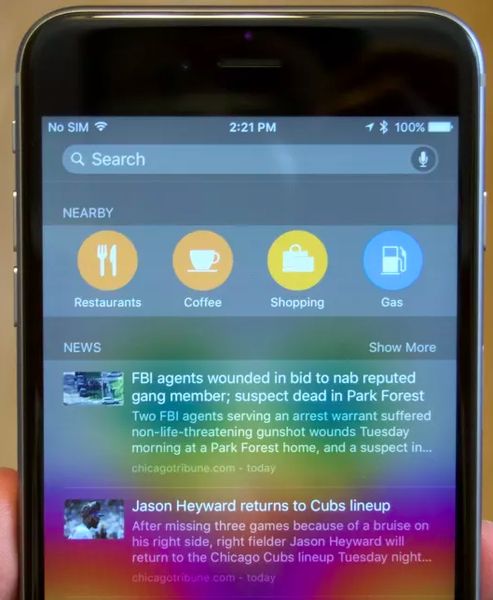 Those who are in the Apple ecosystem don't need an introduction to Spotlight search. It's a universal option to find anything and everything. Since it examines the messages, the messages indexing issue in iPhone may occur.
How do you disable the feature?
Take your iPhone and open Settings.
Follow General>> Spotlight Search.
What you get next is a list of applications. Uncheck everything there to disable Spotlight search.
Solution 6: Update iOS to the Latest Version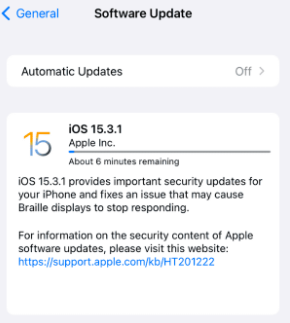 It's quite a routine for any company to release a bugfix update. You are still getting indexing and attachment issues because you might not install any other updates. More major versions of the OS have already come out.
To check for updates,
Go to Settings>> General>> Software Update.
Chances are you will see more than one update there. Choose the one you want to install and follow the on-screen prompts.
We recommend enabling automatic updates so that you won't have to deal with this anymore. For that, follow Settings>> General>> Software Updates>> Automatic Updates. Ensure that you have enabled Download iOS Updates.
Solution 7: Downgrade Your iPhone
The process is risky! Apple doesn't encourage downgrading iOS. That means you are on your own in this procedure. We are not going to give you a brief guide. Nonetheless, we can redirect you to this detailed article. Proceed with utmost care.
Solution 8: Sync Your iPhone with a macOS Device
What if your iDevice is still angry? Well, you can go backdoor to access the messages. For that, you have to take your Mac and sync content between both devices.
First, connect the iPhone to your Mac using the USB or lightning cable.
Open Finder and click on the iPhone from the sidebar.
From the button ribbon, opt for General.
Tick Show this iPhone when on Wi-Fi checkbox.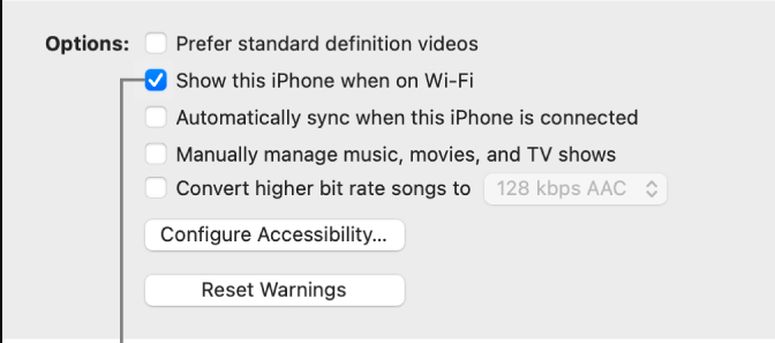 There you go! From now on, you can see all your messages including the attachments on the Mac. 
Most of the solutions you have read above tried to solve iPhone messages keep indexing trouble. The following are a few potential fixes for the attachment not showing issues.
Solution 1: See Attachments from the 'i' Button
We are sure you have used this before. It's the way most iOS users go for. If you are unable to find this, jump to the second one.
Open Messages and search for the name, whose attachments you want to see.
Tap on the name of the contact and then click on 'i'.
You will see all the attachments from both ends. Save, share, or delete them.
Solution 2: View Attachments from the Search Bar
Have you ever noticed that the recent attachments are available just below the search bar? Yeah, they are. You need to tap on the See All option. After that, you will be able to see all the photos and videos.
Solution 3: View All Photo or Video Attachments
Apart from the two solutions given above, you can view all the attachments from a single conversation as well. 
Open a conversation and tap on a photo or video. 
Click on the three-dots button (available on the top-left or top-right based on the type of media).
That's it. You can see all the photos or videos on the next screen.
Frequently Asked Questions
What does it mean when a text is indexing?
When a text is indexing, the system is preparing that text to appear in different search result pages like Spotlight or Siri.
What do messages finish indexing mean?
When iOS finish indexing, the platform has prepared all the message content to appear on the search pages. And, you won't get the messages indexing issue in iPhone ever again.
What does iPhone indexing mean?
Indexing on iPhone is a system-initiated process to equip the platform to show relevant content from the messages as search results.
How do I get iMessage to index?
To finish the indexing, you can disable and re-enable search settings. Moreover, the issue can also be solved by a simple restart.
What does it mean when messages are indexing?
We have already answered this question. You may use Spotlight search or Siri to find details from your messages. Indexing makes the phone capable of showing relevant message content on those pages.
Also Read:-
Conclusion
We have given you a handful of solutions to fix the iPhone messages keep indexing issue. And, in the end, the attachments are not showing problem is also taken care of. Do you think we have missed a significant workaround? Be our guest to scribble the same in the comment section down below.