The Nebulizing Diffuser by Organic Aromas has no doubt revolutionized aromatherapy. Through innovative technology, essential oils can be dispersed in the most effective manner. This literally means that you enjoy 100% therapeutic benefits of pure organic essential oils. This is also the best way to enjoy natural aromas from a variety of essential oils. This aromatherapy device does not use heat or water and therefore does not denature the oil. The tool is also extremely quiet, safe and makes no messes compared to other diffusers. This article looks deeper into the technology applied in the nebulizing diffuser. You will discover how various elements and components come together to make this one-of-a-kind aromatherapy diffuser work.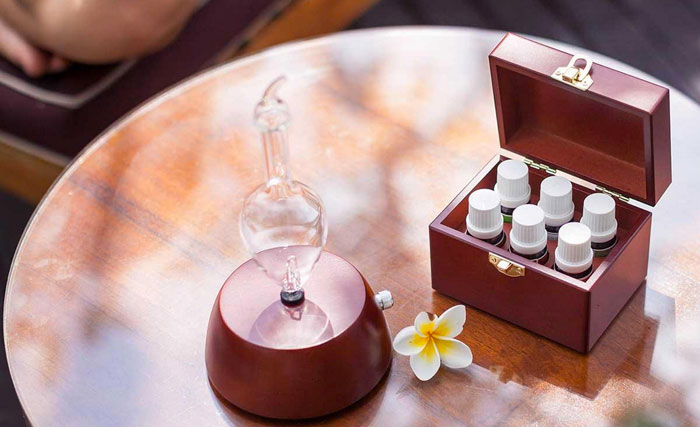 The Bernoulli Principle
The Organic Aromas Nebulizing Diffuser does not need heat or water to function. It utilizes the Bernoulli principle. This fluid dynamics technology employs air pressure to disperse tiny particles into the air. To fully grasp this concept, the following is a description of a typical nebulizer and its components. This diffuser is made up of two main elements; a hand blown pyrex glass top and a hand crafted plantation hardwood base. The glass top comes with a reservoir and houses micro tubes that allow for the uptake of essential oil. The glass is also sealed by a glass cap. The intricate interior of the hardwood base contains air pump tubing, a circuit board, air pump, silencing foam, power input, light switch and volume control.
How it Works
Basically, the Bernoulli principle states that as the speed of a gas or liquid increases, the pressure of the fluid or gas decreases. This theorem also relates to the law of energy conservation. Fluids moving from a wider pipe or constriction to a narrower pipe move at a greater speed forward. This is because the corresponding volume is also greater. With this in mind, the nebulizing diffuser works as described.
– Air current is forced through a small tube increasing the velocity and reducing the exit point pressure.
– The pressure differentiation created produces a suction effect which causes essential oils in a different glass tube to start rising upwards.
– With the rising of essential oil, pressurized air comes into contact with the oil, triggering the atomization of the oil into micro particles. These tiny oil particles fill the glass reservoir.
– It is these micro particles that are released into the air when the glass cap is removed. This is a potent oil mist that quickly fills the local environment with aromatic appeal.
– Any essential oil that is not atomized goes back to the bottom of the diffuser to repeat the cycle.
As you can see, this is the best way to deliver essential oil in its original state for aromatherapy. No plastic is used in this diffuser making it safe from toxins that emanate from off-gassing.
Why the Nebulizing Diffuser is Better than others
When you compare how other diffusers work, you will quickly discover that the nebulizer is the better option. Take the ultrasonic diffuser for example. Because it is made using plastic elements, the oil will cause some damage eventually. Also, it uses water and this does not just alter the potency of the oil, it also adds humidity or moisture into your space. You will notice that the aroma emitted is not as striking, because it is not 100% pure. In addition, the presence of water naturally encourages the growth of fungus and mold. Also, keep in mind that off-gassing is also a hazard that cannot be ignored with plastic diffusers.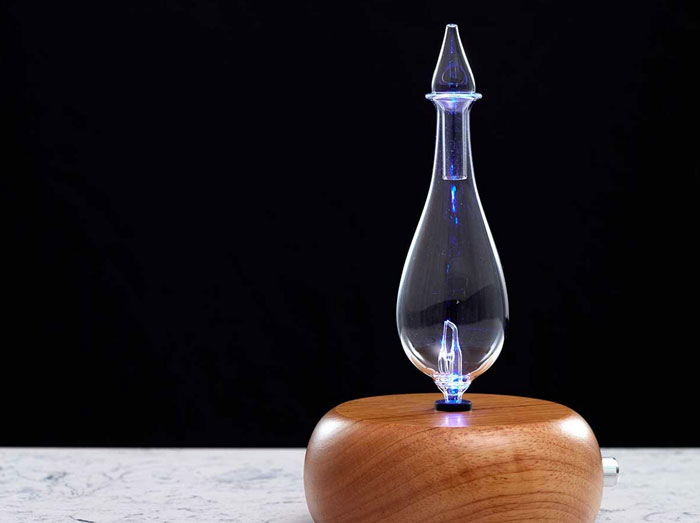 If you use an oil lamp, the fire hazard is greater than all other diffusers. It burns the oil and denatures the original components, compromising aromatherapy. This is also one of the messiest options in the market. A candle diffuser is not any better. It will burn up the oil altering the molecular integrity. Aroma heaters are also in the same category. Heat and essential oils do not go together. When you are looking to fully benefit from pure essential oils, it is pivotal to look at the best option.
Other Nebulizing Diffuser Benefits
This diffuser is very quiet; allowing you to go about your normal business. If you choose to rest or sleep, this is the perfect companion as well. You can be sure of safety because no heat is used in the process. Whether you have a large or small area, you will be delighted to note the widespread dispersal of oil micro particles. Because it is free from plastic, this is a non-toxic way of enjoying aromatherapy as alluded to above.
No water is used and this means that diluting of oil does not occur. Aroma is therefore kept strong with no extra addition of moisture into your space. This nebulizing diffuser only uses a minimal amount of electricity to function. It is a high quality product that lasts many years. Cleaning and maintaining is also easy.
Another benefit that you should not overlook is the aesthetic appeal of the diffuser. A lot of stylish designs have been fitted into the diffuser to make it a wonderful piece of art. Organic Aromas has a wide collection of styles, colors, shapes and so on. Choose a beautiful nebulizing diffuser and make your home or space unique.
Conclusion
As a wise consumer, doing some due diligence before purchasing a diffuser is in order. Look at user reviews that are verified. Consider the quality of the product even as you compare prices. Get all the information you need to make sure that you fully understand the importance of aromatherapy and how best to implement it. Organic Aromas makes your aromatherapy journey easy and simple. With top notch diffusers and pure essential oils, you cannot go wrong. The diffuser you choose to buy can make or break your aromatherapy endeavors.