Before the release of Apple's iPhone X and the iPhone 8, there was no way for us to fast charge the iPhone. Kind of disappointing if you think about it, with it being one of the most used smartphones on the market.
Of course, with the release of the iPhone 8 and the iPhone 8, that's when there was a true turning point; in terms of not only design but also charging power. The new iPhones that were re-released in 2017 were the first models from Apple that used an OLED display, and with the iPhone X making use of a notch.
What really should have been the center attention though, is that the new iPhones were now Power Delivery compatible. How is that so? Power Delivery is only usable with a Type-C port, right?
Well, the workaround for this is to use a USB-C to Lightning cable to actually charge an iPhone. Even with the Apple iPhone now being Power Delivery compatible, Apple still decides to send out their phones with just a slow 5W charger. Yes, even with the thousand dollars iPhone XS.
Right here, though, we'll be covering portable chargers that you can use to fast charge your iPhone that's Power Delivery compatible. So iPhones that have come before iPhone X, and iPhone 8 will not able to fast charge using the USB-C ports on these portable chargers.
Aukey 10,000mAh Power Bank with Power Delivery & Quick Charge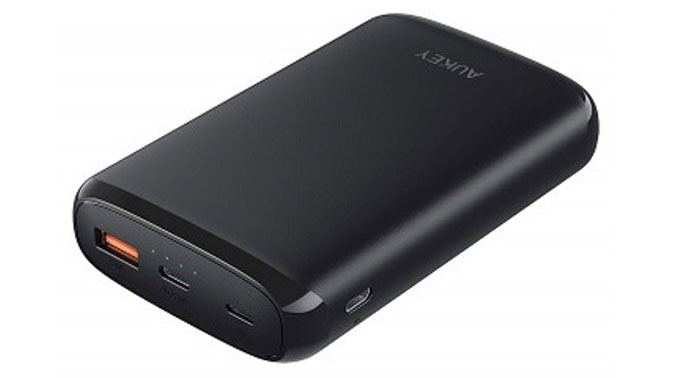 One of the most common things that you're going to notice with many Power Delivery chargers is that they also use Quick Charge. Quick Charge is another fast charging technology that is used with many Andriod smartphones. That's exactly what this Aukey power bank features.
The charger has two charging ports for you to charge your device with. The charger has a fast charging Quick Charge 3.0 port, and it also has a Power Delivery port.
When it comes to USB-C PD fast charging your iPhone XS, or iPhone 8, you should be searching for at least a Type-C port with an 18W charging speed. Otherwise, it won't fast charge your phone.
Of course, to actually charge from the USB-C port, you'll need a Type-C to Lightning cable.
To recharge the power bank, there are actually two ways that you can go about doing it. One is the dedicated Micro-USB input port. Or you can use the USB-C port to recharge the power bank and recharge the power bank faster when you use a fast Quick Charge wall charger to recharge it with.
AIDEAZ 20,000mAh Power Delivery Power Bank with Wireless Charging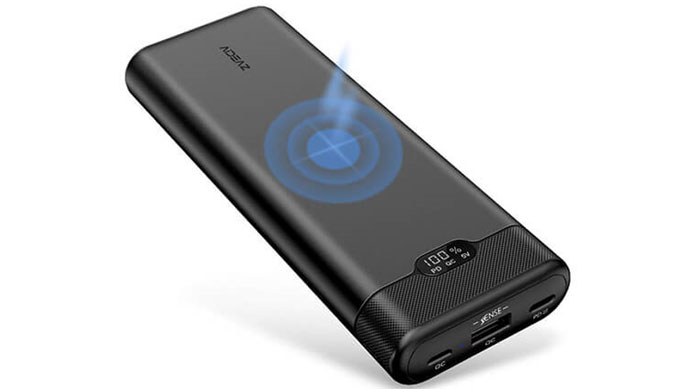 Going higher on the power capacity scale, this AIDEAZ portable charger isn't like other portable chargers. The reason for that is because the power bank has three ways to charge devices.
It has a USB-C Power Delivery port, a fast Quick Charge port, and it even has wireless charging, all packed into a single form factor. Pretty impressive.
The PD port has an 18W charging speed, and you can still charge non-Quick Charge compatible smartphones with the USB-A port.
The usage of wireless charging with this power bank makes it useful for charging the iPhone X, iPhone 8 and also the iPhone XS. The new iPhones weren't just the first ones to make use of Power Delivery compatibility, they were also the first ones to be Wireless charging compatible, too.
So simply placing your iPhone on top of this portable charger and having it charge is a major convenience factor to make use of.
On top of all that, this charger also has a digital display to show what charging method is being used, as well as how much power capacity is left within the charger.
Anker PowerCore 10000 PD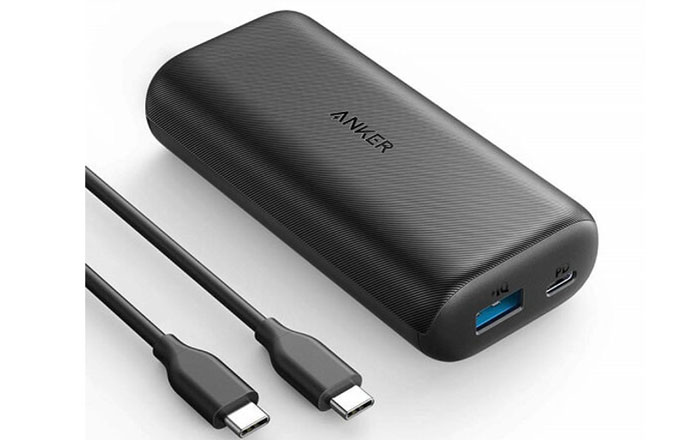 This Power Delivery portable charger comes from one of the top-rated portable chargers on the market, Anker.
This PowerCore 10000 PD chargers of theirs have a rather minimal design with the power bank only making use of two ports.
The charger has a USB-A port with a 10W charging speed. The other port is a USB-C port with an 18W charging speed.
To recharge the power bank you use the USB-C port, and you can either recharge the power bank at PD speeds with an 18W Power Delivery USB-C wall charger or you can use a standard 2.4A USB-A wall charger with a USB-A to USB-C cable.
Perhaps the most impressive part of this power bank is that you're able to use the max power of the two ports at the same time. As the max output of power for this charger is 28W.
The last part that makes this portable power bank impressive is that this charger has a mini power bank factor while having a 10,000mAh power capacity. As the charger has a 4.5-inch length and is only 1 inch thick. Sure, the charger is more expensive than most other PD portable chargers within its class, however, the quality and the small form factor that you're able to get from this power bank is one of the best on the market
Jackery SuperCharge 26,800mAh Power Delivery Power Bank
One other Power Delivery power bank is this Jackery SuperCharge portable charger. This Power Delivery charger is quite a bit different than the other power banks in this article.
The first reason is that it has an absolutely massive power capacity. With the initial power capacity of this power bank being 26,800mAh, just charging your iPhone can result in four full charges or more. With this much power to use, charging other devices is definitely possible.
The charging from this power bank can be done through two ports. One is a USB-A port with a higher than average 15W charging speed. The other port on this power bank is the USB-C Power Delivery port.
The Power Delivery charging from this Jackery SuperCharge is faster than most other PD power banks. The reason for that is because it has a 45W charging speed. This can, of course, fast charge your iPhone, however, in addition to that if you own an Apple MacBook laptop then you can also use this power to charge your laptop.
What makes PD chargers one of the best power banks on the market, is that they're able to charge numerous types of devices, and not just stuck with smartphones or laptops. They can do both. With the 45W charging speed being a lot faster than an 18W charging speed, charging USB-C laptops with this power bank is another great way to use.