Smartphones have slowly become an integral part of our lives. We have so many uses for smartphones and they are surely useful gadgets that help us in our many pursuits. Smartphones have surely made our lives a bit easier but what has become harder now is to choose the right smartphone. There are so many smartphone brands today. We are even getting some newer brands every once in a while. These brands then have even more models to offer in different budgets and with different specifications. The bottom line is, it is getting harder to choose while buying smartphones. We recently had a great comparison of Xiaomi vs Samsung. But there are two brands that are associated with quality and class. These two brands are OnePlus and Apple. Their newer offerings OnePlus 8 and iPhone 11 have divided fans again and made it harder to make a choice. Here is a little comparison between the two to let you know which device fares better than the other.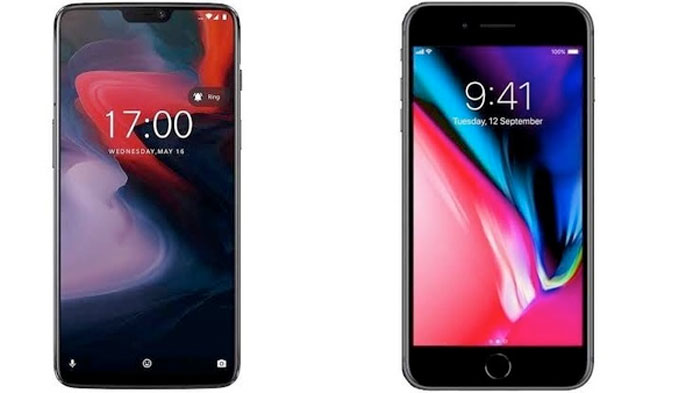 OnePlus vs Apple
OnePlus and Apple are both known for their high-end and expensive devices. Undoubtedly, both of them are two of the most reputed and trusted smartphone brands at present. Especially when it comes to a premium segment of smartphones. Apple has been a prominent name for over a decade while OnePlus has quickly risen through the ranks. Both have a huge and loyal fanbase. A major factor that usually decides the choice of a buyer is their OS choice. Android and iOs fans usually opt to stay with their original OS.
Aside from the OS choice here are some major factors that will help us get a winner between these two.
Performance
A smartphone user will always have performance as a top priority. Doesn't matter how good a smartphone might look, it is of no use if it can't handle games and applications. Even for casual users, it should be capable of handling daily tasks as well as sporadical multitasking.
Luckily, both iPhones and OnePlus devices are known for being performance heavy. They have amazing memory management and they are capable of running heavy apps and games without breaking a sweat. The same is the case with OnePlus 8 and iPhone 11. However, 8 ends up being a better performer.
In specifications, OnePlus 8 features the beast of a chipset that is Qualcomm's Snapdragon 865. That combined with GPU makes sure none of the apps crash or games lag. Long periods of gaming wouldn't lay a finger on this device.
Coming to iPhone 11, it comes with another powerful chipset A13 Bionic.
It is paired with Apple's custom GPU.
Apple's processor and GPU are without a doubt, strong but 8's specifications just make it stand out better.
Camera Setup
A camera is a feature that is a big changemaker in the smartphone industry today. The definition of a good camera has changed over time. Gone are the days when a 5MP camera would be an exciting technology. Now smartphones have more cameras with better apertures, better lenses, and better software. Many brands bring their own camera technologies as well. Apple is known for its camera quality and it is hard for every single smartphone to try and beat it. At least 8 manages to hold a ground of its own against it a bit.
The camera setup of the iPhone 11 consists of a triple camera setup on the back. It includes; a 12MP wide-angle camera of f/1.8 aperture, another 12 MP telephoto camera of f/2.0 aperture with 2x optical zoom, and a third 12 MP ultrawide camera of f/2.4 aperture. It can m record videos at 4K up to 60 fps. In the front, there is a single 12 MP camera of f/2.2 aperture. It can record 4K videos at up to 60 fps as well.
OnePlus 8 has a quad-camera setup on the back. A 48 MP f/1.7 aperture camera, 16 MP ultrawide camera, a 2 MP f/2.4 macro camera. It can record videos at 4K@60fps as well. On the front, there is a 16 MP camera with support of 1080p@30fps recording.
Display
A display is the heart of any smartphone. The processors and all the specifications are pointless without a screen to display the results on.
OnePlus 8 has a big and beautiful Fluid AMED screen of 6.55″. With a refresh rate of 120Hz and HDR10+ support, everything looks better on it. An FHD+ resolution of 1080 x 2400 pixels makes everything from a video to the icons, better to look at. There is an aspect ratio of 20:9 and a screen-to-body ratio of 87%. The screen comes with Corning Gorilla Glass 5 protection.
The display on iPhone 11 is a total beast as well. It features a 5.8″ Super Retina XDR OLED screen with HDR10 support. The resolution here is 1125 x 2436 pixels. There is no Gorilla Glass protection but it has a custom tempered glass and oleophobic coating. So it is highly recommended to buy cases for iPhone 11, as it will protect your phone from external damages and normal wear-tear.
In terms of display, the OnePlus 8 again gets a slightly upper hand over iPhone 11.
Pricing and Customer Support
The pricing is where OnePlus 8 just sweeps it away from iPhone 11. The base variant of the OnePlus 8 is priced at $570 and the 12 GB RAM & 256 GN memory upgrade is priced at $749.
The iPhone 11 is supposed to be a budget-oriented entry but its based variant costs $699 and the most upgraded 256GB version costs $849. A 128GB variant is priced at $749.
The pricing of 8 is impressive in comparison with iPhone 11 and that gets it another win over iPhone 11.
Other than the initial price, after-sales and maintenance costs make a difference too. While the repair costs of both the devices are high, Apple is known for being the most expensive when it comes to maintenance. Their screens can not be repaired and cost as much as a whole new smartphone would. It gives another point go OnePlus 8.
All iPhones come with a complimentary 1-year hardware repair coverage as well as 90 days of free overall customer support.
OnePlus devices too provide a 1-year coverage of free hardware repairs.
Battery
While iPhones never had huge battery specifications, they always provide some of the best battery life statistics in every device. This can be credited to their amazing battery management features of their software. Here, they feature a 3110 mAh battery with Qi wireless charging support.
OnePlus 8 includes a big 4,300 mAh battery. OnePlus devices to have better-optimized battery software that boosts battery life. That combined with better hardware specifications makes OnePlus 8 the winner in this area as well. OnePlus 8 does not have wireless charging but it features 65W fast charging which iPhone 11 is missing. 8 takes little time to fill up and lasts longer than iPhone 11.
This was a thorough comparison of the OnePlus 8 and iPhone 11. While iPhone 11 stands out on itself in some areas, the OnePlus 8 just turns out to be of a better caliber. One of the reasons might be 8 being a newer device but it is considerably better than many newer devices in the market as well. Nonetheless, 8 wins in almost every department and proves to be a better choice among the two.