Most people shudder at the thought of discovering something they would never imagine their loved ones could ever do. So, they prefer to stay ignorant rather than go digging information that could hurt them, in the process. However, there are specific reasons for spying on your spouse, child, employee or colleague.
As long as you are prepared for the outcome, you have every reason to retrieve information that can cause harm to the victim or you (the spy). So, how do you go about this? Find out more about the WhatsApp spy.

How does a WhatsApp spy work?
Since WhatsApp is one of the most popular chat programs in the digital environment, people rely on it for personal and commercial reasons. The Cocospy app allows you to access information on everything including the calls, phone numbers and the names of the people. Also, it will indicate the exact time the interaction took place.
Cocospy helps you view the conversations the person is sending and what they are receiving without jail breaking their phone. It will pick details from the target phone to you. Now you're at liberty to see all the contents. Think of it as remote access to crucial information even if the person has already deleted the information from their device.
Free trial access
Unlike most apps that impose hidden charges, this particular one allows the user to have unlimited free trial access for three day. Once you are satisfied with the trial, you can start using the app. You have to abide by the terms and conditions of Cocospy. Alternatively, you can go for the live demo to acquire detailed information.
Stealth mode
Like other background features, stealth mode allows you to work without replacing other apps on a device. Rely on it to continue its operations without causing your device to hang. It can also be concealed to prevent the person from getting suspicious of your activities.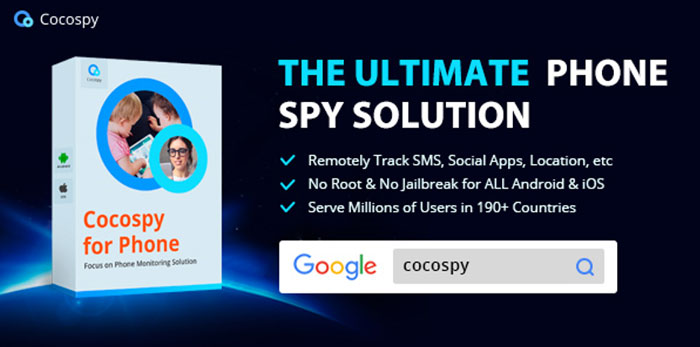 How to spy without jail-breaking the target's phone
Follow these three steps if you want to install the WhatsApp hacker;
Step 1: Sign Up
You will need to visit the Cocospy homepage and sign up by providing your details, then choose a reliable password. Ensure you create a strong username and password to prevent other hackers from accessing your tracking activities. After that, you will receive an email confirming if you are the one.
At this point, you will have the chance to select the best service and payment plan. It will send a link in your email inbox. You can now download the app to your device. Remember, this service is absolutely free.
Step 2: Download the app
Once you have received the conformation message from your inbox, you can download it. To achieve this, you can use the URL provided by the target device. Click on it to complete the download process. Now, you can Use the app to create iCloud testimonials.
Step 3: Hack the target's phone
Now you can gain access to the target's contents on your dashboard including the messages, GIFs, video and calls. Remember, it is advisable to review the SMS data before you start to use it. Ensure you get the message through someone else's device; not the target.
Why do people use the Whatsapp spy instrument?
As earlier mentioned, WhatsApp is a popular networking site that allows people to make calls, send and receive messages and media. However, some people use it to commit all forms of vices including cheating, releasing private information, or planning to commit civil wrongs.
It is perfect tool for parents who want to supervise their kids. Through it, you will know how to protect them from pedophiles, cyberbullies, and their peers who are interested in ruining their reputation. You will have the chance to save the messages for future reference.
It allows you to track the movement of your colleagues and junior staff members.
Helps in tracking your lost phone. Since it provides real-time information, you can locate your phone in the shortest time possible.
Good or Bad?
Prying on personal information is infringing on another person's privacy. Yes, it is considered unethical but you will feel safer once you track the target's intentions. It is a great tool for parents who are looking out for their kids and colleagues who want to monitor each other. When you decide to use it, prepare for the consequences.