Just one day ago on 24th of Feb 2012 BSNL and Penta Technologies have launched a cheap android Tablet. As in last few months Aakash tablet launched. This is one another cheapest android based tablet in India. As BSNL is government owned service provider in India people can expect this tab as more functional and cheaper than Aakash Tab.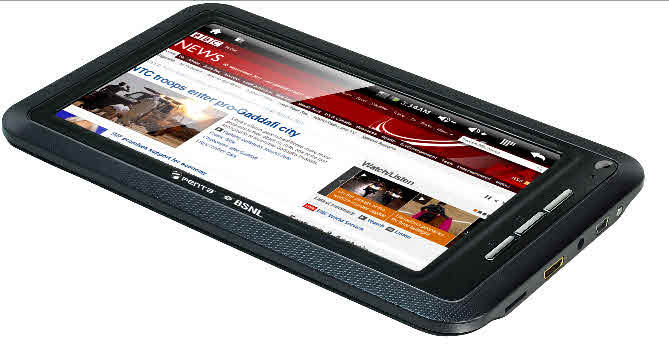 BSNL announced total 3 New Android Tabs which are very similar to Aakash Tablet.
They are:
T-Pad IS701R
T-Pad WS704C
T-Pad WS802C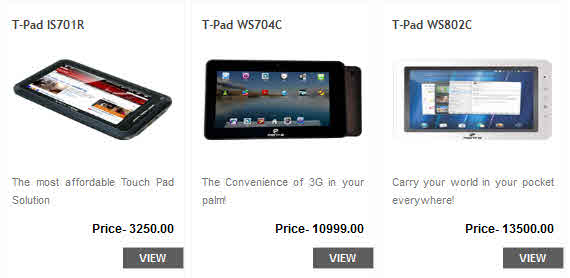 Among the above tabs they are offering a special offer with T-Pad IS701R. The offer conditions is that we can buy T-Pad IS701R TAB at price of 3499/- with BSNL 2G SIM card bundled with the product and we can download unlimited from internet for 3 month.
Who is Pantel?
The Pantel is an Indian company which manufactures these Tablets. It is located in Noida, India.
Official Website: http://www.pantel.in/
Address:
E-33, Sector-63,
Noida-201301, U.P ,India
Phone No :+91 120-4277731/32, +91 120-4307999
Fax : 0120-4315999
Toll Free : 1800 103 7739

Call 0120 4277731 (Mon to Sat, 9 am to 6 pm)
How to Pre-book Penta  T-Pad IS701R or any Penta  Tabs?
The Tabs are not available in the market. But we can Pre book it just like Aakash Tablet. The booking is done on official website and as your product will ready they will contact you by phone or email.
To book T-Pad IS701R With BSNL visit this link
http://www.pantel.in/product34-T-Pad_IS701R_With_BSNL.aspx
And click on the PRE-BOOK NOW fill all the info like name, email, shipping address etc…
Features of Penta  T-Pad IS701R:
Enjoy everything that comes with Android 2.3
Full Android market support
1 GHz processor
256MB RAM
HDMI port for TV out
Better web browsing experience.
see the video:
[youtube]http://www.youtube.com/watch?v=0mNwocKR33c[/youtube]
How to pre book other Tabs from Penta Technologies?
It is similar to previous procedure. Visit the official website of Penta Technologies.
http://www.pantel.in/category3-tablet.aspx
slecct the Tab that you want to prebook, click on it and fill the info that's it.