We recently discussed many things about new and cheapest Indian Tab named Aakash Tablet. Now BSNL launched 3 new Tablets. One of them is tough competitor of Aakash Tab. Lets discuss how?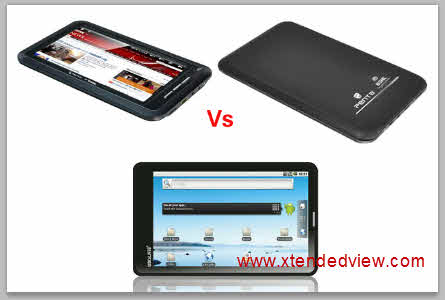 What is BSNL Penta T-Pad IS701R?
Penta T-Pad IS701R is newly announce cheap android 2.3 based Tablet similar to Aakash Tab. To read more see this post: How to Pre book Penta T-Pad IS701R L at 3499/- and get 3 month unlimited downloading
Read: 
Why and How BSNL Penta T-Pad IS701 is better than Aakash 2 Tablet?
We already discussed the specifications and possibilities of government announced Aakash 2 Tab also known as Ubislate 7.  But the newly launched BSNL Penta T-Pad IS701R can be better on the basis of following points:
1)      Processor: This is most considerable point with Aakash tab. Because Aakash 2 a.k.s. Ubislate 7 has processor of 700Mhz
2)      Inbuilt HDMI port: BSNL Penta T-Pad IS701R has inbuilt HDMI port. From that we can connect the output directly to LEC or LED monitors or anywhere HDMI port is supported.
3)      Inbuilt camera: Aakash Tab Don't has any camera. But T-Pad IS701R has camera of 0.3 Mega Pixel. Off course this is not best but at least it has a camera.
4)      Full android market support: As compared with Ubislate 7 or Aakash Tab the Bsnl tab is fully android market supported. That means you can connect internet and download any application or game which is supported with the Tab.
5)      Greater screen resolution: Bsnl T pad IS701R has screen resolution of 800*600 as that of Aakash and Aakash 2 has 800*480. More the screen resolution more clear picture.
6)      Better gaming experience: T-Pad IS701R has G-Sensor which supports Rotator screen and 3D games. The best gaming experience can be obtained from this cheapest tab. Also it has Adode Flash 10.3 supported which is better. [youtube]http://www.youtube.com/watch?v=xRR-UrAiP_A[/youtube]
Disadvantages:
Apart from the above advantages over the it has some disadvantages too. Because, not a single thing in the world is perfect. The disadvantages as comparing with Aakash 2 are:
Battery
GPS
Bluetooth
Price
SIM slot
Etc. But according to design and specifications hope this tab will be most selling one in the market. And hope the new revision of this will be launch very soon in the market.