We already discussed the BSNL launched a new Android 2.3 based Tablet in Indian market. Within 1 day it got famous. Very similar to Aakash Tab which is announced by Indian government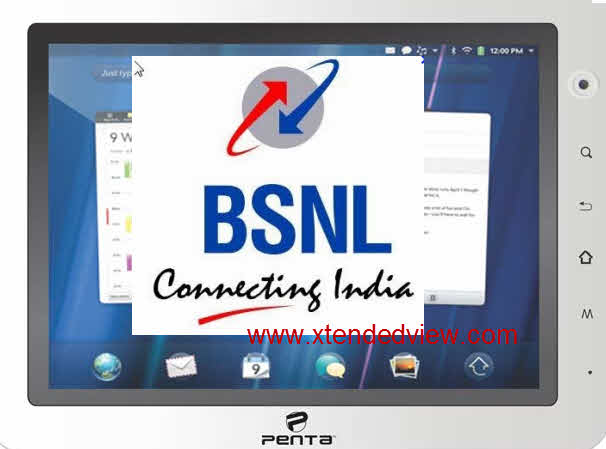 I observed that people searching on internet How to buy BSNL Tab, Review: BSNL tab and many other queries but they redirected pages they are not proving the real information. So in this post you will find all the things that you should know or every common person know about BSNL Penta (Some called as BSNL Panta) Tablet 701R.
See the Video Review:
[youtube]http://www.youtube.com/watch?v=xRR-UrAiP_A[/youtube]
First we will see:
Advantages:
·         Best gaming experience with G sensor
·         Powerful processor of 1GHz
·         0.3 camera for video call and chat
·         Android v2.3
·         256 MB Ram
Disadvantages:
·         No SIM card slot (Only BSNL inbuilt SIM)
·         No GPS support
·         No Bluetooth support
·         Only one USB port
·         Resistive Touch Screen (That worst as compared with Capacitive)
Full specifications of
Pantel T-Pad IS701R BSNL:
·         256 MB RAM
·         2GB Inbuilt Flash memory & expandable up to 32 GB
·         1Ghz MicroProcessor
·         7" screen with resistive and 16:9 ration 800×600 resolution
·         3Ah Battery (3000 mili Ampere Hour)
·         VGA camera
·         Wi Fi
·         USB
·         Android v2.3 Gingerbread
·         HDMI port for TV out
Some commonly asked question about BSNL T pad:
1)      How to buy penta T pad 701R?
See this post:
2)      What is price?
BSNL declared the price as 3499/- INR
3)      When the Tab will be available?
No guarantee but it may take more than 60 days from Pre booking.
4)      Is it possible to use android market on this Tab?
Yes you can download any application from Android market to the Tab.
5)      Can we connect it to TV/LED/LCD?
Yes the Penta 701R has inbuilt HDMI port so you can connect it to TV directly.
6)      Can we use Broadband on BSNL Penta via external BSNL broadband router?
Yes off course it has Wi Fi connectivity, so it is very easy to use high speed internet on it as compared to that default 2G BSNL SIM.
If you have any questions then you are welcome to comment here. J