The marketing landscape is crowded with options, however live streaming is emerging as one of the most powerful ways for destination companies to use their marketing resources. Here are 10 reasons why hotels, resorts, entertainment facilities, and travel destinations are choosing live streaming and webcam hosting over alternative options for marketing.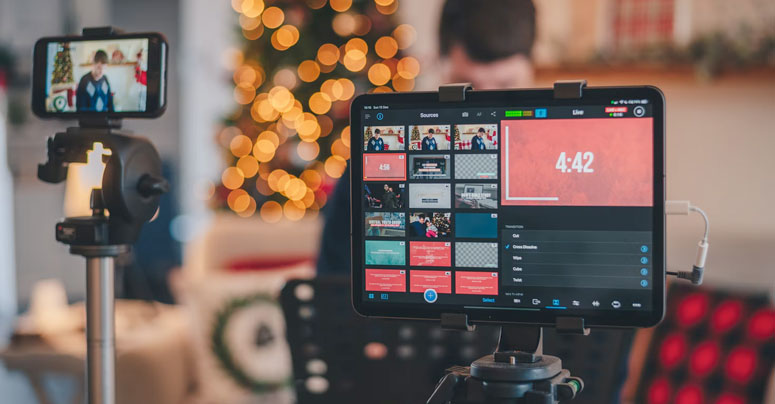 Statistics show live streaming is where audiences are going
Audience growth for live streaming is outpacing other formats. Measured on the top five social apps, live streaming demonstrated 25% compound annual growth rate for audiences, compared to 15% for chat and photo & video. Growth in engagement is a leading indicator for consumer spend acceleration.
Social media apps that spotlight their live streaming features account for more than 75% of the money spent in the top 25 social apps in the first half of 2021. Compared to 2018, that's a consumer spend market share increase of 24%.
(Source: The Evolution of Social Media Apps | Live Streaming: The New Frontier for Social Media; Infogram)
Live streaming provides superior ROI
Enhanced interactivity is a value booster for live streaming compared to other marketing techniques. Facebook statistics, from its Facebook Live application, demonstrate that live streamed content is viewed three times longer compared to traditional videos. This boosted engagement indicates a potential for higher consumer spend.
The value divide for live streaming vs. standard video grows even larger when production cost is factored in. A webcam streaming product requires very little production: it's essentially "push play and go." Videos traditionally require filming, editing, and post production, the costs for which can quickly add up.
(Source: Facebook Live vs. Posted Videos: Which Has Better Reach; Biteable)
Webcam streaming builds better consumer relationships
The immediate, interactive, and personalized nature of live streaming creates audience and consumer relationships that are more satisfying and valuable. Webcam hosting puts a face, a voice, and a personality to businesses, which invites audiences to become more attached and loyal.
For destination, entertainment, and hospitality businesses, this is particularly effective. A webcam hosting program allows viewers to directly experience what makes the location exceptional. It demonstrates and shares specific reasons to visit.
Live streams lead to more consumer spending
This is a fast and simple statistic:
"67% of audiences who watched a live stream purchased a ticket to a similar event." (Source: New York Magazine)
The lesson: destinations and entertainment businesses that include live marketing and webcam hosting as part of their overall marketing strategy can see substantial conversion of viewers into customers.
Live webcam programs can grow market trust & authority
The enhanced visibility and engagement fostered by webcam hosting is a lever for building trust with an audience. Real-time interaction manifests as a "conversation" between the streamer and the viewer and that closeness allows brands to develop authority that pays off in market value.
Behind-the-scenes tours are ideal for this purpose. They provide the kind of privileged experience that not only attracts an audience, but compels that audience to become more involved. Likes, comments, and shares become social proof of trust and authority that further encourages audience growth.
Live marketing content has both immediate & persistent value
The initial webcam streaming event is only the beginning of the value chain. Once it's over, the recording can be re-hosted as traditional video content on a website or social channel. Video marketing has its own compelling statistics that highlight its value as a business marketing investment.
A live streamed room tour for a hotel, sneak peak at a resort's attractions, or insider look at a destination's attractions can live on as a video that attracts new viewers and customers.
Live streaming provides results that are easily quantifiable

Live streaming allows a high level of visibility into an audience and its viewing habits, which makes it easier to understand the value gained. The most important metrics include unique viewers, device viewership and where people are watching, view duration, repeat traffic, and viewer engagement.
Whether a company is new to live streaming or a seasoned veteran, gathering and analyzing this data is essential to improving content and deriving optimal value from a live marketing investment.
Live streaming audiences continue to grow
Familiar providers like YouTube, Facebook, and Instagram already boast massive audiences for live webcam content. However, the proliferation of new channels and providers is spurring even larger and more diverse audiences.
Swelling audience numbers across all providers is good news for live stream marketing throughout the entire segment. The rise of live streaming is evolving into an engine that is not merely dependent on platform development, but driving it.
Ultimate flexibility
Live streaming, in general, is a blank canvas with virtually no barriers to production. This provides flexibility in both generating content and reaching target audiences that making earning ROI value easier and faster.
A webcam, in particular, is an endless source of engaging content: persistent live streams, new attraction announcements, video highlights, behind-the-scenes recordings, and more.
Opportunities for influencer collaboration
The role of influencers in marketing is evolving. Instead of simply tweeting about or mentioning a product, influencers are becoming more involved. This enables expanded opportunities for live marketing partnerships with popular Facebook, YouTube, and Instagram creators.
The potential value to travel & entertainment destinations, hotels & resorts, and local attractions is obvious. Influencers bring their own substantial audiences to the project, with enhanced potential for viral content that expands reach and penetration.
Live marketing for destination businesses
The value of live streaming for destination business marketing is clear. So, where do these businesses find the right partner to help them get the most return on their live marketing spend? Introducing Ozolio, a platform that makes webcam hosting and streaming more effective than ever for:
Travel destinations
Hotels & resorts
Entertainment facilities
Zoos & aquariums
Local attractions
Ozolio helps you transform a webcam into a cost-effective marketing machine with measurable results
Ozolio is a Live Streaming and Webcam Hosting platform that is purpose-engineered to build audiences, engage viewers, and increase bookings and ticket sales. Our customers include companies in the tourism, hospitality, travel, and event hosting spaces.
Why do leading companies prefer Ozolio? They deliver:
A reliable live streaming platform that grows communities and builds brands.
Superior technology that delivers a high quality live experience that viewers prefer.
Cost-effective solution, with comprehensive metrics and variety of analytic features.
Improved digital marketing spend ROI.
Ozolio partners with companies to increase brand awareness, audience engagement, website traffic, and guest visits. With our innovative technology solution, your company can easily and effectively share the unique appeal of your location, facilities, and attractions, and gain the highest return on your digital marketing spend.
Fortune 500 companies trust Ozolio and our best-in-class platform, because they understand how to connect with and retain audiences. Ozolio is precision engineered for your business: they specialize in the destination industry and they know what matters to you and your audience.
Ready to learn more? Contact them today to schedule an online demonstration, or connect with our team to enjoy a Free Trial and see for yourself why we're loved by companies just like yours.