Disclaimer: This post is sponsored by PSECU, a Pennsylvania-based credit union.
The internet keeps people all over the world connected. The vast majority go online to conduct research, catch up with friends' lives on social media or relax with a friendly game or two of Angry Birds. However, cybercriminals get on the web for far more nefarious purposes.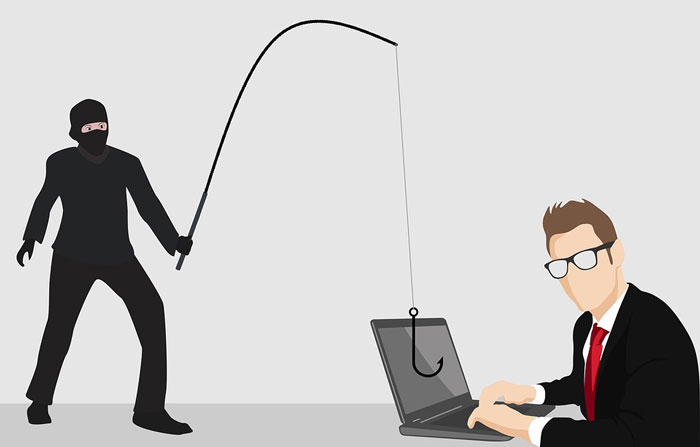 Hundreds of internet scams exist, and most web users have fallen prey to at least one. While tech security gurus work around the clock to eliminate threats, no sooner does one net scam go the way of the Nigerian prince than other, new plots to defraud the innocent take its place. In 2019, beware of the following new and improved versions of popular scams. Keep your personal data safe and your money in your pocket!
Sweepstakes Users Never Entered
Lottery scams existed long before the first computer was invented, but today's technology makes these fraudulent promises appear so legitimate that many still fall prey. According to the Better Business Bureau (BBB), lottery and sweepstakes scams make up a significant majority of online threats. Although these scams usually target older individuals, anyone, especially the financially vulnerable, can get snookered.
Some scammers misuse the names of legitimate sweepstakes companies like Publisher's Clearing House to fool the unwary. Others claim to have located lost assets that unknown relatives intended for victims to inherit. Regardless of the names used, these scams require the targeted individual to pay a processing fee to receive their prize or inheritance, which, of course, never arrives.
Spear Phishing
Most people know not to open unsolicited email attachments from unknown senders, but today's phishing scams fool victims by creating correspondence that's nearly indistinguishable from that used by legitimate organizations. The FBI recently discovered such a scam involving the Center for Missing and Exploited Children, a real non-profit, suckering well-meaning victims out of their hard-earned cash.
Early phishing attacks duped those caught unaware by transposing a pair of letters in legitimate company names. Users could avoid such attacks by simply typing the URL of the institution presumably contacting them into a new browser tab instead of clicking an emailed link to determine whether the correspondence was legitimate. Today, however, sophisticated hackers create highly personalized emails using real domain names, which re-route victims to a fraudulent site.
These attacks often fool even top executives, as they appear genuine. Businesses with remote users should switch to online file sharing services like Dropbox and Google Drive, and individual users should still avoid clicking emailed links and downloading attachments.
The Fabulous Free Trial Offer
Nowadays, online businesses offer free trials for just about everything, from hair care systems to countertop rotisserie convection ovens. While no law prohibits companies from granting free trials of products to customers, some organizations make their terms and conditions difficult to find and understand, while others use default checkbox entries to get consumers to sign up for more than they intended.
Oftentimes, victims of such scams lose hundreds out of their checking accounts or rack up hefty credit card bills as they unwittingly allow the online merchant to automatically debit funds. Before accepting any online free trial offers, research the company, their reputation and their BBB rating. Perform a Google search with the company name and the word "scam" to see what other users have to say before entering your debit card number.
Lookin' for Love (In All the Wrong Places)
Scammers love to prey on lonely hearts seeking a bit of romance online. Love does prompt people to make foolish decisions at times, like handing over cold, hard cash to someone they've never met IRL. Many scammers targeting those looking for love set up fake social media accounts replete with pictures and even videos, though the images used can often be found elsewhere online.
Like diligent little worker bees, romance scammers take their time courting their intended victims in order to earn a bigger payout. They converse coquettishly through random cam chat apps, add fake details to build a rapport and flatter those pining away for love with promises of romance or marriage.. Then, once they've won their prey's trust, they invent a "crisis" for which they need money wired to them by Western Union or similar hard-to-trace means.
Then, of course, once they've bilked the so-called love of their life out of thousands, they disappear. Getting ghosted is bad enough without getting robbed as well, so romance-seekers should never send money to anyone they have yet to meet in real life.
Social Media Scam Artists
Nowadays, it's not only the lonely who whip out their credit cards to help a dear one with a financial emergency. Social media scammers create duplicate accounts that appear identical to those belonging to friends who victims do know in real life. Sometimes, they don't even put forth much effort — they just let malware do the work for them.
Once a cyber crook has access to someone's friends list, they create a fake crisis. Unsuspecting users get an instant message presumably from a friend they truly know IRL asking for money due to a lost wallet or stolen purse. By working quickly, these thieves can snag stolen cash from multiple friends.
Fortunately, social media users can avoid this type of scam simply by giving the "friend" requesting money a call. If they find their friend at home catching up on their latest Netflix binge-watch instead of languishing stranded and penniless in Sri Lanka, they know which account to delete and block.
Staying Cyber-Safe
Keeping ahead of the latest internet scams can feel exhausting at times and make people reminisce for earlier, simpler days when thieves had to physically pickpocket them instead of duping them online. But no human activity comes free of risk. By learning about the most recent tricks that cybercriminals use to lure innocent victims, people can surf the web safely without losing their shirts.