Windows 8 was almost a failure! Even though some of you – Yes, Microsoft Fan Boys – will not be having courage to accept the statement, you should do so because it is the first time when Microsoft is about to release a sub-version of their operating system. Obviously, we are talking about Windows 8.1, which is said to be having enough bug fixes and edits when compared to the major release of that Microsoft-powered operating system – Windows 8 that was launched for both personal computers as well as mobile devices such as Smartphones & Tablet PCs. As many of you know and have experienced, Windows 8 was having an entire change from its predecessors, especially in the User Interface of the Operating system, and that may be stated as the reasons for failure of the OS.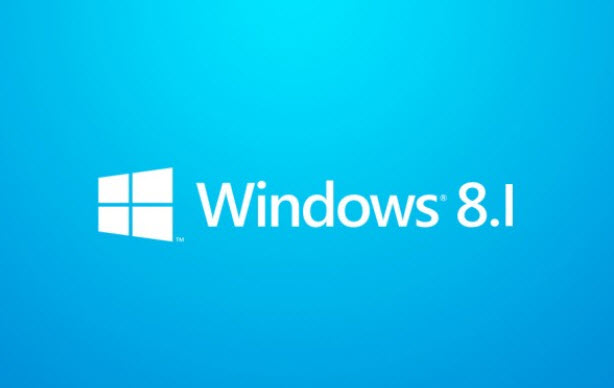 However, our topic is Windows 8.1, which is expected to be released on October 17th for public use. In addition, Microsoft allows you to test the latest version of Windows by downloading Windows 8.1 preview from the website. Also, you can find some Windows 8.1-powered Tablet PCs in the market, from Dell as well as Microsoft. Here, we like to tell you a few things you should know about Windows 8.1 and its features, which would help the update to stand alone from its failed predecessor.
What Has Been Changed
First, we will check out major changes that Microsoft has made in the version as well as how those changes could enlighten the user experience of Windows 8.
Microsoft Rethinks – Windows Start Menu is back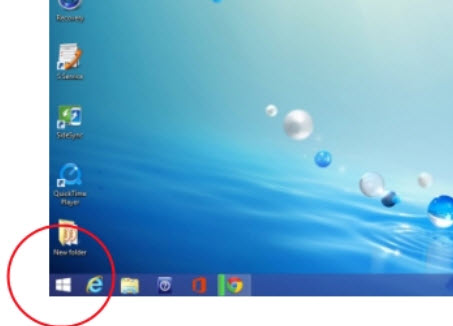 Lack of start menu was one of the notable changes of Windows 8, which gifted cumbersome for most users of the OS in different sections of usage. Windows team of Microsoft has implemented start menu in Windows 8.1, which is a big deal indeed. However, if the absence of the start menu has become familiar for your eyes and brain, there is an option for removing the start button from the start menu of Windows 8.1.
Deeper Integration with SkyDrive & Other Apps
Microsoft has integrated more features in Windows 8.1 that will help you in keeping track of all your online stuff that you have stored using Microsoft SkyDrive. All your files in your SkyDrive will be available offline as well. Also, there is option for saving your files to SkyDrive directly.
Apart from Microsoft SkyDrive, this version will also have apps such as Internet Explorer 11, in-built integration with Xbox Music, Mail etc. Obviously, the deeper integration with application means that the OS is quite easy to use than the predecessor.
Apart from these categorized stuffs, Windows 8.1 has something practical features to offer! For example, revamped interface of start screen control has avoided the necessity of accessing control panel of the PC whereas you can use Wi-Fi tethering, 3D Printing, Wi-Fi Direct, simplified connections with Printer, etc. in different practical occasions.
Security section also has received an important upgrade in Windows 8.1. If you dare to believe words from that tech giant, Windows 8.1 is damn secure, especially when compared to earlier versions of the OS. You might be interested in believing the fact because even some well-known Antivirus developers have agreed with claim. We hope that the security is something inevitable, when you are using your PC for personal or professional use.
Editions of Windows 8.1
The above list is not complete because Windows 8.1 includes a number of minor & major updates, which has made notable change in the User Interface of the OS. However, just like the predecessor, Windows 8, Windows 8.1 is also having four versions – Windows 8.1, Windows 8.1 Pro, Windows 8.1 Enterprise, and Windows 8.1 RT. Now, we will discuss main properties of these versions in the users' perspective.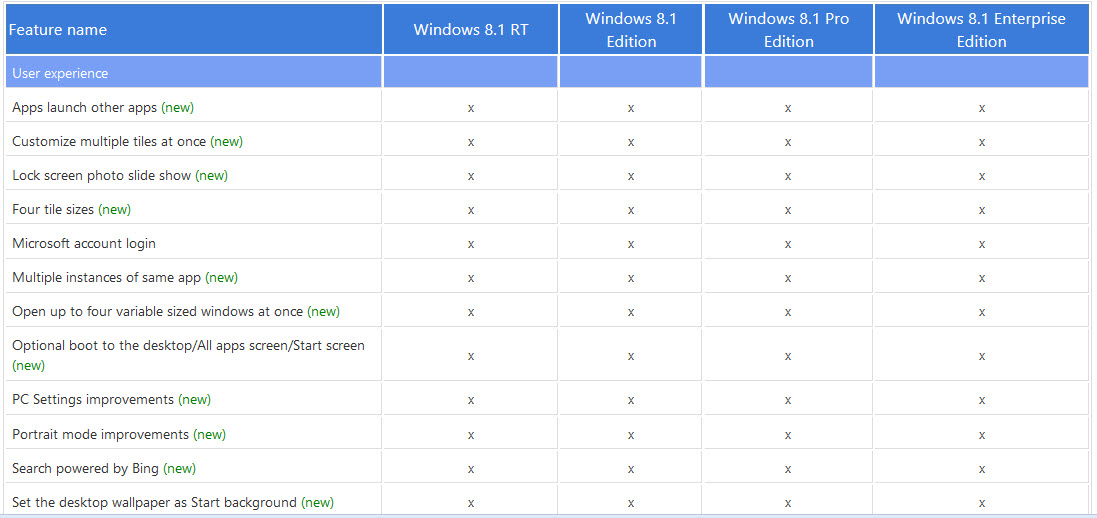 Windows 8.1
If you are using Windows for your personal works, small works like preparation of office documents etc, you can go with Windows 8.1, which is the basic version of the latest OS. The version will have all the features, we mentioned in the first part such as start menu, improved security, performance, apps etc. Nonetheless, you might not be able to use the OS version for business-oriented purposes.
Windows 8.1 Pro
On the other hand, when it comes to Windows 8.1 Pro, things are a little bit different because the OS is made for the pro users, who are involved in small kinds of business, and Microsoft has included a few business-oriented features such as ability access the network connection, tight data encryption etc. Along with that, the version is having a few notable improvements in the hardware capabilities such as the ability to bear two CPU sockets and the RAM capability up to 518 GB etc.
However, there is an option for buying a few business-based features from Microsoft store separately. This means that Windows 8.1 have chances to become the popular one among this triplet because it can convince both personal PC users as well as business-based ones.
Windows 8.1 Enterprise
And, when comes to the case of Windows 8.1 Enterprise, things have not changed much but the team has included some business-oriented features with the Pro Version. Thus, 8.1 Enterprise is the all-in-one solution for your needs regarding business. In addition to the hardware capabilities, Windows 8.1 Enterprise includes some extra features as Windows to Go, which allows you to create a portable version of the OS, DirectAccess – which allows you to get into the company network and hence manage information seamlessly, VDI for the sake of using USB peripherals as well as other devices throughout one network etc.
Windows 8.1 RT
While rest versions are made for Personal computers, Windows 8.1 RT is dedicated for devices with ARM processors and the version will consume relatively less amount of power so that manufacturers will be able to produce devices with high power capabilities and performance. This version offers most features except those business-based ones.
Conclusion
As a whole, Windows 8.1 and its different versions look awesome, and we could have a line of hope on them. Yet, we have to wait until October 17th, until the official release, to know how users will welcome this update! What do you think about this update? Will you upgrade to 8.1? Tell us via comments!