The customer service team is the face of your company. Customers will judge your company based on the quality of service or support that they receive from this team. Therefore, it's crucial to ensure that the quality of your customer service meets or exceeds the company's standards.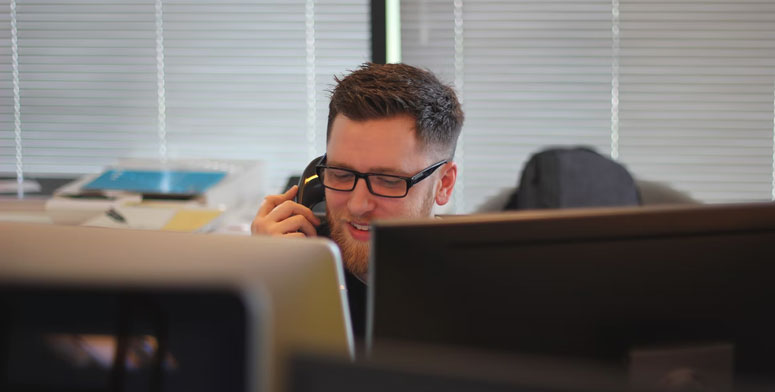 It's good to seek new clients, but not at the cost of losing existing ones. It's essential to keep them coming back to build brand loyalty. If the customers feel ignored, they won't buy from you more than once, and they might even leave negative reviews.
Furthermore, you can leverage customer service inquiries to build your brand and business reputation.
Since it's essential to improve your customer service, here are surefire strategies to do so:
Use CRM Software
Customer relationship management (CRM) software can provide your business with numerous benefits, and improving customer service tops the list.
This type of software is designed to improve a company's relationships with its customers. It gathers important customer data, such as demographics and purchase records, and makes this information accessible to the customer service team. This enables them to help improve customer experience and satisfaction.
However, it might be challenging to choose the best solution for your business from among the wide variety of crm platforms on the market today. But it would be helpful to determine your budget, the number of people who will use the software, and if you want advanced features or just the basics.
Know Customers' Needs
In a nutshell, customer service is all about meeting your customers' needs. Therefore, it's critical to identify and understand their needs. This strategy is essential, and your customer service team should take the time to understand the customer's needs so that they can propose an appropriate solution.
The most straightforward way to understand what your customers need is by asking questions. You may use instant messaging, email, or a survey to know their needs. From there, you can think of ways to meet those needs.
Many businesses now use chatbots to provide quick answers to common customer concerns. Since they provide customer support 24/7, chatbots make customer service more efficient, contributing to customer satisfaction.
Practice Empathy
Aside from understanding your customers' needs, it's also crucial to practice empathy. Customer service agents should be able to put themselves in the customers' shoes to see where they're coming from. It's as simple as asking this question: If I were the customer, how do I want to be treated?
Moreover, customers could tell if a customer service agent really cares. Demonstrating genuine empathy makes customers feel that their concerns are important and that the company values them.
Encourage Honest Feedback
Eliciting honest feedback from clients is critical to improving customer service.
Customers feel valued if your customer service agent actively listens to what they have to say instead of being defensive or dismissive. This engenders an overall positive feeling about your brand.
Moreover, seeking honest customer feedback sends the message that the company wants to know areas of improvement so these can be effectively addressed.
Set Goals
Before setting any goals, you need to develop a framework to measure your team's performance.  Set key performance indicators (KPIs) to rank your team's performance and identify weak areas.
After that, allow team members to set their own goals, empowering them and keeping them focused on achieving them. This will make the team more engaged and committed to performing well consistently. This strategy will help improve your customer service in no time.
Communicate Your Expectations
Communicate with your team, and let them know what you expect from them. For work to be done right, clear and effective communication is vital. Using a quality assurance checklist will also guide them as they assist customers.
However, ensure you're transparent with your team. Practicing honesty will motivate your team and contribute to their success.
Provide Coaching
Providing your team with helpful advice on reaching their goals, rather than commanding them around and pressuring them, will help your customer service team get better. Giving them quality feedback and meaningful coaching on how to improve their services is a surefire tactic to take your team to the next level.
Coaching is also helpful in preventing issues from occurring again and again. Mentoring, encouraging, and affirming your customer support agents will do wonders to hone their skills in handling clients' concerns and enhancing customer experience.
Create An Engaging Environment
There's immense value in creating a company culture where each team member feels engaged. This can help enhance their job satisfaction and commitment, making them loyal to your company and motivated to do their tasks well.
For instance, making training fun will accelerate learning and improve retention. Your team will thrive in this setting. Work will not feel like work because they're enjoying what they do.
Furthermore, you can create an engaging environment by maintaining good relationships and keeping communication open with your team members. It will naturally foster unity and cohesion among your team members, leading to positive performance and, ultimately, satisfied clients.
Set Up A Reward Program
Set up a team member reward program to make them feel appreciated and recognized for a job well done.  Anything from a cash gift, vouchers, a lunch treat, or corporate merchandise can make them feel special.
Giving rewards and recognition can also boost your team's self-esteem and enhance their engagement. And don't underestimate non-material recognition. In some situations, commending a person's work in a meeting or during a company gathering could affirm their worth more than anything.
Hire The Right Employees
Hiring the right person for the job is the starting point of successful customer service. One way to determine if a person is qualified for the job is to examine their personality and confidence during the interview. Apart from skills, look for a motivated person because they're more open to learning new skills and techniques.
Conclusion
To retain your clients, make sure their needs are well taken care of as their satisfaction is a priority for the company. Your clients should be satisfied not only with your products but also with your customer support services.
By following the above strategies to enhance your customer service, you can improve your customer retention and boost your bottom line.