You have a choice to make when you forge a business partnership. You choose who you want to partner with and whether or not you wish to create the partnership. This gives you plenty of opportunity to decide upon an organization or entity that best suits your business interests. However, you need to consider many factors when creating and then maintaining a business partnership.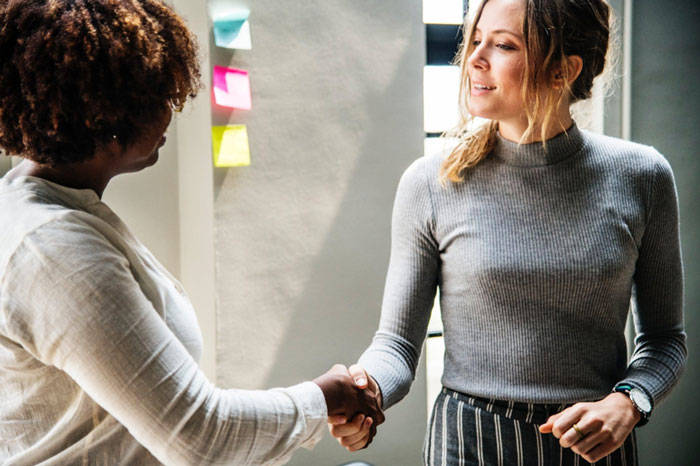 Following are 10 elements that make up a successful business partnership.
Trust and Honesty
As with all relationships, a business partnership needs trust and honesty. Both partners must be able to trust each other and be open about their expectations and goals. In many cases, one or both partners shy away from criticizing the other in order to avoid confrontation. This only makes things worse down the lane. An integral part of an honest relationship is to be forthcoming about any reservations or disagreements you have. Criticism and confrontation often leads to better decisions for both partners.
A Focal Person
Both sides in a business partnership must have a focal person. This person would represent both organizations, convey relevant information, own decisions and be held accountable at the partnership level. You can choose a focal person for the full duration of a partnership. Alternatively, you can also nominate moderators or facilitators on a session basis. If you don't have in-house team members who are good at it, third-party meeting facilitation is also an option.
Complementary Skill Sets
Partnerships which bring together complementary skill sets are more likely to succeed because they make more sense. By partnering with an organization that has skills which you need but don't already have, you are able to double your strength and that of your partner. It also creates a distinct focus for both partners, letting them target what they already excel at.
Similar Reputation
When you are seeking a business partner, it is important to consider the quality of services and overall reputation. If you have a solid reputation and you forge partnership with a company that has a poor reputation, it can dent the standing of your business. If the converse is true, your company may be blamed for sapping the potential of the partner. A quick and easy fix to this is to look for a company or organization with comparable reputation. This way, you are able to forge the partnership at a peer level.
Legal Documentation
You may fully trust a potential partner and know its team members for many years. Still, when you are forging a formal partnership, it is absolutely essential to put it down in writing. Draft the legal documents with professional help from an attorney and decide upon matters such as capital flow and dispute resolution. Not all partnerships are going to be a success. So you also need to devise an exit plan for both parties and make it a part of the legal documentation. This gives both partners peace of mind that they can exit the partnership when they feel like it.
Common Challenges
Even though you want to seek a partner with complementary skill-sets, you should also look for common challenges. If your partner has also overcome similar challenges and tough times as you have, the partnership is more likely to succeed. For instance, if your team has been through tough times and you take on a partner with a team that is entirely fresh or has novices, this will create a disparity.
Two-Way Accountability
When most business partnerships are forged, a vital ingredient that is often missing is accountability. It is critical that you determine how both partners will be held accountable for failure to achieve goals and results. By defining the terms of accountability beforehand, you are able to lay out the map which you can follow later. The accountability must be two-way, so that both partners can hold each other accountable when needed.
Shared Goals
This one goes without saying – a business partnership will work only if you and your partner have the same goals. This must be true at a broader and higher level, although the specifics can differ. For instance, if you are a music band with more sales in mind, a new sales and marketing partner you sign up must strive towards the same goals. It is best to define and agree upon the goals when creating the partnership.
Measureable Results and Expectations
How do you and your partner define success? This definition will help you create tangible goals and measureable results. This is important as it outlines the expectations of both partners. If expectations and results are left undefined, both partners expect more and more of the other. This ultimately results in disappointment and a failed partnership. By setting expectations at an early phase, you are able to lay down the blueprint for success. The only thing left to do is for you and your partner to follow it.
Commitment
Commitment is the key to success. If even one of the two partners is not willing to fully commit, a partnership will end in disappointment. Both partners must be willing to pool in the resources to achieve the shared goals and attain the desired results. Such commitment must be apparent from the get-go.
Conclusion
A business partnership is an excellent opportunity when you are looking to grow your business. Partnerships let you expand and grow areas where it is virtually impossible to grow on your own. However, a business partnership must be at the same level, based on a firm foundation and forged with clear expectations, goals and desired results. Clear communication and a full commitment are the essential ingredients for success here. A part of clear communication is also accountability and sincere criticism of each other. Ultimately, a business partnership is a partnership at a peer level. So while you must embrace the opportunity, you must also be willing to meet its challenges and make an effort to maintain the relationship.
Sylvia Peters is a Collaborator for Find A Facilitator and a mother of two.
She's also an expert to bringing the most credible, experienced and personable facilitation to every meeting she attended. In her free time you will find her meditating and making her favorite salad.