Microelectromechanical systems (MEMS) require various processes to complete their components and substrates. One of the key procedures that help achieve the desired outcome is etching, which has its own variations that function for different needs.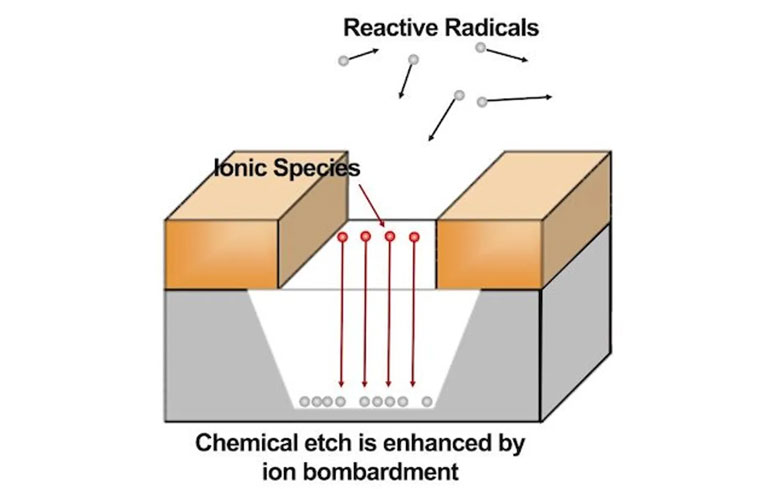 Etching is an integral part of creating microelectromechanical systems because it is what removes material from a substrate's surface precisely and accurately. The process is also divided into two parts and differs significantly in what they use to efface matter off of MEMS components, which are wet and dry etching. However, we will be focusing on the latter and its applications here. So, read on to find out more.
Dry Etching: The Essentials
It is always best to thoroughly understand the concept and principle of the process before proceeding with any further action. So, here is an in-depth overview of all you need to know about dry etching. First, one of its defining features is that it uses plasma or reactive gasses to remove substances from substrates. Additionally, it keeps the surface void of moisture, hence its namesake. On the other hand, its counterpart, wet etching, operates with chemicals.
Dry etching is a more physical approach that incorporates chemical reactions in small amounts in manipulating microelectromechanical elements. It uses the concept of bombardment and vigorously but carefully removes substances by pounding vapor into the surface. Usually, the gasses used are boron trichloride, chlorine, fluorocarbons, and oxygen. These components effectively dislodge sections in areas that need removal. Moreover, this induces a chemical reaction between the exterior and the reactive species.
Advantages and Disadvantages
Dry etching has a proven slew of benefits in perfecting MEMS parts. Some of the minor ones include a minimal disposal process. As a result, there is less waste, and dimension control is often improved. It has also been proven that plasma etching can significantly develop the quality of the fabrication of integrated circuits. With that, the following are a few of the advantages of using plasma etching:
Unlike acid etchants, a plasma etchant is an excellent cleaner and can remove any unwanted organic residues from metal surfaces. Therefore, it is a dream come true for lab personnel as it is easier to maintain kept surfaces and prevent the metal component of the substrate from rusting. Additionally, plasma etching is a more effective adhesive approach since it creates a tighter bond between two surfaces in comparison to other etching methods. As a result, this process is less of a risk, especially since it does not require the use of strong chemicals such as acid. Lastly, the collective properties of this procedure improve the overall physical aspects of its subject material.
As for its disadvantages, dry etching does have a few slight setbacks. For example, its selectivity between different materials is not extensive, despite it being a complex and advanced technique. This can cause minor inconveniences in the laboratory. Additionally, this method produces slower etch rates as well, making it a time-consuming process. Fortunately, these flaws are not constant and will vary depending on multiple factors.
Dry Etching Applications
Dry etching is quintessential in providing high-aspect-ratio precision in forming the components of microelectromechanical systems. It is a method that will either consist of a purely chemical or physical approach, if not a combination of both.
As for the purely chemical approach, despite its name, it does not govern the use of liquid chemicals. Instead, it utilizes the principle of spontaneous gas phase etching. On the other hand, the physical process removes material via ion beam etching or ion milling, playing off the materials' interactions. Additionally, the reactive ion or plasma etching, which uses both methods, is a popular choice for manufacturers since it is the most advanced and developed.
Dry etching employs various methods to effectively serve a specific purpose in creating parts for microelectromechanical systems. Furthermore, here are their in-depth applications.
Printed Circuit Boards
Dry etching is an essential process in manufacturing printed circuit boards. Types of this procedure, specifically plasma etching, carefully desmears the surfaces from their material for further treatment.
Dry etching or plasma etching is ideal for printed circuit boards because the ions present in the substance effectively clean the exposed surface. Meanwhile, the photoresist properties on the board also protect it from damage.
Reactive Ion Etching
One of the most popular kinds of dry etching is reactive ion etching. It is a process that consists of depositing electrons onto a platter, creating a negative charge. As a result, a negative charge and voltage will generate due to electrical isolation. Then, positively charged plasma is created.
Once the positive plasma forms, it collides with the samples subject to the etching process, resulting in a chemical reaction with the organic material. Then, the interaction strips the matter from the surface, and the debris is disposed of via a vacuum pump.
Reactive ion etching is also advantageous since it is the directional or anisotropic method. It etches in one direction, preventing under-etching, unlike other forms of dry etching. When this happens, the etchant penetrates the photoresist layer. Thus, the outcome becomes messy, and the electrical reliability is also affected. Additionally, plasma etching allows for easier and more reproducible results.
Metal Etching
Plasma is not considered the most effective means of removing metal; actually, etching the material is even out of the question. However, by heating the chamber and employing the etching process, it becomes a quick way to make the impossible possible.
Plasma etching works best for metal because it maintains high consistency and accuracy. Additionally, it does not impact the properties of the material, such as its stress, tensile strength, ductility, and hardness. Instead, it allows for etching in the atomized state without any visible pressure on the surface. Finally, dry etching on metals eliminates burrs. Since there is no pressing force used, no bumps or curling appear. It helps maintain the integrity of the material as well as its performance. Most metal parts are used for electrical systems, so the wet method is unideal since it could tamper with the quality. Additionally, this approach for metals works hand-in-hand with the post-process stamping in the resulting product and carries out adhesive, electrophoresis, blackening, etc. These characteristics make it a more cost-effective option.