Digital transformation is, without a doubt, the top business development trend of the year. Taken aback by the COVID-19 pandemic, businesses have had to adapt on the fly and invest in digital services, even if that meant challenging preconceived notions about functionality and productivity. In 2021, most brand-consumer interactions take place online, and the list of businesses that can't benefit from software development at all is getting smaller and smaller. According to a recent estimate, IT spending on enterprise software reached $529 billion in 2020 and, based on the current adoption trends, is on track to exceed $669 billion by 2022.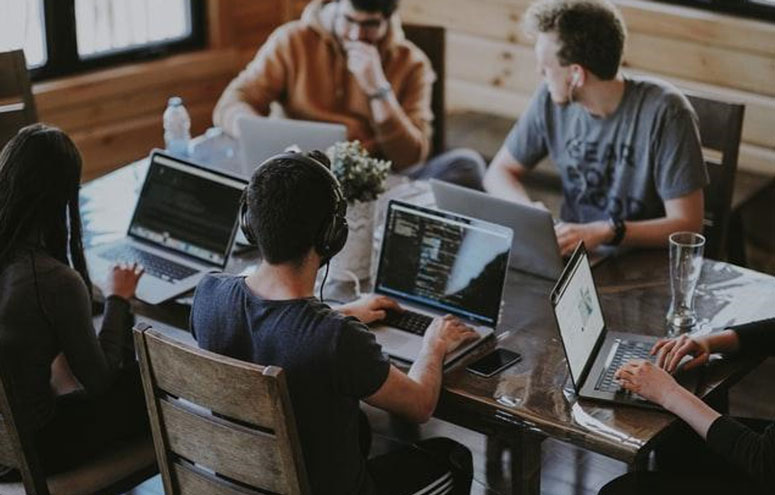 And yet, investing in software development can be scary, especially for businesses in traditional fields, for which doing things the old-fashioned way has worked great until now. Despite the fast adoption rate, there are still many myths about software development that prevent business owners from making the right decisions or make them start projects based on incorrect assumptions.
MYTH #1: Software development projects are expensive
By far the most enduring myth about software development, and perhaps the most common reason why businesses are skeptical about investing in it, is that software development projects are always prohibitively expensive and that you can forget all about it if you're on a budget. Nothing could be farther from the truth.
In reality, not only does quality software development have a high return on investment, saving you time and money in the long run, but it's also not that expensive, to begin with. There are many software developers on the market, from freelancers to offshore companies, and their rates can be quite competitive. Plus, software development is scalable. If you have a small business and don't need something with a ton of features, you don't need to pay a lot of money for something that doesn't bring you any value. You can start small, with the features you need now, and add additional features later. It works the other way around, too: if you have to downsize or your requirements change, you can eliminate features.
Never assume that a software development project is too costly and give up the idea. First, contact several teams of professionals for quotes, and see if there's a way to implement your idea on a budget. As you can see in this software development project budget example, there are many factors that can influence the costs of software development, and it's important to have realistic expectations right from the start.
MYTH #2: It's better to hire an in-house team
When you decide to build a certain type of software for your business, one of your first thoughts will probably be: Well, I should put up a job ad to hire someone. 
However, unless you have a big company or need an in-house development team in the long run, this is actually a bad idea. Recruiting top-level developers takes a long time, especially if your location isn't a tech hub, and you have to invest a lot of resources in their salary and equipment. Their requirements may exceed your budget capabilities, and once the project is complete, you may not need them full-time.
So, what's a better option? Outsourcing software development. The global IT outsourcing market is currently worth $5.2 trillion, and software development accounts for 57% of all outsourced projects. By outsourcing your project, not only do you have access to top talent from all over the world, but you can also reduce development costs dramatically. Moreover, by using corporate software solutions like Human Resources Management Systems (HRMS) and Workforce Management Systems (WMS) there is a greater chance for your outsourcing team to be more effective and at the same time reduce staffing costs for you. One example of such software is Sense HR, a cloud-based HRMS solution designed to streamline HR processes and improve workforce management. With Sense HR, businesses can automate time-consuming HR tasks such as employee onboarding, leave management, performance tracking, and payroll processing. The software also provides advanced analytics and reporting tools to help managers make data-driven decisions about their workforce. For Sense HR software click here to learn about how to improve the HR processes of your freelance team and reduce the time and cost associated with workforce management. The overwhelming majority of business partners have had a positive experience with their offshore partners, and outsourcing rates are expected to grow even more now that businesses are embracing digital transformation. The most popular countries for software development outsourcing are India, Ukraine, the Philippines, Poland, and Romania.
MYTH #3: The more software developers, the better
Some software development projects are indeed complex enough that they need a team of dozens of engineers, project managers, and testers. But, most of the time, work can be done just as well by a smaller, but well-qualified team.
The problem with big teams isn't just that they raise the costs of software development exponentially, but also that they can create bottlenecks. When tasks are scattered to more people than necessary, your project might not make it to the market on time because there will inevitably appear communication and collaboration challenges. So, instead of focusing on hiring as many people as possible, hire the right people instead. If they're true professionals with the right level of experience, the workflow will be much smoother.
MYTH #4: Coding skills are the only thing you should consider when hiring a software developer
When comparing the resumes of software developers, you may be tempted to focus on technical aspects, such as what programming languages they use, what other projects they've worked on, or how many years of experience they have. All of these are hard skills, and they're obviously very important.
However, the perfect software developer needs much more than coding skills. They also need soft skills, which are just as important to the completion of the project. They need to be excellent problem-solvers with a proactive attitude. They also need to communicate efficiently (which includes mastery of the English language, if you're hiring an offshore developer) and be great team players. So, as awesome as a developer might seem on paper, find time for a video call to see if they're also nice to work with.
MYTH #5: Once the product is out, the project is done
The big day is finally here, and you can roll out the software to enjoy its benefits. However, your relationship with the software development company isn't over yet. Any software, no matter how amazing, is bug-free. Not even the world's top 1% developers and testers can guarantee that your software won't need error fixing, or at least tiny adjustments based on the users' feedback, so make sure the company you chose offers continuous support and maintenance.
About the writer of this article:
Dariia Herasymova is a Recruitment Team Lead at Devox Software. She hires software development teams for startups, small businesses, and enterprises. She carries out a full cycle of recruitment; creates job descriptions based on talks with clients, searches and interviews candidates, and onboards the newcomers. Dariia knows how to build HR and recruitment processes from scratch. She strives to find a person with appropriate technical and soft skills who will share the company's values. When she has free time, she writes articles on various outsourcing models for our blog.