108-megapixel sensor, 1-inch sensor size, optical image stabilization, 10X optical zoom, and 8K video recording. No! These are not the specifications of the latest Sony or Canon full-frame DSLR camera. These are some of the features that flagship smartphones and even some mid-range phones offer these days.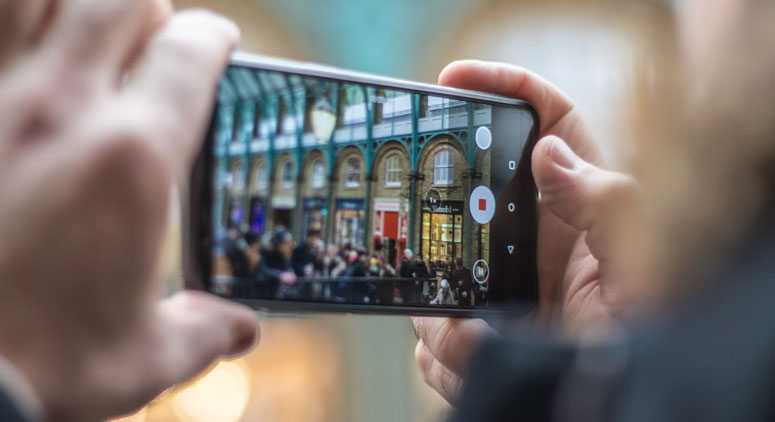 Needless to say, most of us are carrying a powerful video recording camera in our pockets, if not everyone. In fact, smartphones are now seen as cameras and mobile creativity tools that can also make calls and send messages. It has been a while since smartphone cameras closed the gap with digital point-and-shoot cameras.
With a little practice and access to a powerful camera smartphone, anyone can churn out professional-grade smartphone productions. From vlogging to recording a full-fledged documentary production, everything is now possible with a smartphone and a few tips.
To help you take your smartphone video recording game to the next level, here are some of the best tips. Some of these tips are just common sense but deliver amazing results every time.
Use Landscape Orientation to Record
No one and that means no one likes the black banding of videos where there are two vertical bars along the sides of the video. This common mistake can be avoided by using landscape orientation instead of portrait orientation while shooting a video using your smartphone.
Not only does the landscape orientation look more aesthetic but it optimizes the video to be played on a television, laptop, or tablet screen. Therefore, remember to record videos in horizontal orientation. Use vertical position only if the platform you're recording the video for asks for it like TikTok, Instagram Reels, and YouTube Shorts.
Ensure That Framing is Proper
One of the most important aspects of smartphone video recording is proper framing. It's best to fill the frame with the subject or if you want to show the background put the subject slightly off-center to add aesthetics to the frame.
These days smartphone cameras come with an option to turn on viewfinder gridlines. The setting puts vertical and horizontal grids on the display while recording video. These gridlines are very useful to follow the rule of thirds while recording a video.
Avoid Digital Zoom
Ask any professional photographer and they'll tell you that they would rather walk closer to the subject than use digital zoom. This is because using digital zoom always results in loss of details and introduction of noise or grain in the recording.
Thankfully modern smartphones like Samsung Galaxy S21 Ultra, iPhone 13 series, and some Huawei devices offer integrated lossless or optical zoom. In case you don't have one such device, consider investing in a clip-on lens accessory from brands like Moment. These are good for tight shots like the closeup of a face.
Don't Use Flash
Whitewashed foreground, dark background, yellow skin, and devil eyes (red-eye), are some classic issues with pictures taken using the smartphone's LED flash. The LED flashes on phones are too bright and are known for skewing the color science of the photographs.
It's recommended to find a good light source apart from your phone's flash to shoot lowlight videos, a ring light would be the best. Most smartphones these days also come with a dedicated night mode, which enhances the low-light images and videos in post-processing.
Avoid Heavy Backlit Scenes
Another thing to keep in mind when considering lighting, in general, is to avoid setups with heavy backlight. Bear in mind that your eyes can see the human faces and bodies when backlit but that's not the case with a smartphone camera. You'll end up with videos that will show only the silhouette of the subject.
Unless your smartphone has advanced HDR capabilities, invest in a basic light setup. In case you're recording on the go, either ask the subject to face the light or move yourself to one or the other side of them.
Ensure Stabilization of the Video
No one wants to watch shaky or janky videos in 2022. Smartphone brands tried to reduce the handheld shake with optical and electronic image stabilization. As a result, even if you are shooting your video handheld, you should have a fairly smooth video output.
In case your video requires you to move around and pan or orbit around a person or object, it's advisable to invest in accessories like a gimbal or tripod to reduce the overall shakiness.
Edit the Final Video
Lastly, your smartphone videos might require a little touch-up before they are ready to be uploaded. There are various apps like InShot for Android and iMovie for iOS, which let users do everything from trimming, adjusting the speed of the video, adding effect, and more right on their phone.
Use bigvu.tv to add accessibility options like subtitles and high contrast text in your videos to make them accessible for all. Not just that, the Bigvu app also let users capture professional-looking video with its integrated teleprompter feature. These are just a few examples of an app that offer powerful video editing. All you need to do is pick the right app and churn professional videos right from your mobile.
These are some of the top tips and tricks to record amazing videos from your smartphone. A little practice and time dedicated to the craft, and you will be recording amazing videos in no time.