The Samsung Galaxy S4 has finally been released, putting an end to months of speculation and rumour about what we'll get with Samsung's new flagship smartphone. Along with the iPhone, the Galaxy line is one of the most popular and well-received series of smartphones on the market – so expectations were understandably high for the latest model, which was unveiled at an event in New York on March 14th.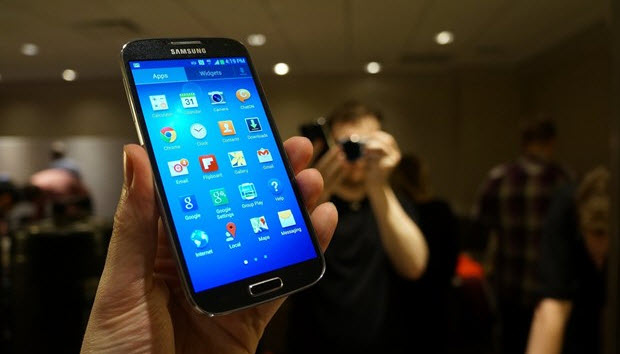 Image credit: wired.co.uk
At first glance:
At first glance, you may be forgiven for thinking there's not much difference between the Galaxy S4 and its predecessor, the wildly successful S3. In fact, you'd be right up to a point: Samsung seems to be going with the "if it ain't broke, don't fix it" school of thought. It's a little sleeker and sturdier, but still uses the same polycarbonate chassis as the S3, and it's more or less identical in weight.
 As compared to S3:
The screen is a little bigger than the S3's at 4.99 inches, but overall the chassis is actually smaller – no small achievement when you consider the technology that's packed in there. Once you actually look at what's on the screen, you'll see one of the biggest advances the S4 has made – the full HD display, boasting 441 pixels per inch, is one of the sharpest and crispest money can buy. It may be slightly shy of the HTC One's pixel density, but compare them side-by-side and you'd be hard-pressed to tell the difference.
Probably the other biggest change is in what's under the hood. Although according to the latest news, the UK version of the S4 is to get a quad-core processor rather than the much-vaunted octa-core, although Samsung was quick to reassure users that there won't be any difference in performance. It's a good thing too – in recent Geekbench 2 tests run by Android Authority, the S4 was crowned the fastest phone on the market, beating the HTC One, Nexus 4 and iPhone 5 by quite a margin.
The S4 is, of course, 4G-enabled so you'll be able to take advantage of those super-fast mobile broadband speeds when your carrier gets them. Additionally, the 13-megapixel rear camera is a definite step up from the S3's slightly underwhelming 8-megapixel one, and it's supported by an array of software features including HDR, panoramic photos and a dual-camera setup that lets you record on the front and rear cameras simultaneously.
See full features list from: Gsmarena
Conclusion:
Overall, then, is the Galaxy S4 a blistering revolution that's going to shake up the smartphone market? Not really. It is, though, a refinement and an evolution of the S3 – it might not do anything mind-blowingly different, but it'll ensure Samsung has a nifty and competitive offering well into the next generation of smartphones.