Today, there are roughly 300 tools accessible to assist you to develop your website, which should make your profession as a web designer a tiny bit easier. Some are admirable and helpful, while others are less so.
However, as it would be impossible for us to mention each one of these resources and tools here, we have put together details on 15 crucial web design tools to provide you with a quick overview. But, before we proceed, let's clarify who can use web design tools and who should focus on website builders in creating a website…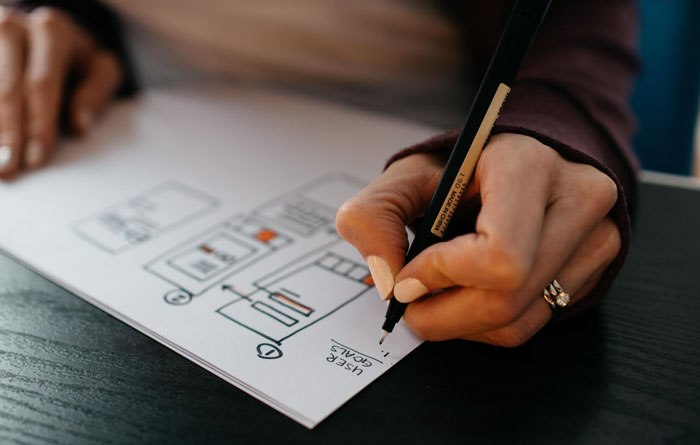 Websites of all sizes and shapes can be built thanks to the talents and knowledge of web designers. You name it, from a straightforward business website to an intricate e-commerce store. All you are required to do is submit a thorough creative brief outlining the design you desire for your website. After that, web designers will estimate the project's duration and delivery date. And they are the ones to use tools we are about to list in the remainder of the article. On the other hand, there is a matter of time. A website builder is the greatest option if your website needs to be ready "for tomorrow". You will be capable of quickly designing your webpage this way. You would need to spend a lot more time working with a web developer.
What Tools Are Useful for Web Design?
InVision Studio
Undoubtedly, InVision is the UI toolkit that does everything and has all the features you require to construct your website design. You have access to a number of tools, including quick prototyping, responsive web design, and micro-interactions on your site, thanks to InVision's many capabilities.
Finally, it is simple to export your design using InVision, share it with others, and ask them to collaborate. InVision is primarily used to obtain client feedback. It is also simpler to collaborate on a project because InVision runs on macOS in addition to Windows and through the web.
Adobe XD
A vector-based program called Adobe XD is excellent for developing web projects. It is used to create the user interface (UI) for mobile and online applications, which are subsequently saved in the Adobe Creative Cloud.
As a result, perfect importation is also possible for elements or files from Adobe Illustrator or Adobe Photoshop. Windows and macOS users can both utilize Adobe XD.
Adobe Photoshop
Photoshop, which is primarily used for manipulating images, is also a great tool for building websites, but it is best suited for seasoned web designers. Photoshop can be used for (nearly) everything, but once you understand how it works and you master it, you could employ numerous themes and patterns to create gorgeous site designs.
Photoshop is typically exclusively used by experienced web designers because it is an expensive but very useful program.
Canva
With just a few clicks and drags, Canva makes it easy to design photos for your website or social media accounts. You have access to many pictures, graphics, animations, fonts, and other things using Canva.
The software Crello is a well-liked substitute for Canva and provides a number of free short videos as well.
Sketch
Due to its practicality and ease of use, Sketch is among the most extensively used and well-liked UI and online design tools. It is primarily made to assist you in designing websites and apps, and it especially makes teamwork easier because everyone on the team has access to all the information and features.
Sketch is a vector-based program, as opposed to Photoshop, so you can alter or modify graphics whatever you wish without sacrificing quality. The fact that this tool was created exclusively for macOS yet not Windows is a minor drawback. The benefit is that you can access and modify any Sketch file using the Windows program Lunacy.
Balsamiq
A wireframing program called Balsamiq is best for drafting the first version of a website. You can drag and drop pieces into your page in the order that they will appear when the page is finished loading.
Additionally, Balsamiq has a trial edition you may use for 30 days without paying anything, after which you can decide whether or not you want to purchase the full version.
Figma
The ability for multiple designers to collaborate on a project concurrently and in real-time is what distinguishes Figma most. Because of the cross-device design, functionalities and content are equally visible on PCs, smartphones, and tablets, making responsive web design a priority at Figma.
The key benefit of Figma is its ability to be used on devices running Linux as well as iOS and Windows as well as on the Internet. You are entitled to use either the free or the premium version.
Marvel
Marvel is a great tool for swiftly implementing concepts and building a website's first prototype. As a result, it is easy to obtain an idea of how your website will appear and start making the required adjustments and optimizations right away.
Marvel has the benefit of being an internet tool that does not require downloading any software.
MockFlow
You may meticulously arrange every aspect of your website at MockFlow. You have the choice to jot down your early thoughts in this area before developing a strategy from them.
You can then put this idea into practice with the aid of pre-made layouts and templates, all the while having a UI revision tracking system at your side.
Framer
A tool called Framer can help you and your members of the team communicate and work together more effectively.
The unique feature of it is that whenever a modification is made or the layout is altered, everyone concerned is informed and kept aware of the changes immediately.
Flinto
The Flinto tool helps you plan an interactive design because it makes it very easy to create animations and transitions. Sadly, Flinto is only accessible for macOS right now, but components and features from Sketch and Figma may be easily imported.
Fluid
You may quickly and easily create UI designs and prototypes for your upcoming website with the Fluid tool. After that, you can immediately distribute them to other people or your team.
Startup 4
You can build webpages using the Startup 4 tool without knowing any code. You can quickly choose the proper fonts and use drag and drop to incorporate any layout, design, or style owing to the compatibility with Google Fonts.
Tools When Choosing Fonts
There are a number of tools that can assist you in creating your content when selecting the font(s). Here are several instances when both free and premium fonts can be found:
What Font Is
Fonts in the Wild
Google Fonts
Font Squirrel…
… etc.
Everyone can find something here!
Tools When Choosing Colors
Similar to how you can pick a different tool, you can get assistance in finding the ideal colors for your website. Here are a few instances:
ColorHexa (provides details on color gradations and schemes).
Color Scheme Designer (assists in formulating color schemes).
Grad Pad (a tool for creating color gradients)…
Color Thief (with its aid, a color palette can be created using an image).
Adobe Color (where five complementary color tones can be found)…
… etc.
What Can We Say about the Tools for Web Design in the End?
Planning in great detail and coming up with a perfect idea are essential elements of effective web and UI design. Although there is not a tool that can complete the entire procedure for you, there really are solutions that can be useful. As was already indicated, there are certainly plenty more tools, however we believe that with the names featured above, you are already in a very strong position.
Do you require assistance with developing your website or do you have inquiries regarding specific web design tools? We are delighted to help you with just about any queries or issues!