Signing documents is something that everyone has to reluctantly go through, but with the rise of digital technology and the subsequent alteration of how we create, use and share our signatures, it's become a much easier and quicker process. There are multiple approaches to creating electronic signatures, whether you're a Windows or Mac user, or maybe neither of the two!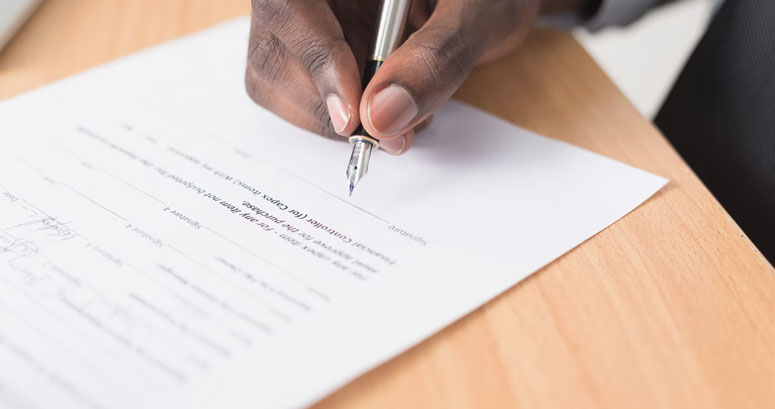 How to eSign on Mac
Signing on your MacBook computer can be done by simply opening your document that needs to be signed in the Preview app.
Open the Markup Toolbar.
Click on the symbol of a signature, and then 'Create signature'.
Select whether you want to create your signature by using the Trackpad or Camera

For using the trackpad, click on the centre of the window and then write your signature directly on the trackpad with your finger. Click any key on your keyboard to stop, and then 'Done' when you're satisfied with how it looks.
For using the camera, write your signature with a pen and white paper and hold it up to the camera to take a photo of it, when happy with it, click 'Done'.

You will then see your signature appear in the dropdown from the Sign symbol.
Select your signature, then place and resize it on your document as needed.
There is unfortunately not a direct way to request signatures with Preview, and instead you would send or email the document with your signature to your recipient, and they would either sign it the same way, or with an alternative tool.
How to eSign on Windows
Signing in Windows is possibly the most long-winded method of the three mentioned here, as it requires outside sources.
Write your signature with pen and paper, and then either scan or take a (good quality) photo of it.
Open your document, for example in Word, and insert the image of your signature as a Picture.

Go to the Insert tab, 'Pictures', and then 'Picture from file'.
Again, there is no precise method for requesting signatures when done this way, and you would instead save the document with your own signature, before emailing it as usual to the required signatory. They would then sign the file as they prefer, which could be by inserting an image, using Mac Preview, or an online tool.
How to eSign Online
There's a wide variety of online tools and platforms available for creating a digital signature, but one of the most user-friendly ones that we've come across is Smallpdf.
Go to Smallpdf's online e-signature tool.
Upload your PDF document that needs to be signed.
On the bar on the right, click 'Add' next to 'Your Signature' or 'Your Initials'.
There will be 3 options for creating your signature: Draw, Type or Upload
Click 'Create' and your signature will appear on the sidebar. From there you can drag and drop it to the desired place and size on the file.
Select 'Finish & Sign' and download your signed document.
It's extremely straightforward and easy to figure out, and is available regardless of what computer or browser you're using. Another great thing about this e-signing method is that you can invite signers without any of the hassle of downloading and manually emailing between signers.
Follow the instructions above, up until selecting 'Finish & Sign'.
Click 'Invite signers', which will prompt a pop-up where you can add names and email addresses of signers.
Click on the document where you want them to sign, where you will see a colored square with their email address.
When you've added all of the required signers and prompted them where to sign, click 'Review & Send'.
The recipients will receive the document to sign directly with Smallpdf, without requiring an account or subscription. They will follow similar steps with creating and adding their signature, and when they're done the signed document will be sent straight back to you.