As all of you know, the world of Smartphone is currently having many running platforms nowadays, which also make a bit of confusion when we have to choose a Smartphone for your daily use. Actual problem is when you have to move from your Smartphone to another one that is using one different platform. For instance, as you can guess, the process will be hard if you are trying to shift from Nokia N8 to Apple iPhone 5, which are using Symbian and iOS respectively. Despite the fact that you would have to face some problems with the usability and features, the main problem is with your data, you have stored in the device such as Contacts, media files, Applications etc.
The same problem is quite significant when you have to change your Smartphone without change in platform. For example, the devices are Samsung Galaxy Y Duos and Samsung Galaxy S4. Even though the brand might be same, there are no effective ways for transferring your data from one device to another one. Nevertheless, at least now, you have a better choice! Here, we would like to introduce a superb tool for transferring your data from one Smartphone to another, no matter the platform is iOS or Android or Symbian, with all safety. Hope this will be quite useful for each one, who give more importance to data rather than data but who also want to improve their Smartphone experience.
Wondershare MobileTrans
Just as the name implies, Wondershare MobileTrans is a wonderful tool from Wondershare, one of the top software manufacturers, which you can use for transferring data from one Smartphone with no loss at all. This tool is the latest warrior from Wondershare in the Mobile software section. Now, we will check out the features and usage of the mentioned tool in a brief manner.
Download from here: http://www.wondershare.com/phone-transfer/
Using Wondershare MobileTrans
Installation and user interface of MobileTrans is much easier than you expect. As the first part, you may download either the full software or the trial version from the official webpage of Wondershare MobileTrans, which will not take more than minutes. Once you have downloaded the software via Software Centre of Wondershare, you have to face a simple installation process. After installation, it takes only seconds to set up the environment and open the window of MobileTrans, which will look like in the following image.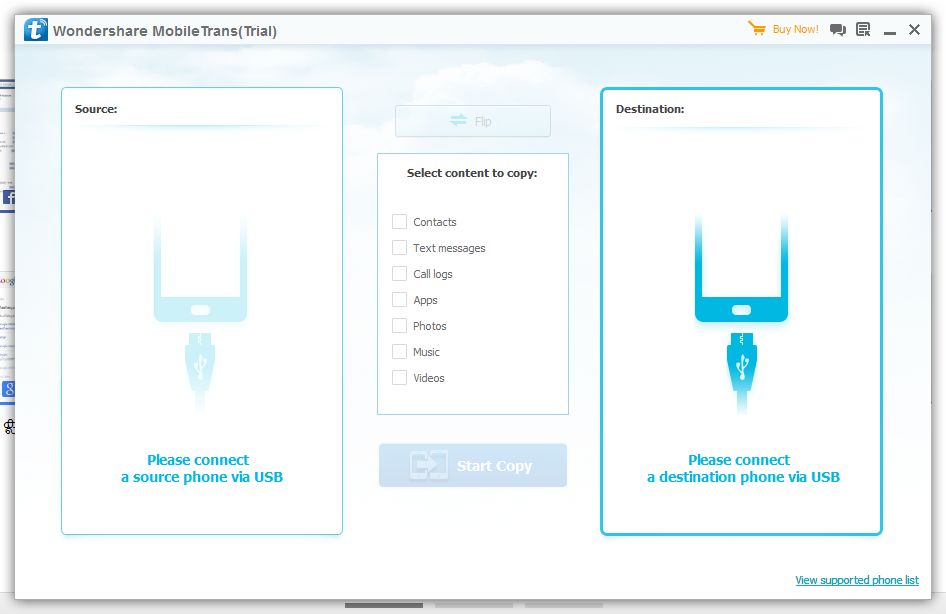 Apparently, the software has a simple user interface, which makes it easy for every basic PC user to transfer data between two Smartphones. As you can see, there are two major sections in the tool, for displaying two devices; you will be connecting to your PC. Now, you have to connect two devices using USB Cable and in seconds, the software will display image and details of the Smartphone and its counterpart in the alternate section. Now, you should determine the source and aim device using the Flip button. Once you have connected both devices, the window may be looking like this.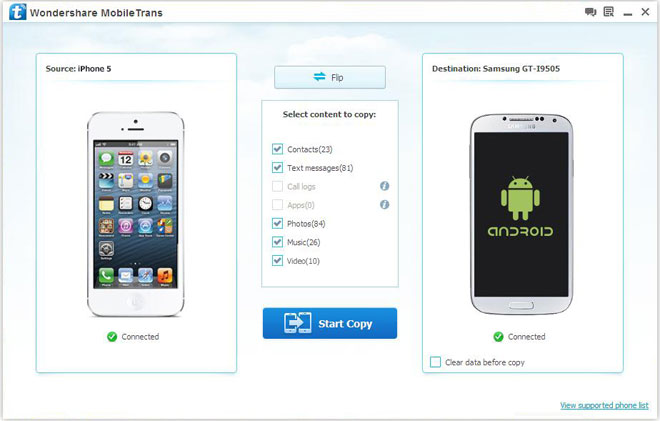 In the middle section, you can see a section, where you have to select what you would like to copy between these devices. As we mentioned earlier, you can transfer details such as Contacts, Photos, Music, Text Messages, Call Logs, and Apps [If both platforms are Android] etc. Now you can hit the button 'Start Copy' to start transferring data to the corresponding device. According to the data size you want to transfer, the software will finish the transferring process. In addition, in its progress pop-up section, you can know which file is currently being copied.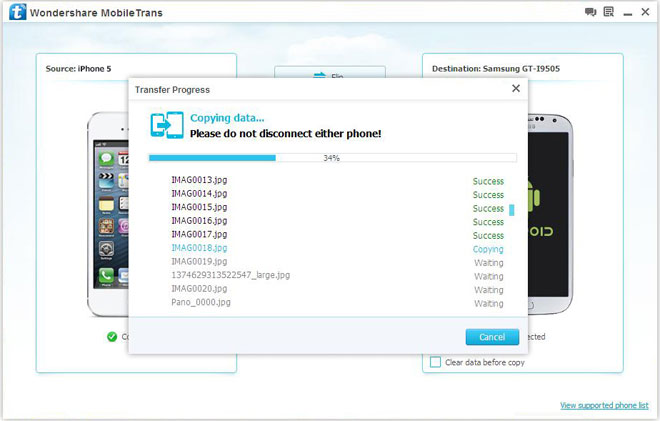 Additional Features
There are some noticeable features in MobileTrans, which can make the transfer process easier.
Wide Support: Wondershare MobileTrans has a wide range of support for Smartphones that are from various brands such as Apple, Samsung, Nokia, HTC, Motorola, Sony Ericsson, ZTE, Huawei, Acer etc, including your favourite devices.
Support for Carrier variants of devices. For instance, you can transfer data between devices that are from two carriers [say AT&T and Sprint]
Simple Transfer Process, which seems friendly for every basic PC user
Low System Requirement and OS requirements in devices, so that everyone could use it
I am sure that you are definitely interested to try it for your phone. We also have a giveaway of 5 keys to lucky winners.
Please complete below simple steps to enter into the giveaway. Winners will be announce after 8 days.
Conclusion
Viewing all these features and abilities together, Wondershare MobileTrans is a truly useful tool for transferring your Smartphone data to another device regardless the running platform. What do you think about the tool? Do let us know via comments.