You can be either a newbie or a pro in web designing world, but in both cases, Dreamweaver from Adobe is one of the best tools to develop a webpage simply than usual! Adobe Dreamweaver, coming from the Adobe Creative Suite Family, would display two screens in front of you, showing code and structure of the webpage. However, because of some issues such as the expensiveness and heaviness of Dreamweaver, at least a few of you would be having trouble to use the tool to accomplish web-building tasks. For such designers and developers, we would introduce you some alternatives for Adobe Dreamweaver.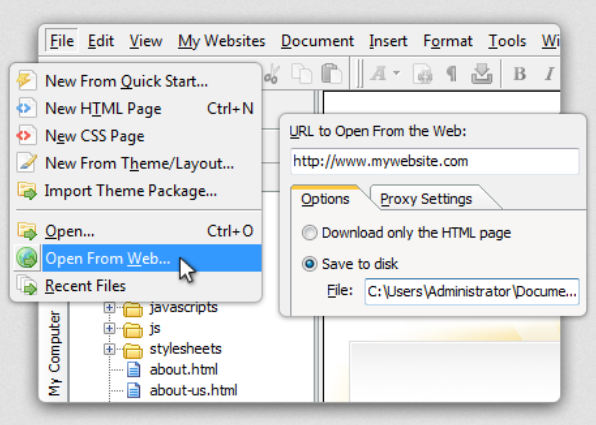 CoffeeCup HTML Editor, as the name implies, is a tool for editing HTML web pages that could completely replace the Adobe-made tool through its less-expensive price tag as well as simple-but-great feature list. CoffeeCup HTML Editor is available for both Windows and Mac, and the software comes with the support for HTML5, CSS3, and PHP etc. In addition, the tool comes with comparatively simple user-interface; visual editor, code auto-completion, and S-Drive for synchronizing your works, etc are quite impressive features, indeed.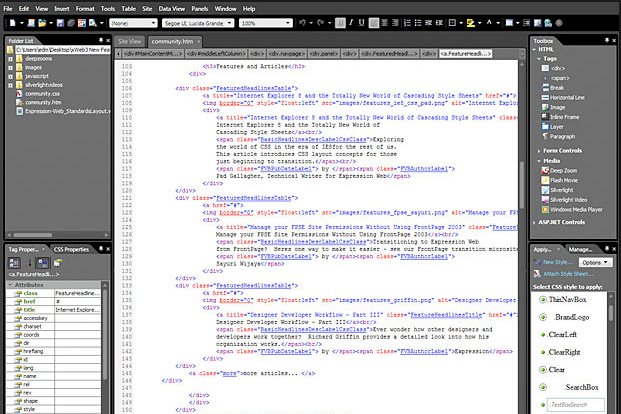 We suppose we should not miss this member from Microsoft while checking out best alternatives for Dreamweaver.  Expression Web 4.0 is a Windows-only tool for building web pages with ease through the direct code editor. The tool comprises almost the same user interface of Dreamweaver and does not compromise in the functionality as well. In that sense, being a free application to develop web pages, Even though technical support from Microsoft does not come with this free Dreamweaver alternative, you can make use of their systematic tutorials for learning more of the tool. However, the tool does not have support for SVG and XForms, and the tool might be tough for CSS & AJAX beginners, as no drawing tools or wizards are present in the tool.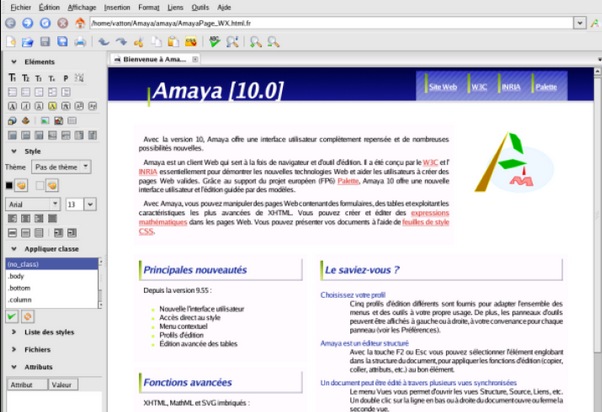 Amaya is one of the strongest Dreamweaver alternatives, which comes with support for Windows and Linux as well. As one completely open-sourced tool, Amaya offers support for direct code editing, live preview of pages and spell check etc. Nevertheless, it lacks support for several features like Java, JS, frame support, RSS, etc along with requirement of high-resolution monitor, if you would like to enjoy all the features of Amaya. It does also lack the support for FTP and the UI may not seem as intuitive as Dreamweaver. However, as a whole, Amaya is a reasonable replacement for the mentioned Adobe-tool, as it comes from the open source family.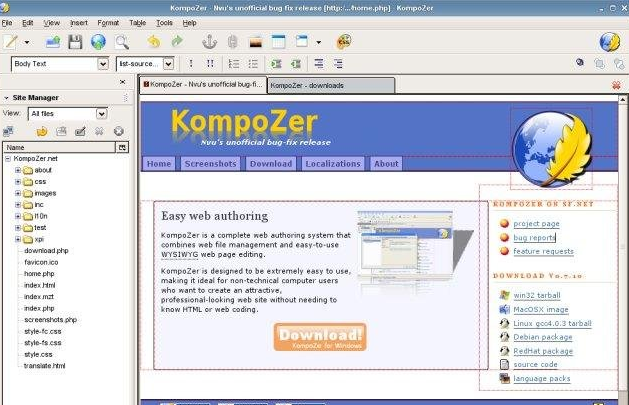 If you have ever used Linux for web development jobs, you will be familiar with the name, as it is one of the superb tools for web building in Linux. However, the tool offers support for Mac and Windows as well. Just as the tagline of the tool says, you can simplify the process of web authoring through the easy-to-use UI of Kompozer, accompanied by several features. Being a WYSIWYG editor for multiple platforms, Kompozer has some notable features such as in-built FTP support, tabbed editing etc.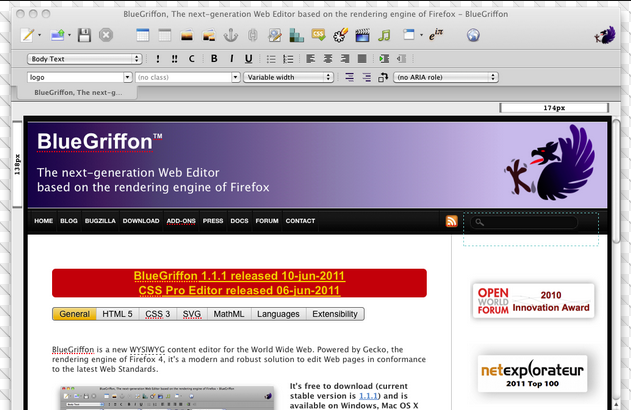 BlueGriffon is one of the effective web editors, which also has the power of open-source community and rendering engine of Mozilla. First, BlueGriffon includes an ultra-simple UI that can attract most of web developers in very first look itself. The open-source tool, coming with the support for Windows, Mac and Linux, can help you in building the web for tomorrow. The tool has support for HTML5, CSS3, MathML, SVG etc. Apparently, this award-winning tool is something great for most of your web-building needs, though it lacks support for high-end features.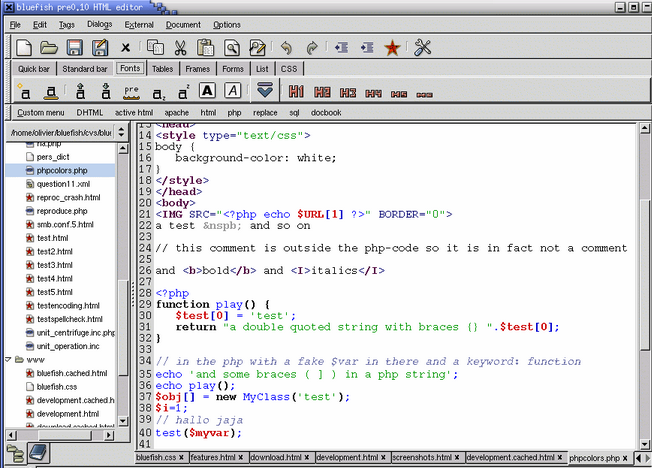 Bluefish is yet another open-sourced tool for building web pages in matter of seconds. You can use this superb tool in your Windows or Mac or Linux powered devices, and the tool would do its job very well! Even though you cannot use the power of WYSIWYG Editing in the tool, additional features such as the support for Google Go, Ruby etc, FTP support, spell-checker, preview etc are worth praising, indeed. Even when it is not able to satisfy all your nerd-coding needs, Bluefish Editor is a promising alternative for Adobe Dreamweaver, especially while considering its intuitive UI into the account.
Here comes another open-source boy! This tool offers support for different web-building languages, including your favourites such as HTML, PHP, AJAX, DOM, CSS etc. along with some strong ones like Ruby on the rails. Though this tool lack some direct code edit option, it would be a replacement for Dreamweaver, as it would help you in keeping touch with codes through the powerful auto-complete support. Features such as the in-built wizard to create sites, add-ons for doing projects in specific platforms, and the exceptional power of debugger etc are quite attractive in the tool. However, Aptana lacks support for spell-check, RSS-support etc, but this absence seems to be of no issue!
Aloha is another Dreamweaver alternative, which comes with the support for WYSIWYG editing! The tool offers the support for most of popular web browsers including Google Chrome, Mozilla Firefox, IE etc, which makes enough sense when you are building the website using HTML5 and CSS3. This editor boats a super user interface for editing the web page in an intuitive way. The direct code editing of Aloha is even awesome because you can edit the page as if you are using the web browser. After all, the dedicated support for HTML5 is something great, indeed.
Also Read:
Summary
What do you think about these Adobe Dreamweaver alternatives? Still, do you have some reasons for preferring Adobe product to these simple-and-free tools? Then, we are eager to know those reasons. Do let us know through your comments.