You know Linux Mint has a considerable user base. And, many of them are actively looking for ways to adorn the appearance. That's why you are here looking for the best Linux Mint themes.
We have handpicked more than a dozen themes for you to choose from. Everybody's tastes differ. So, we have put extra care into selecting themes of different colours and contrasting styles.
Best Linux Mint Themes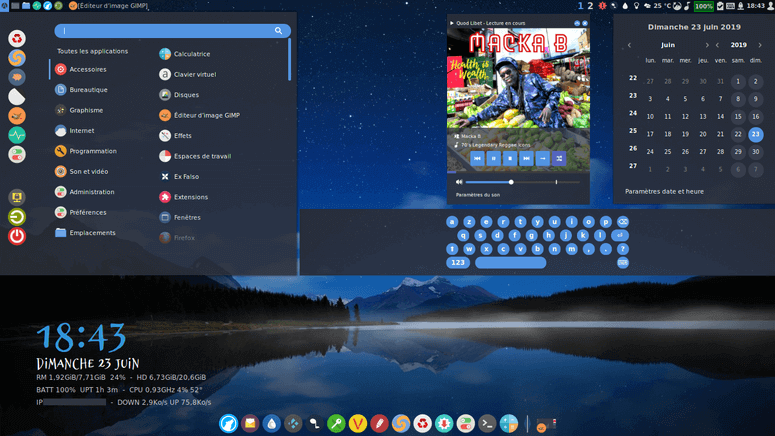 Before you jump into the list, we recommend you go through the installation process. In case you know, you can skip that part. Once you know how to install a theme on Linux Mint, you can choose one from the list below.
How to Install a Theme on Linux Mint?
Choosing a theme isn't all. You must know how to install the same. The process isn't  rocket science. The obvious first step is downloading the theme. Don't forget to unzip the file and copy the content (probably, a folder).
Then, you have to go to the Home folder. We have to paste the copied folder into the themes folder. Nonetheless, you won't see the folder there. Press Ctrl+ H at the same time to show hidden files. Can't you see .themes folder there?
Just paste the copied folder there. That's it. Now, you should search for themes in the menu and open the applet with the same name. Go to Add/ Remove. You can see the theme you just installed there.
Best Linux Mint Themes (Cinnamon& XCFE)
We have gone through many resources available online to compile this list. You will get more than a dozen themes for you to try. Let's dive into the list.
McOS
You won't disagree with me when I say macOS is one of the best in appearance, will you? For the same reason, many want to make their computer look like a Mac. McOS for those who want to copy the macOS look. Due to the compatibility issues, it was difficult to get a functional and true macOS theme for Linux Mint.
However, with the arrival of Linux Mint, the GTK compatibility issues have been resolved to a great extent. Of course, you can't expect everything like what you see on the original Apple device. Still, the developer has done an exceptional job.
Windows Flat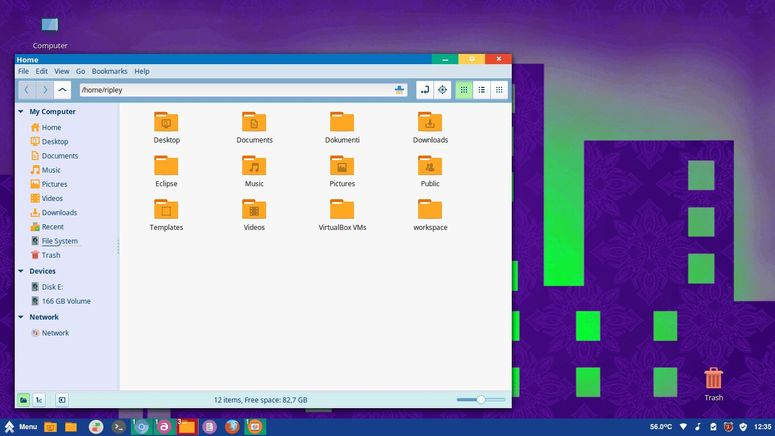 Many migrate to Linux from Windows. And, they may miss the old appearance. Windows Flat is for those people who want to bring Windows-look to their Linux Mint computer. Just like what we said about McOS, do not expect a complete revamp.
Once you apply this Cinnamon theme, the desktop becomes a cross-breed of Windows and Linux. The taskbar gets a flat look just like Windows. The other nuances may not resemble. Still, you should download this theme if you can't adjust to a new outlook.
Numix Cinnamon Transparent
Numix is a popular theme among Linux users. You get three styles of icons along with all the other changes. Though active developments are not going on, the theme has its own fanbase. It completely changes the appearance of your computer.
What we are sharing with you now is the transparent version of the Numix Cinnamon theme from zagortenay333. Once you apply this theme, the colours, patterns, shadows, and many tiny aspects will change. If you want a unique look for your Linux desktop, you must go with this theme.
Download Numix Cinnamon Transparent
Adapta Nokto
As a Linux user, you might have heard of GTK many times. It simply is a GUI design toolkit. Adapta Nokto is a GTK theme that not only supports Linux Mint, but other distributions as well. Nokto is one among the four variants of Adapta, which supports almost all popular desktop environments.
As is the case with any perfect theme, Adapta changes the appearance of the taskbar, windows, and desktop. In case you don't want, you are free to choose other icon packs. 
Paper
Introduced in 2014, Google's new design language, the material design caught many eyes with its minimal user interface and grid-based layouts. If you love such a design profile, Paper is going to please you.
Comes from an experienced theme developer, Paper has a separate icon set. You are free not to use it, though. The shadows are light and the options resemble what we saw on Android Lollipop. Don't worry, it supports almost all the major desktop platforms.
Kiss Kool Viper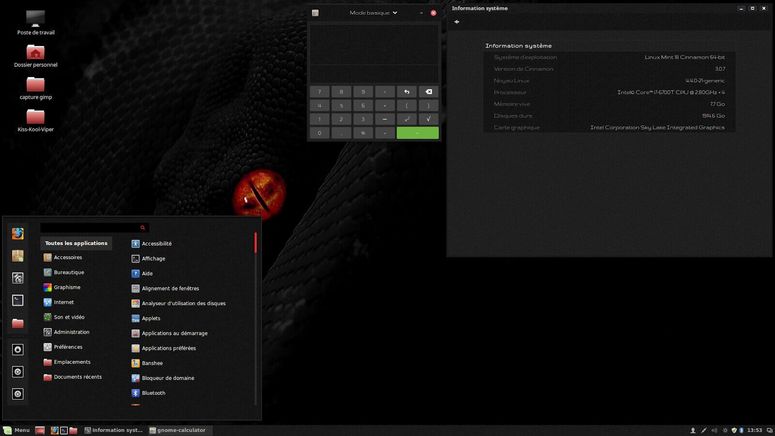 Even if the theme is a bit aged, you will find it enticing. Kiss Kool comes in vibrant colours. You are free to choose between five different variants; Deluxe California, Sepia, Deluxe Blue, Red light, and Delux pink.
Vimix
Material design has captured the hearts of many PC users. Moreover, we are living in a time where people prefer dark themes to light ones. Vimix comes with both the options. Built on top of material design, it offers both light and dark modes too.
Arrongin
Arrongin is one of the most popular themes ever you can find for Linux Mint. If you are a person who hates flat material design, you will love this. Even though the basic framework is material, the developers have given this theme a different touch.
Canta
Do you want bold colours? Canta is not going to disappoint you. It follows macOS-like titlebar for windows. Plus, you get a yellow, white, and green combo, which won't make you bored pretty soon. The theme also has a dock.
CBlack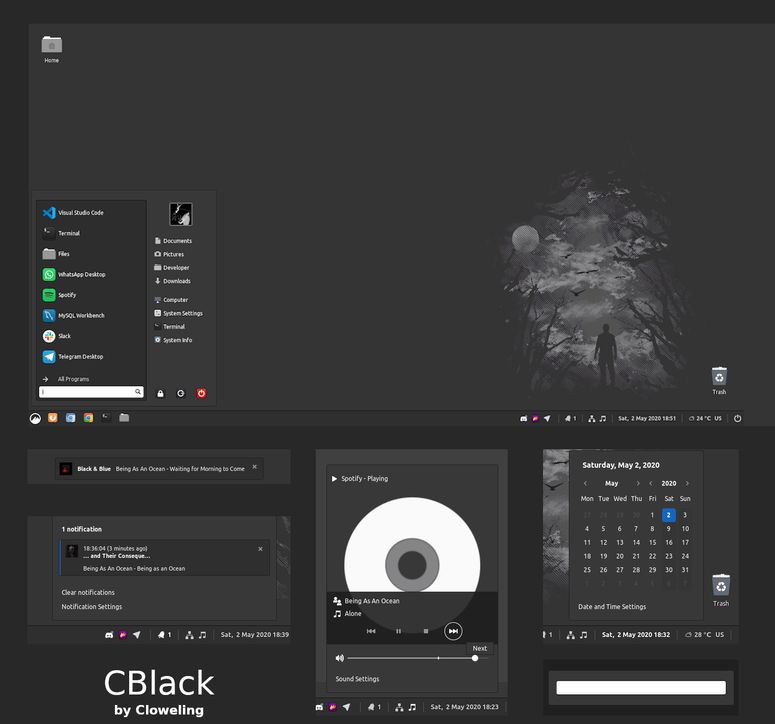 Looking for a complete dark theme? CBlack is the one you are searching for. It changes everything to black including the icons. You can play with the code to change the transparency. The icons of third-party apps won't change. You will have to go for the manual method for those.
EvoPop
Though not quite popular, EvoPop is one of the best Linux Mint themes on the web. The colour scheme revolves around white, black, and blue. The only issue you may find is the age of the theme. If you don't like the other themes mentioned above, you should give this a go.
Tomcat
We are giving you another dark theme because why not! It's not clear dark. The main colour is grey. Plus, raised elements and drop shadows enhances the appearance. It's the developer's first theme, but he has managed to make it exciting.
More Themes for Linux Mint
Frequently Asked Questions
How to change the theme on Linux Mint?
Changing themes isn't a herculean task. You just have to copy-paste the downloaded folder to Home/.themes. Then, you can see the same theme on the Themes applet from the menu.
Conclusion
You have got fifteen best Linux Mint themes. We recommend you bookmark this post for future references. You may get bored of a theme in a few weeks. Once that happens, this article will help you get another one. Don't forget to comment your favourite theme below.