No matter if you have a high-end Windows machine or a PC with very basic system specifications, it will become slower after a few months, or even weeks, of use. Fortunately, however, you can do a few optimizations to bring it back to normal. Don't want to get into the technical stuff? Well, you are in luck as you can use Advanced SystemCare 14 from IObit to manage everything from a simple and easy-to-use interface.
What is Advanced SystemCare 14?
Advanced SystemCare 14 is a reliable software that can help clean, optimize, protect, and speed up your PC to enhance overall performance. Its powerful AI Mode combined with a simple 1-click approach allows you to easily remove junk files, invalid shortcuts, and leftovers from your PC to optimize it for better performance. It can also remove spyware, sweep privacy traces, boost internet speed, and update your outdated programs and drivers. It's an all-in-one tool for Windows PC optimization and can enhance your overall experience.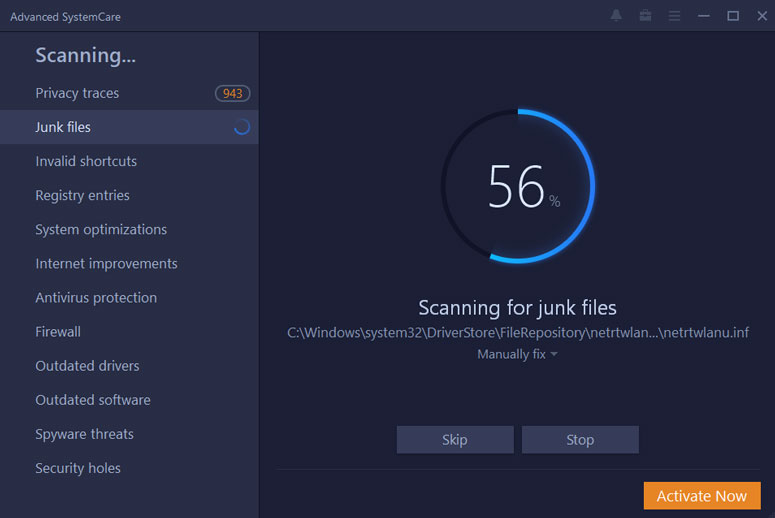 Why Do You Need It?
A slow-running PC is always a headache. Combine it with security issues and device errors and you'll have a miserable experience while working on your computer. Whether you use your computer for personal stuff or for important official tasks, you'd never want your PC to get stuck in the middle of something or leave you vulnerable to privacy breaches. With Advanced SystemCare 14, you can avoid all such issues easily.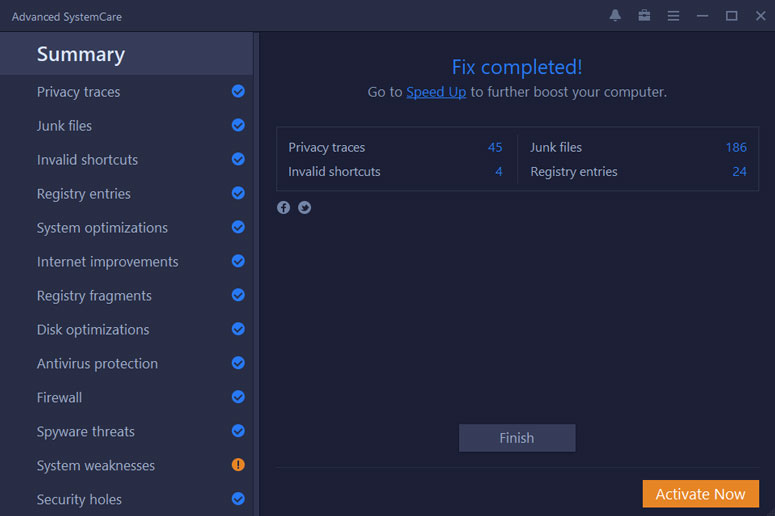 Key Features of Advanced SystemCare 14
Some key feature highlights of Advanced SystemCare 14 include:
Scan & Clean Junk Files
Turbo Boost
AI Mode
Startup Optimization
Deep Optimization
Hardware Acceleration
Basic Security
Repair Tool
Basic Disk Optimization
FaceID and Privacy Protection Features
Basic Data Recovery
Antivirus, AntiSpyware, and Firewall
Software Updater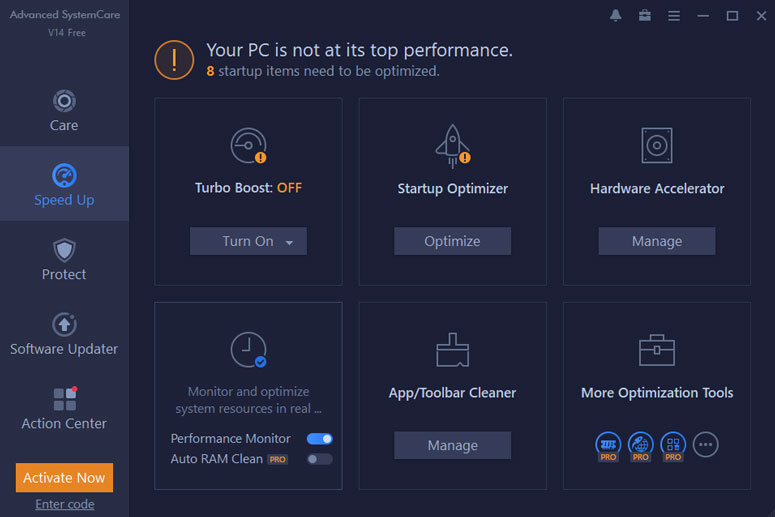 How To Use ASC 14?
Advanced SystemCare 14 brings a lot of options for PC optimization, all accessible from one simple interface. Once installed and configured, you can follow the steps given below to use the software.
From the left side menu choose from among different options including 'Care', 'Speed Up', 'Protect', 'Software Updater', and 'Action Center'
In the Care section, you get to choose between Manual and AI Mode. With AI Mode, the software will automatically clean your PC and speed it up. When you choose the Manual mode, you get the following optimization modules to choose from:

Privacy Sweep
Junk File Clean
Shortcut Fix
Registry Clean
System Optimization
Registry Defrag
Disk Optimization
Antivirus Protection
Firewall
Hardware Health
Software Health
Spyware Removal
Security Reinforce
Vulnerability Fix
Disk Check
You can select all or a few of them depending on the intended optimizations
Click the Scan button in the center of the screen to run the scan. After the scan, you can configure ASC 14 to:

Auto Fix
Manually Fix
Auto Fix and Shut Down PC
Auto Fix and Restart PC
Auto Fix and Sleep PC
Auto Fix and Hibernate PC

Once the scan is finished, take the necessary action to fix it.
Pros
Provides optimizations for improving computer speed
Offers multiple security features
Locates outdated drivers and updates them
Offers basic data recovery
Brings multiple security features
Offers a range of features to improve PC performance in general
Cons
Some functions may require you to download different extensions
Conclusion
Advanced SystemCare 14 is your advanced tool to make your PC cleaner, safer and faster. It brings lots of PC optimizations and makes the technical stuff look simple for you. Both tech experts and beginners users can use it easily with the friendly interface.