With the launch of Windows 10, Microsoft had integrated many excellent features that people had to use a third-party alternative until then. As you probably know, the current version of Windows 10 comes with an impressive set of features like the Your Phone app and some powerful utilities within Search. However, one thing that we often forget to praise is the increased power of Windows Defender itself.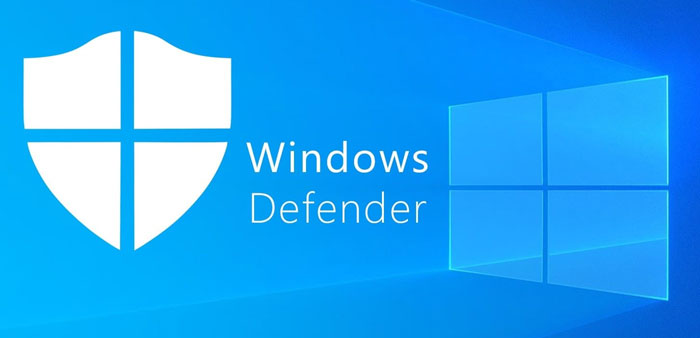 In the past couple of years, Microsoft did not just rename Windows Defender to Microsoft Defender but also started offering some of the premium security features in the package. It is so much so that most Windows 10 users can stay safe from viruses, ransomware, trojan horses, and other types of malware when exploring the web or otherwise. However, there is more to Windows Defender than antimalware protection.
What Is Windows Defender?
If you want to be completely accurate, we'd say that Windows Defender is an obsolete term. With the start of Windows 10 and its updates, Microsoft has renamed it the Microsoft Defender. In other words, the safety and security suite received a bunch of upgrades that enable the total protection of your Windows PCs from various cyber threats.
Currently, every PC running a legit version of Windows 10 is protected by Microsoft Defender Antivirus. Since this product comes from the same developers who made the OS in the first place, performance isn't an issue while running the antimalware program. So, even when this free-to-use antimalware suite monitors your PC for threats in real-time, you can keep running some of the heaviest apps out there.
The protection coverage of Microsoft Defender expands to other areas like files in cloud storage and privacy options while purchasing products online. Similarly, you get the convenience of biometric sign-in options like Windows Hello, companion devices for easy login, etc. Last but not least, you get a bunch of parental control and Find My Device features in the package.
Altogether, Microsoft Defender, or Windows Defender as we know it, aims to protect your cyber privacy and security at the best level possible. However, it's also true that not all people want this kind of protection.
Is Windows Defender Necessary?
The answer to this question depends on who is asking.
As you know, Windows PCs don't come with any pre-installed third-party antimalware programs. If you want to use a third-party antimalware program, you have to download the endpoint app from the service, install it, and set up everything. So, during this period — the moment you connect to the Internet and the moment when the antimalware suite becomes active —, your Windows PC is a little unprepared to handle malware, cyberattacks, and other issues.
However, once you have enabled the third-party antimalware suite, your system may be more powerful to handle even some of the strongest cyberthreats out there. As you probably guess, it doesn't make sense to keep Windows Defender running when you have a third-party antivirus program installed on the system. If you do so, it will only create some more conflicts within the system instead of adding dual-layer protection from threats.
Read More: Remove Windows Password
Can I Disable or Remove Windows Defender?
Yes and No. As you may have already noticed, Windows Defender is now tied to a number of features that make Windows 10 functional. So, from a stability standpoint, you cannot remove the protection suite from your computer. However, Microsoft also understands that people would want to use a better, more robust antimalware suite from other developers on their Windows PC.
Doing so would mean sidelining the Windows Defender suite, at least temporarily. And that's possible.
Therefore, you have a better chance at disabling Windows Defender and running a third-party antimalware program than completely removing Windows Defender from your computer. On a related note, we wouldn't recommend any ways to remove Windows Defender altogether, either, since doing so may have substantial impacts on how your Windows PC performs.
Consequences of Disabling/Removing Windows Defender
Let's just say you are very curious to remove Windows Defender from your PC in its entirety. Well, we have listed below some of the most significant consequences you may face.
If you disable Windows Defender or its features when you don't have a third-party antimalware suite installed, you may face the problem of cyberattacks. We never encourage the use of Windows PC — or any other devices — without proper security/privacy options.
Many of the advanced security features on Windows 10 are linked to Windows Defender. There may be an additional Settings pane to manage these options. Nevertheless, in general, you may encounter the problem of limited/non-functional features.
If you have taken care of these scenarios, you can disable or remove Windows Defender from your system. By the way, it's completely fine if you want to remove Windows Defender to prevent further conflict with a third-party antimalware tool.
However, we won't say the same if you plan to free up storage space by uninstalling the app. Instead, we think you should check out other options to deal with junk files. Therefore, if you have your eyes on the first scenario, we can proceed to the options.
How to Disable Windows Defender in Windows 10?
A quick note before we move on. Earlier, Windows Defender used to put itself on the side and disable it automatically. However, in the Windows 10 updates that followed, Microsoft changed this option. In other words, Defender acquired the ability to run alongside third-party antivirus programs for Windows 10. Now, you can interpret this scenario in two ways.
First, your third-party antivirus program will have sufficient control over your system. Real-time scans and core protection modules will be run by the antivirus program you have installed. However, some parts of the OS, for easy login and security, would still depend on Microsoft Defender. If you are okay with that, you kind of get some extra protection.
Second, this scenario may be hindering the third-party antivirus program from unleashing its full power. For instance, if you have paid a considerable sum for enterprise-grade antimalware protection for Windows 10, you would want to make the most out of that package. In such an instance, just real-time scanning isn't enough.
To disable Windows Defender in Windows 10, you have to,
Click on the Start Menu and search for Windows Defender. (In latest update it is "Windows Security")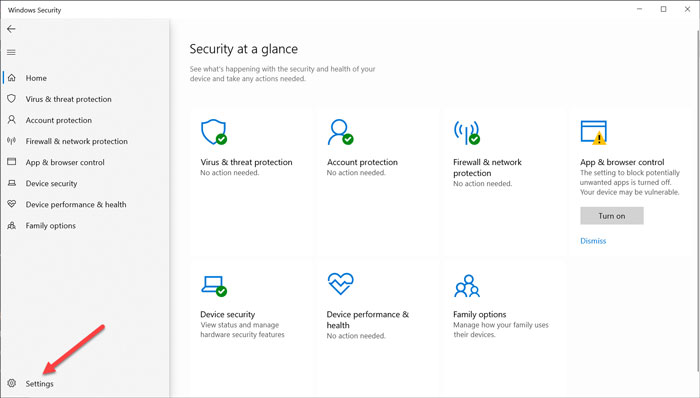 Click on the Windows Defender Desktop app, and this will take you to the fully-fledged UI of the app.
Here, you can find several options, such as controlling how Windows Defender can scan your system. Go to the top-right portion and click on the Settings Gear icon.
You will be able to see a Windows Settings pane now.
Scroll down and disable Real-time Protection for your system.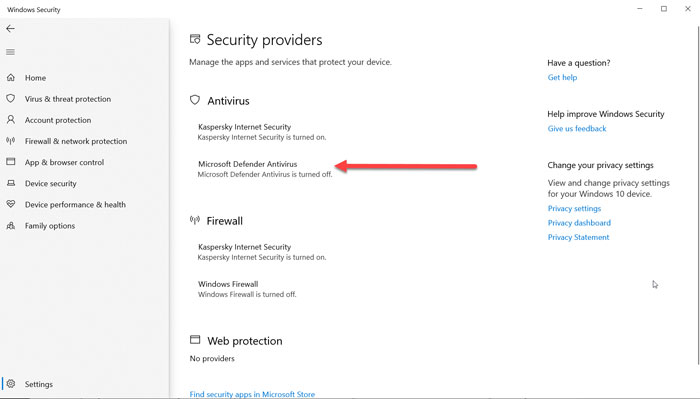 This would prevent the main core of Windows Defender, the real-time scanner, from checking your Windows PC for potential threats. However, keep in mind that the step only works if you have installed another safety and antimalware suite installed on your computer. If there is no other antimalware suite, Windows 10 will automatically turn on Real-Time Protection in some time.
But, let's just say that you want to disable Real-time Protection for an extended period — without installing an external antimalware suite. You may want to do this for testing some programs or just being adventurous on the internet. In either case, you have a solution to do this. However, we wouldn't advocate this option if you are new to Windows 10 and the world of cyberthreats.
Here's something you can do.
Go to Settings on your Windows PC
Choose Update & Security à Windows Defender
On the next page, you should see an option called 'Add an Exclusion.' Tap on that to continue.
You can now add files, folders, and file types you want to exclude from the scan index of Windows Defender.
You can simply add all your system drives to the excluded list. After this, even if Windows automatically turns back Windows Defender after some time, Windows Defender wouldn't touch your files. That is, even if there is an adware hiding within your C Drive, you wouldn't know.
Can I Uninstall Windows Defender from Windows 10?
You cannot uninstall Windows Defender from your system because it is a crucial part of the Windows 10 OS. As we said in the intro, Microsoft has now added further options to the package as well. Therefore, it would not make sense to remove the Windows Defender app from your Windows 10 PC, even if you know which program files to remove.
Considering that Microsoft is making its products closer to the ecosystem, you can't expect this option in the near future, either. Here are some extra pointers to note concerning uninstalling Windows Defender from Windows 10.
Once you have permanently disabled Windows Defender scanning and excluded the files and folders of your system, Windows Defender won't be consuming major resources from your system. So, you'd be better off in terms of resource consumption.
Once the file/folder exclusion is done, third-party antivirus programs wouldn't have any conflict with Windows Defender, either. More importantly, knowing the current situation, most developers have optimized their products for the scenario.
We hope you could answer your doubts about uninstalling Windows Defender as a permanent solution. We won't recommend this option, but it's your decision to take at the end of the day.
The Bottom Line
Do you have any other doubts regarding how to disable Windows Defender on Windows 10? Do let us know through your comments, and we will try our best to answer them. Meanwhile, make sure your Windows 10 has some kind of protection: with Windows Defender or some other antimalware suite.