The ability to accept electronic payments has changed the way small businesses operate and has made it much easier for aspiring entrepreneurs to launch a mobile business. Fewer people carry cash around than ever before, and the ability to take payments through a credit card or cash transfer app can mean the difference between making a sale and letting a customer walk away.
Not only do cashless transactions make things more convenient, they also keep everyone safer by decreasing the amount of money both parties carry around. If you're planning to accept payments for your small business via smartphone, here are some of the top apps and processing methods to help you get started.
PayPal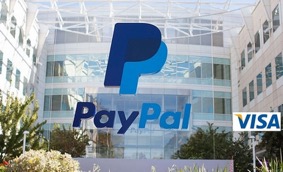 Image via Flickrby mighty.travels
PayPal is one of the most popular apps for shopping and transferring money, with over 200 million user accounts last year. Thanks to its large market share and long reputation, it's likely to be familiar, even to buyers who aren't very tech-savvy.
PayPal grew its reputation by accepting payments for eBay transactions, and as a result, developed many different ways to resolve disputes. It now offers several built-in protections for buyers and sellers to help ensure no one gets cheated. Buyers can file disputes and claims with PayPal if the product is not as described, has flaws, or isn't received. Sellers can defend themselves against fraudulent claims before a decision is made.
Venmo
Popular with millennials, Venmo began as a way to split the cost of a pizza or send your roommate half of the grocery bill. It's a simple and straightforward way to send cash that offers one major advantage over PayPal — it's free of costly fees that can eat up a percentage of the funds sent. Payments made via credit card through Venmo are subject to a small standard fee, but payments made with funds from a debit card or bank account don't carry any cost at all.
Apple, Samsung, or Android Pay
While you may not be ready to accept payment through these apps, they make it easy to purchase supplies for your business without having to use cash or a company check. These apps come installed on your mobile device and can be used at the register at many major chains and big-box retailers. Just scan your mobile device and go, cutting minutes off each stop you need to make.
You can also use them for quick on-the-go purchases to keep your business moving, such as coffee refills and fuel stops. These apps are typically tied to a credit card or bank account, which you can set up through a few simple steps when you set up your phone.
Square Card Reader
The ability to accept credit card payments is a game changer for small businesses who thrive on getting a big sale from people who walk by. It's much easier to get a customer to make an impulse buy on a high-ticket item when they can swipe a credit card and forget about paying for a month. The card reader attaches to the top of your smartphone and allows you to send customers a receipt via text or email.
The good news for business owners is that the Square card reader itself is free to acquire and requires no long-term commitment. Once a customer swipes, Square will take 2.75 percent of the total transaction as a fee, and deposit the rest into your bank account within a few days.
To process payments without any glitches, it's important to get a phone with a fast processor and a network that provides fast service. For example, a Samsung Galaxy Note 8 on T-Mobile's 4G LTE network is a solid choice that will help you process payments without issue. For a potential customer, nothing is worse than trying to pay a small merchant for a product you really want and being unable to do so. If the transaction fails to go through due to a poor or timed-out connection, a potential customer might walk away without letting you try again.
Accepting various types of payments can make or break a small business, especially in our tech-centered world. Fortunately, the smartphone in your pocket can easily become the key to unlocking these new streams of income.