Today's job market is constantly evolving, with technological advancements and remote work patterns setting the new standard. For the job candidates entering 2021, the recruiting process might be more challenging than ever.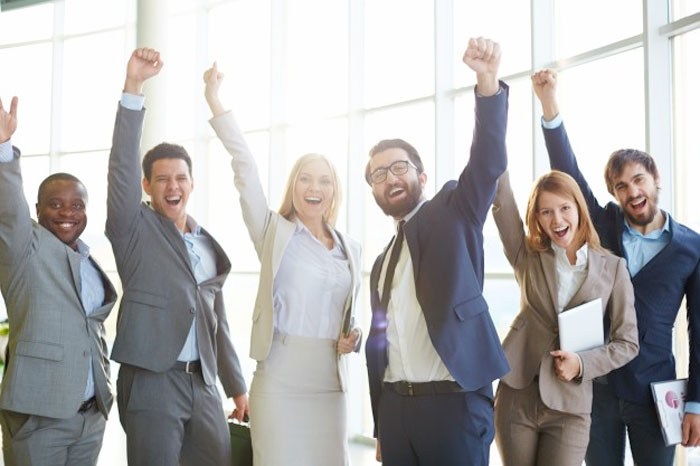 Source: https://www.freepik.com/free-photo/businesspeople-celebrating-success_861073.htm#page=1&query=success&position=34
On the bright side, recruiters are all over the internet, and they are looking for you. All you need to do is ensure that your profile matches that of their ideal candidate. It is time to put the career resources to good use and start with a plan that will help you land an interview.
1. Create a Bot-beating Resume with a Resume Writing Service
The hiring process might be changing, but resumes continue to hold the key to you landing on the shortlisted pile. The first step of getting your resume right is to make sure that it passes the applicant tracking system (ATS) employed by your recruiter.
If you need a bit more help to fine-tune your CV to your dream job, you can try to get professional help. The best resume writing service can help you create a resume that can beat the ATS bots, as well as cater to the expectations of the recruiting firms. They will also help you tailor your resumes to the positions you are applying for, ensuring that you get more interviews.
Working with a resume writing service can help you craft a winning resume that highlights your qualifications and career choices.
2. Have Your Story Ready
Everyone loves a good story. Hiring managers are not so different. Your resume might offer a glimpse of your key skills and accomplishments, but it is obvious that there is more to it.
In other words, you need to create a narrative that will entice the recruiter. This is where the cover letter comes in. Even amidst the days of automated submissions, a covering letter can offer your job application a personal context and depth.
Use it as an opportunity to mention what is not included in the resume. For instance, you can explain your career gap in the CV or why you left the previous position.
In other words, this is where you should put forward your elevator pitch, summing up the interesting aspects about you into a persuasive cover letter that will get you an interview.
3. Nothing Can Replace Networking
In the age of social media, there is no need to emphasize the power of networking. Its impact translates to the professional world as well. It doesn't matter whether it's your first job ever or you're a professional with two decades of experience behind. You need to focus on building a network that can open doors for you.
Networking does not have to happen only in a professional capacity. Whenever you meet someone interesting, make an attempt to get their contact details. That applies to social media as well. Most people you come across would be happy to share their wisdom and make introductions to others. Having a treasure trove of contacts will always turn out to be among your most important assets.
4. Take Advantage of Your Contacts
Having an established network alone won't suffice, though; you also need to use it wisely at the right time. These days, grabbing a hiring manager's attention requires more effort than a good resume.
Employee referrals, on the other hand, might do the trick. While they do not guarantee a job, they can certainly increase your likelihood of getting an interview. It is no longer necessary to have personal contact with your referrals these days. With websites such as hunter.io and Rocket Reach, you can find email ids of specific people in the organization to reach out to. You can start by introducing yourself and sending your resume directly to them for consideration.
5. Build Your Personal Brand
Social media screenings are becoming increasingly common in the hiring process. In fact, 70% of employers look into prospective candidates' personal social media accounts before making a decision.
It is thus crucial to make sure that your personal brand resonates with your professional brand as well. While you cannot perfectly align your interests, it might be best to refrain from posting your entire life on social media for the same reasons.
6. Ask Great Questions
A resume is only one part of the elements that leads to a job offer. The interview plays an equal, if not a more significant role. And if you are trying to act and sound like the other job seekers, you will not do any better.
Most job applicants prepare answers for the interview questions and look over the part of asking questions. But asking the right questions is an excellent way to differentiate yourself. Prepare a few tactical questions in advance that are unique to your employer. If you can make the hiring manager think, "it is such a great question", your chances are instantly higher than everyone else's.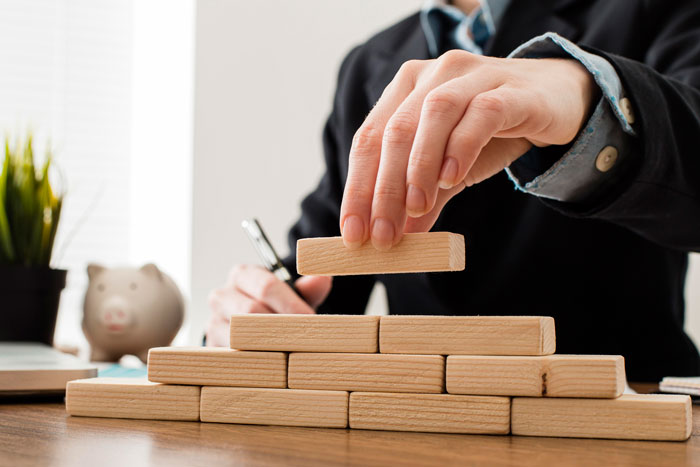 Source: https://www.freepik.com/free-photo/front-view-businessman-with-wooden-building-blocks_11383071.htm#page=2&query=success&position=31
7.  Measure Your Progress
Remember that your career is made up of several aspects, not just one job. However, many people tend to get stuck on one job, as they are afraid to take the risk. When on a quest to uncover their career path, inertia can be your worst enemy.
If you are struggling to find inspiration, it is best to avoid comparing yourself to others. Instead, focus on what you have accomplished so far compared to where you have started. When overwhelmed, take one step at a time – be it emailing a contact, or attending a networking event. Every small step will move you a bit closer to your dream, no matter how small it is.
8. Have Realistic Expectations
This is a tip that translates to all your life aspirations. Sometimes, even if you are lucky enough to land your dream job, it does not mean you get the perfect work situation. Any job you take will have its ebbs and flows, parts that you love and hate.
While there will be days you want to call in sick without any reason, there will be many more days where you are more than enthusiastic about showing up for your job. Regardless, it is a stepping stone towards what awaits next, a path to your dream career.