In 2023, virtual desktops will be an essential tool for every business. With their increased flexibility, mobility, and scalability, virtual desktops can help companies navigate the ever-shifting demands of modern-day businesses.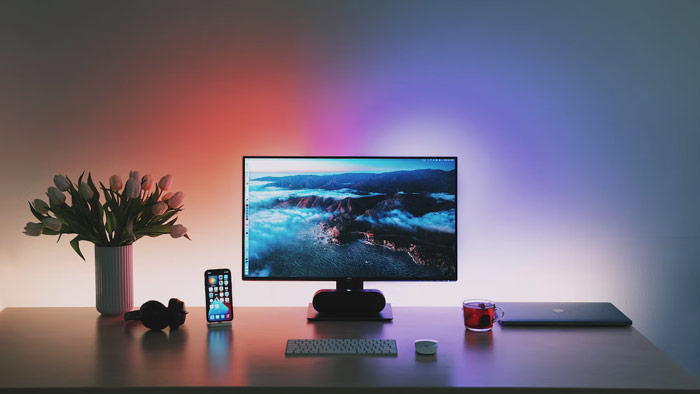 Despite being around for many years, virtual desktops have only recently gained prominence as a lot of businesses have seen higher productivity within their teams when using a virtual desktop.
These cloud-powered facilities offer many advantages over traditional computers, from accessing a larger pool of resources to tracking expenses in real-time and increasing productivity in your organization.
With so much to offer, it's no wonder that even small startups are increasingly relying on virtual desktops to give them the edge they need to compete in today's digital age.
What is a Virtual Desktop?
A virtual desktop is an on-demand computing platform that empowers users to access their digital applications and resources remotely. By leveraging cloud technology, a virtual desktop can be accessed from any device with an internet connection — meaning you can get work done even when you're away from the office.
Moreover, a virtual desktop utilizes multiple servers to ensure that no single server is overloaded with tasks and that all operations are completed quickly and efficiently.
Since virtual desktops are cloud-based, they allow for easy collaboration and customization. Virtual desktops offer many advantages over traditional computing methods with their cost-efficiency, scalability, and flexibility.
How Does a Virtual Desktop Work?
A virtual desktop operates on a cloud infrastructure; it does not depend on any physical hardware. This means that users can access their applications and files anywhere, regardless of where their actual computer might be located.
Virtual desktops are also known for their scalability — they can quickly switch between different operating systems and seamlessly update with the latest security patches. This makes them the ideal solution for businesses that need to be able to quickly adjust to changing demands and remain competitive in a rapidly evolving digital landscape.
In addition, virtual desktops offer increased flexibility and mobility due to their low upfront cost and minimal setup time. They can also reduce hardware costs as fewer physical computers are needed.
Ultimately, using a virtual desktop like Citrix or Citrix alternatives is an incredibly effective way for businesses to increase productivity, save costs, and remain competitive in today's digital age.
With the ever-changing technological landscape, virtual desktops are an invaluable asset that can help businesses remain agile and successful.
How to Use a Virtual Desktop in 2023?
1. Access your Virtual Desktops
To access your virtual desktop you have to open the task view. When you click on Task View, a new window will pop up that lists all of your currently active windows (if you have any open).
As an added bonus, thumbnails of your virtual desktops will be displayed in a bar at the bottom of the screen.
2. Create a New Virtual Desktop
Once you are in the Task View window, click on New Desktop to create a new virtual desktop. You will now be able to switch between your existing virtual desktops and the new one that you just created at any time.
3. Using a Keyboard Shortcut
You can also create a virtual desktop using the keyboard shortcut Windows Key + Ctrl + Left Arrow or Windows Key + Ctrl + Right Arrow. This will open the New Desktop window and allow you to create your own custom virtual desktop.
4. Move a Window to Another Virtual Desktop
As you become more productive and efficient, you can move one window from your desktop to another virtual desktop with a single click. This streamlines the process of organizing complex projects by separating each task into individualized screens that close out any distractions while working on a specific activity.
This ability not only increases productivity, but also reduces cognitive load on the user, creating an easier work environment.
Why Use a Virtual Desktop?
There are many reasons to use a virtual desktop, some of which include:
Efficiency
With a virtual desktop, you can have multiple applications and windows open at the same time without having to worry about them taking up too much space on your physical desktop.
This can help you be more productive and get more work done in a shorter amount of time. In addition, a virtual desktop can help you organize your work better by allowing you to create different virtual desktops for different tasks.
For example, you can have a virtual desktop for work, another for personal tasks, and another for entertainment. This can help you stay focused and avoid distractions when you need to get work done.
Saves Cost
Many businesses are choosing to use virtual desktops instead of physical ones because they offer significant cost savings. There is no need to purchase, install, and maintain hardware when using virtual desktops. In addition, businesses can avoid the costs associated with power and cooling for physical desktops.
Workspace Flexibility
A virtual desktop gives users the ability to access their applications and files from any location. This flexibility is especially useful for employees who work remotely or travel frequently.
They can connect to their virtual desktop from any Internet-enabled device, including laptops, smartphones, and tablets.
Conclusion
As more companies are making a shift to a virtual environment, utilizing a virtual desktop will be smoother and easier than ever before. Through adaptive technology, settings that used to be tedious are now automated to recognize which applications should be launched and adjust the visuals to enhance user experience.
With the ease of access due to cloud computing, no matter where one is in the world, one can have all their tools and files readily accessible made possible only through the use of virtual desktops.
For anyone looking to utilize cloud elements meaningfully and efficiently this 2023, virtual desktops will provide everyone with all they need without missing out on traditional elements of computing.