Since kitchens are considered as the heart of the home, they are not only meant for cooking. They're also a great place for gathering with the people you love. Whether you are there to cook or eat, your kitchen will get better with proper lighting. Remember that good positioning of light fittings is key to achieve this.
With these being said, we'll walk you through the 10 tips for better kitchen lighting. Check them out below!
1) Paint Your Kitchen with Black and White Colors
The colors you use to paint your kitchen walls matter. Remember that if you're going to paint dark colors for your kitchen, it will cause more wattage for the lights. On the other hand, the use of black and white colors can brighten the whole kitchen more during daylight.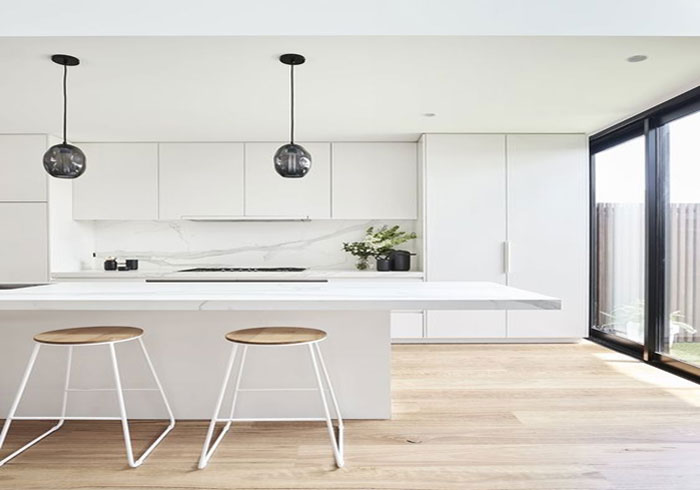 https://www.pinterest.ph/pin/514606694916571609/
In addition, if you have a lot of white colors in your kitchen, you could lower the wattage of bulbs. This way, you can even save more than what you've expected. White color really means a lot for a cozier kitchen.
2) Consider Getting Light Dimmers
The best thing about light dimmers is that you get to control the bright illumination of the whole kitchen. For example, you can dim the lights during dinner to get the romantic vibe that you want to experience.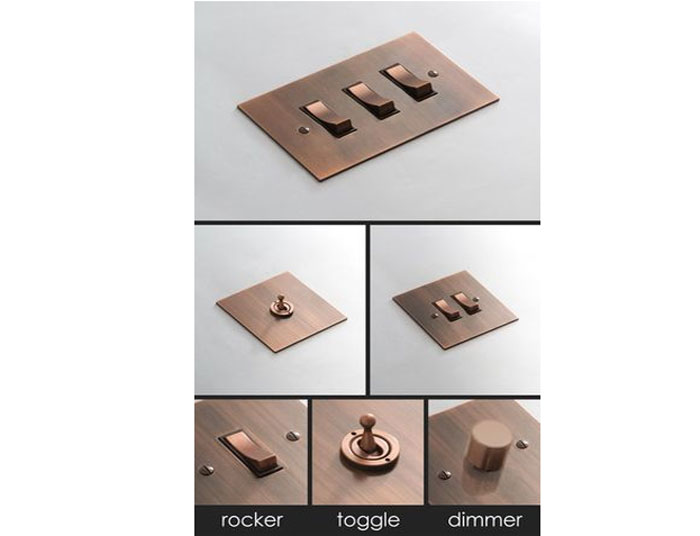 https://www.pinterest.ph/pin/625015254511715313/
We all know how the ambiance of the kitchen improves our appetite even before a meal. In this way, the light dimmers can help you customized the light of the whole kitchen. You can even buy a dimmer switch that will help you make your kitchen tasks easier to do.
3) Pendant Lights for Your Kitchen Islands
Pendant lights are the most recommended lights you can use for your kitchen islands. They come in different sizes, which you have to decide which one fits best for your kitchen islands. Since the kitchen islands are one of the most important parts in a kitchen, it needs to accommodate every important conversation with great lights.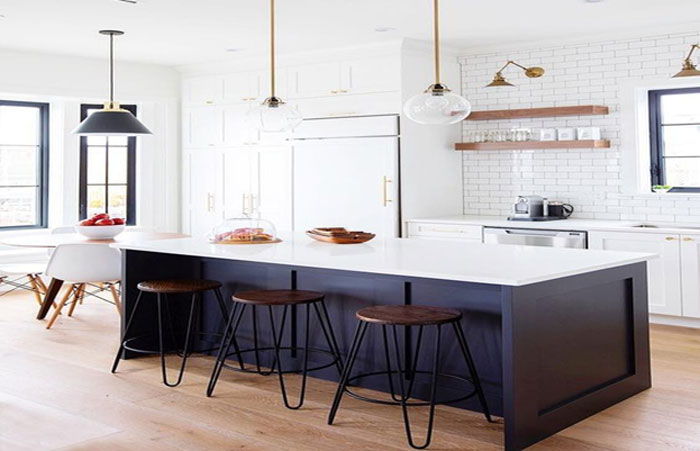 https://www.pinterest.ph/pin/621426448558933004/
Some pendant lights come in different styles and materials too. Since they're on trend, it won't be hard for you to look for pendant lights on the market.
4) Always Choose Top Lighting
Most architects advised top lighting for your kitchen. This is because top lighting ensures that the lights are spread all through-out the kitchen from top to bottom. For this reason, you can be sure that the kitchen furniture, dishes, and utensils are visible enough for your kitchen works.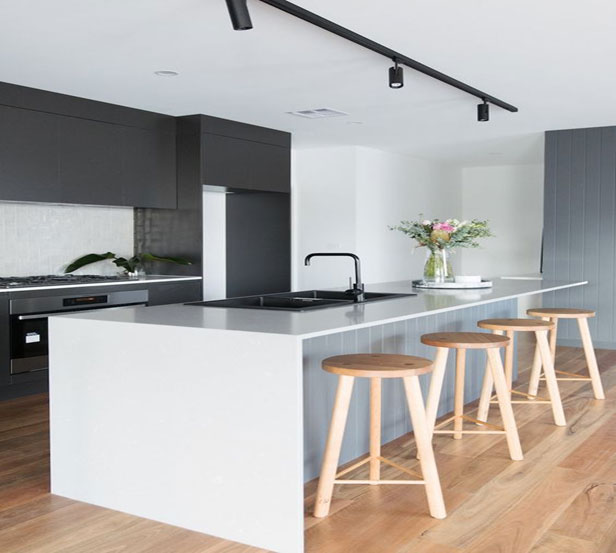 https://www.pinterest.ph/pin/500392208592830405/
Additionally, it ensures the best shadow-free light in which you can work without thinking of the shadows that might distract you from preparing and cooking your food. Yes! It is important to see clearly what you're working, thus getting top lights is effective.
5) LED Undercabinet Bulbs or Strip Lights
Getting a lot of cabinets for your kitchen is no longer a surprise to many. With various kitchen stuff you want to use in your kitchen, cabinets are really needed. Luckily, you can use the cabinets for your kitchen's better lighting.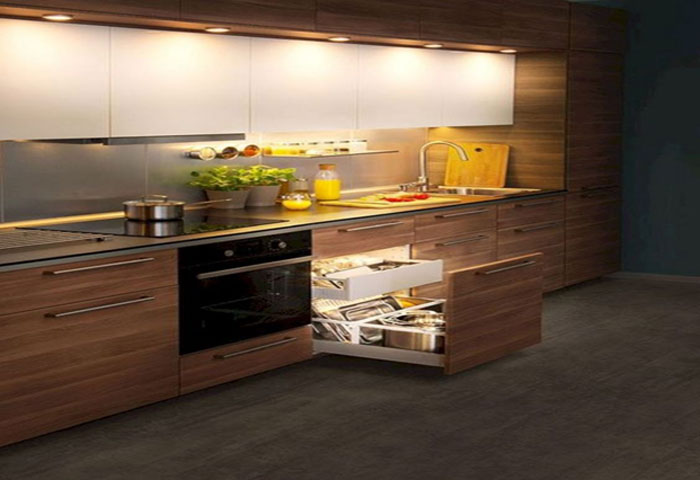 https://www.pinterest.ph/pin/740982944918806196/
All you need to do is to get LED bulbs undercabinet lighting that will help illuminate the whole kitchen. You need to get led light bulbs to provide the evenest lighting on the work surface. These bulbs will help your cabinets and countertops more appealing to the eyes.
If you have an open shelf or cabinet, adding LED light bulb strips on its edges or even underneath can highlight the objects inside. There are a lot of LED options you can check out which means that you don't have to think about the placement of the strip lights.
6) Use Linear Suspensions for Your Kitchen Islands
We understand that pendants and chandeliers might be too heavy for your pocket when you are in a budget. No need to worry! You can use linear suspensions as an alternative light for your kitchen islands. Aside from their cheap price, they are a great choice for they both provide an elegant light.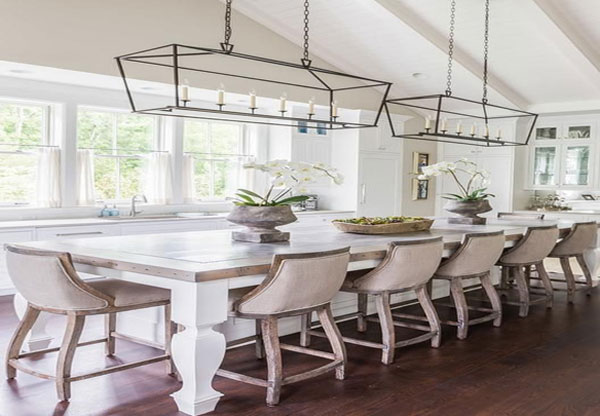 https://www.pinterest.ph/pin/51721095698328920/
The only thing that you have to remember is the placement of linear suspensions. You should place them at least 30 inches from the countertop, keeping the light effects for your kitchen islands but won't block the view either.
7) Add Kitchen Recessed or Flush Mount Lighting
Kitchen recessed lighting can be used anywhere in the kitchen. They are mostly positioned to illuminate open cabinets and shelves, as well as the ceiling of the kitchen. You can even use flush mounts as an alternative light to this.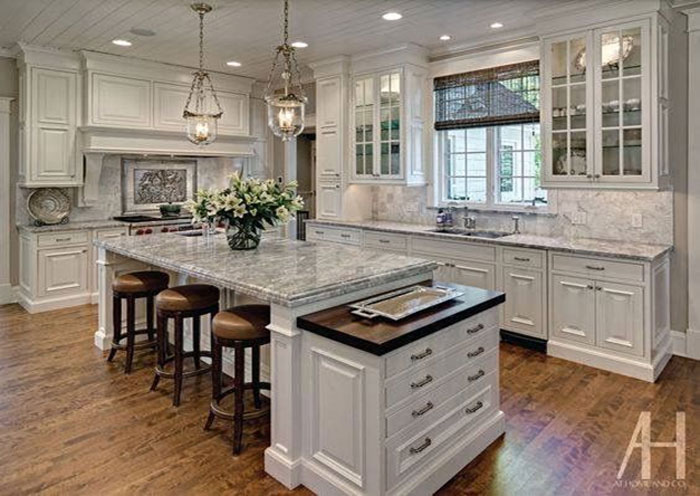 https://www.pinterest.ph/pin/505740233150341762/
Recessed lights are not only meant for detailed decorative purposes rather it can ignite the ambiance of the whole kitchen. The only difference between recessed and flush mount lighting is that recessed lights are hidden in the ceiling, while flush mount can be styled because they are more visible.
Conclusion
Focusing on the right lighting touches of your kitchen will surely help you transform your simple kitchen better! With some lighting makeover, you can make the most out of your kitchen, enjoying the great ambiance from breakfast until dinner!