A non-fungible token (NFT) is a one-of-a-kind identifier that may be used to assign and prove ownership of digital commodities cryptographically.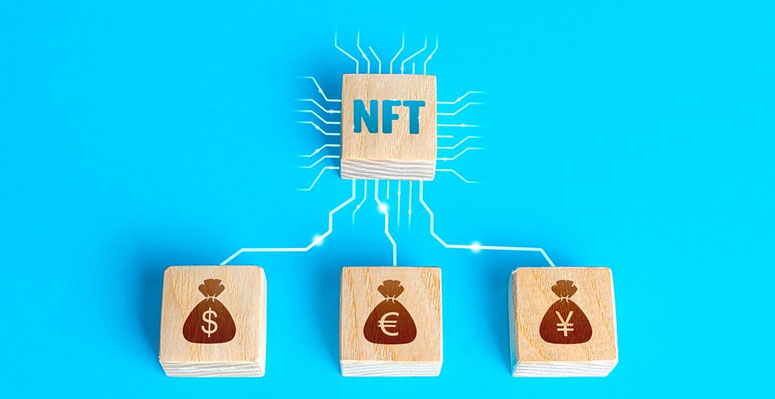 It's an understatement to say that NFTs for digital artwork have sold for millions, if not tens of millions of dollars.
However, if you grasp how NFTs function, you'll notice that they have other uses.
What is an NFT?
"Non-fungible token" is abbreviated as NFT. At its most basic level, an NFT is a digital asset that connects ownership to unique physical or digital assets, like as works of art, real estate, music, or movies.
NFTs are regarded collectibles in today's world. They're purchased and sold over the internet and serve as a digital evidence of ownership for every specific object. NFTs are held on a blockchain, the same technology that powers cryptocurrencies, to ensure that each asset is distinct. Because of the technology, it may be more difficult to modify or counterfeit NFTs.
It's a good idea to understand the economic notion of fungibility before diving into NFTs.
Because their worth isn't related to their individuality, fungible goods can easily be traded with one another. Non-fungible things can't be swapped out. Each NFT token has its unique set of characteristics and is not equal in value to other tokens of the same type.
Why are people prepared to pay such a high premium for NFTs, then? Creators may prove scarcity and authenticity to just about anything digital by generating an NFT. In conventional art collecting terms, there are countless copies of the Mona Lisa in circulation, but only one original.
The use of NFT technology assists in detecting who owns the original item." If you obtain an NFT, others may be able to duplicate the photo, video, or digital object you own.
NFTs and how they operate
Because anybody can look at the blockchain, the ownership of the NFT can be easily confirmed and traceable, yet the person or company who holds the token can remain anonymous.
Artwork, gaming objects, and stills or video from a live broadcast are all examples of digital products that may be "tokenized" – NBA Top Shots is one of the largest NFT marketplaces. The file size of the digital object doesn't matter because it stays distinct from the blockchain while the NFT that confers ownership is added to the blockchain.
Depending on the NFT, copyright or licensing rights may or may not be included with the purchase, however this is not generally the case. If you purchase a limited-edition print, you do not have exclusive rights to the picture. As the underlying technology and concept advances, NFTs may find a wide range of uses outside of the art world.
A school, for example, may give an NFT to students who have completed a degree, allowing employers to readily validate an applicant's education. Alternatively, a venue might employ NFTs to sell and track event tickets, possibly reducing resale fraud.
If you already know how NFT works and want to start your own project or improve an existing one, just check out blockchain development services at Unicsoft.
What distinguishes cryptocurrencies from non-fungible tokens (NFTs)?
Both NFTs and cryptocurrencies are built on the same blockchain technology. People may be required to buy NFTs using a cryptocurrency on NFT exchanges. On the other hand, cryptocurrencies and NFTs are created and used for a variety of objectives.
On the other hand, cryptocurrencies and NFTs are created and used for a variety of objectives. Cryptocurrencies are meant to work like currencies by storing value and allowing you to buy and sell things. Cryptocurrency tokens are fungible, much as traditional currencies like the dollar. NFTs generate one-of-a-kind tokens that may be used to verify ownership and transfer rights to digital assets.
Last but not least
While NFTs may have numerous practical applications in the future, they are now largely employed in digital art.
NFTs give creators a simple way to monetize digital content that may not have a significant audience. There are also ways for artists to get compensated for each successive sale of their work. On the other hand, collectors have the opportunity to speculate on digital art and brag about rare artifacts on the chain.
If you're considering buying an NFT as an investment, bear in mind that the value isn't guaranteed to grow. While some NFTs sell for hundreds or millions of dollars, others may be worthless or stay so.
Find out more useful information by following this link: https://unicsoft.com/.