Even before the COVID-19 pandemic, online and virtual events have been pretty popular all over the world. However, it's no secret that the physical distancing restrictions due to the pandemic have accelerated the adoption of virtual events throughout 2020 and early 2021.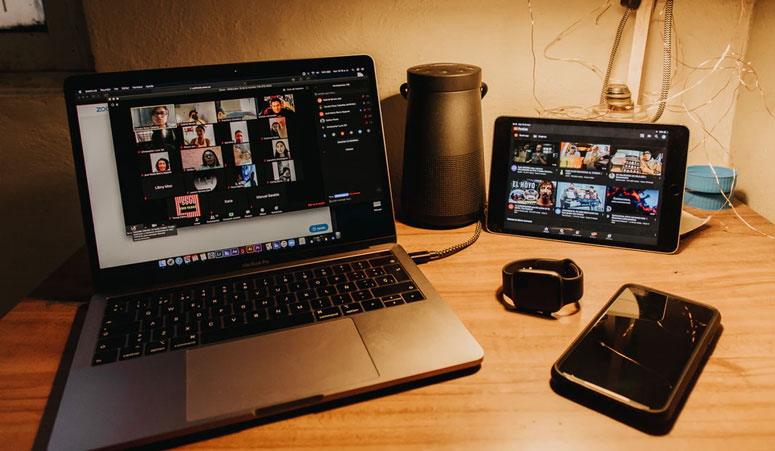 Photo by Gabriel Benois on Unsplash
While offline, physical events still have their tremendous value and won't be completely replaced by virtual events, there are definitely unique benefits that only virtual events can offer, and not to mention we can always combine virtual events with physical events in various ways.
However, planning and organizing a virtual event does pose its own unique challenges and can be quite daunting even for the most experienced event organizers who've never handled one before.
With that being said, in this guide, we will discuss all you need to know about how to host virtual events in 2021.
Let us begin right away.
Different Types of Virtual Events
Just like the offline counterparts, virtual events can come in various forms and types, but we can generally divide them into just three major categories:
1. Hybrid Virtual Event
This type of event is part offline and part virtual, and we can host hybrid events for both internal events, such as:
Employee orientations
Product launch and kick-off
Annual meetings
Companywide recreational events
As well as external events like industry conferences, concerts, and so on that are held for those outside your company.
Internal hybrid events can be viable options to ensure cost-efficiency or to accommodate scheduling. For external events, we can offer a lower price (i.e. for concerts) for the virtual option, and we can also use this approach to accommodate attendees who are unable to travel.
2. Webinar
Short for web-seminar, which is essentially a virtual seminar featuring one or more speakers that lasts between 45 minutes to 90 minutes. You can offer webinars for free or can charge attendees from all over the world with certain registration fees. There are various webinar tools you can use to present a live or pre-recorded seminar, and most of these tools would also allow attendees to provide feedback, chat, and join Q&A sessions.
3. Virtual Conferences
Similar to a physical conference or expo that is held online, may include keynote sessions, exhibitions, and more. Typically will involve several different sessions, and can allow attendees from all over the world to view exhibitions and keynotes in real-time.
Key Principles in Hosting a Virtual Event
Virtual events generally have two key benefits:
 For face-to-face events, the cost of renting the venue is often very substantial, and we can completely eliminate this cost in a virtual event.
 In a physical event, the number of attendees you can get is physically limited by the size of the venue, but that is not the case with virtual events.
However, there is also a clear disadvantage with virtual events: in-person interactions. Some events are simply more effective when delivered in person. However, as discussed above, we can combine virtual events with physical events, for example, to accommodate attendees who are unable to attend in person.
With that being said, here are some key principles of planning and organizing a virtual event:
As with physical marketing, marketing and promotion are very important with virtual events. We might need different marketing approaches in promoting virtual events.
Engagement is everything. It's crucial to keep your virtual attendees engaged throughout the whole event since they can't physically interact with other guests. Provide interactive sessions, among other approaches.
In a virtual event, the content of your event is extremely important since you can't rely on flashy stages, decorations, and so on. Attractive and engaging sessions, keynotes, videos, and other content are very important.
Crucial Technology Infrastructure in Planning and Hosting Online Events
Technology stack is obviously very important in planning and hosting virtual events. You'll need to make sure your attendees can easily register and attend your virtual event with their devices.
This is why a virtual event software platform that can help your plan, organize, and manage your event is very important, and you'll need to consider the following functions in building your technology infrastructure:
Professional Website
In hosting a virtual event, your event website is like your storefront and is a crucial aspect for promoting your event and establishing your credibility as an event organizer.
Once a potential attendee is interested to attend your event, most likely they'll visit your website. Thus, it should properly communicate your credibility as an event organizer, the unique value proposition (USP) of your virtual event, and other crucial pieces of information about your virtual event.
Social media profiles are not adequate replacements for a professionally-made and informative website.
Event Registration
You'll need to provide a seamless way for your attendees to register and/or purchase tickets to your virtual event. At the same time, the event registration tool should effectively capture and report crucial customer data that will help you in planning a successful event.
Mobile App
A mobile event app is often crucial as a central hub of event-related information for attendees before and during the event. Depending on the type of virtual event you'll host, the mobile app may also act as a communication tool between attendees to promote interactivity.
Feedback and Survey
You'll need event feedback and survey tools to effectively collect feedback using pre-event and post-event surveys. You can also use these tools to score potential leads throughout the event if you are also selling products/services.
Closing Thoughts
Before planning a virtual event, it's important to first consider whether your event idea can be properly translated into a virtual setting or if it's better to host an in-person or hybrid event instead.
Making sure you have the right technology infrastructure is crucial in planning and hosting your virtual event, and an all-in-one event management solution like Eventtia can significantly help you and your team in managing the technical aspects of your virtual events.