Interest service isn't limited to dry land. Granted, boating is meant to be a relaxing escape, but you may still have internet-related needs when away from your usual land-based service sources. For times when this is what's preferred or needed, there are nautical internet service options to consider. Some are more expensive than others, and there are some limitations to be aware of as well. Below, we dive into this topic a bit more and go over the main ways to get internet on your boat in 2022.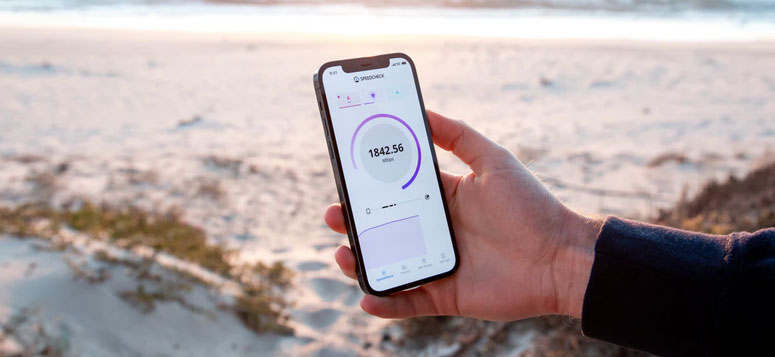 BGAN Portable Satellite Service
Owned by Inmarsat, the Broadband Global Area Network (BGAN) is a global satellite network. It's a type of satellite internet that uses portable terminals to provide access to internet service. This is the most of expensive of the three boat internet service options discussed here, but it's generally reliable and accessible. And since it's satellite-based you can usually get a decent connection regardless of where your boat happens to be at any given time.
BGAN requires the use of a terminal connected to whatever device you're using on your boat via an Ethernet cable. It can also be connected with a USB port or via Bluetooth connectivity. The terminal on your boat communicates with the satellite by using global satellite positioning (GPS) to keep track of the location.
Advantages
• Usually reliable
• Multiple options with terminals
• Durable equipment
Drawbacks
• A clear view of the sky is needed to maintain the connection
• Download speeds tend to be slow
• Really pricy
You'll need to choose a service plan with BGAN, too. However, you only get charged for the amount of data you use per month. If you're a regularly boater, this can be a good investment if you also want to stay connected.
Mobile Hotspots
If you're not a frequent enough boater for BGAN satellite service to make sense, there's the mobile hotspot option. This can work well if you primarily keep you boat close to the shore. Otherwise, service could be spotty or inaccessible.
Advantages
• Affordable
• Easy to access
• Generally reliable if you're sticking to the shore
Drawbacks

• Spotty access once you get away from the shoreline
• Need to switch SIM cards if you go beyond U.S. waters
Verizon and Spectrum have the largest hotspot coverage in the United States, so consider using these hotspots offered by these wireless providers for the sake of convenience. Call service is also needed.
Public Wi-Fi
This is the most affordable of the three internet options for your boat in 2022. In this case, you're simply using a Wi-Fi extender to tap into publicly accessible wireless connections. If you invest in a decent Wi-Fi extender or one specially designed for use on boats, however, this option may be sufficient if you only need to access the internet occasionally while on your boat.
Advantages
• Very low cost
• Could be completely free in some instances
• Can be fairly reliable if you use a good Wi-Fi extender
Drawbacks
• You'll still need to stay fairly close to the marina
• Even on a boat, there are still potential security risks with public Wi-Fi
• Your connection could be spotty or weak at times
A top-quality marine Wi-Fi extender can be a bit more of an investment than what you would pay for a hotspot device. On the flip slide, you won't have to deal with recurring service fees. Also, the Wi-Fi extender is a one-time purchase and one that can more than pay for itself if you're a regular boater.
Final Thoughts
The movement of the boat is a challenge with all of the top three options for internet on your boat in 2022. Even with satellite service boat movement could present some issues with your connection. As you determine what's best for your needs and budget, consider how often you use your boat. Lastly, think about what kind of internet connection you'll likely need to do what you want to do with your devices while on the water.