There was a time when books were the only thing you could confidently buy from eCommerce websites. In addition, history has it that almost all popular eCommerce sites had made their inception by selling books. Today, however, there are only a few things you cannot purchase online that books are a little sidelined. It's right for a country like India too.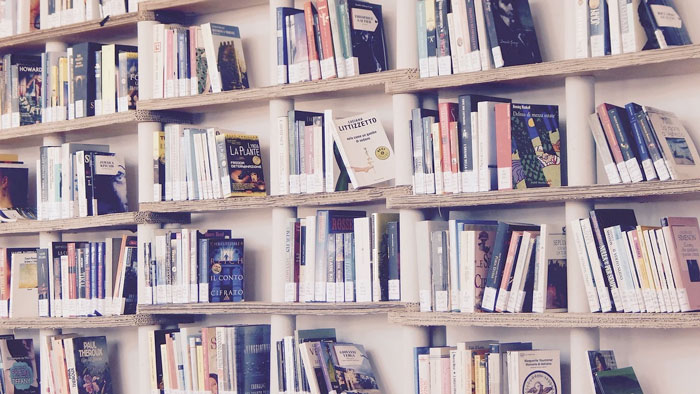 However, there are still people who look for places where they can find popular and uncommon books and get them delivered to their doorsteps. If you're one of them, you know that a single website isn't enough for that. Instead, you should have a collection of websites that you can keep an eye on. We understand this can be a challenging task, and we decided to help out a bit.
In this article, we have listed 20 of the best websites to buy books online in India. Rest assured, all the sites on this list are completely safe and have a record of having books that people keep looking for.
#1 Amazon

Despite growing so big and diverse, Amazon is still the first choice when it comes to books. Probably the best part of Amazon's book collection is that it consists of products from various markets. For instance, if you cannot find an Indian seller for the book you are looking for, you can even get it shipped from overseas. The same is the case with eBooks, for which Amazon has a dedicated Kindle store. So, if you cannot buy a printed book from the site, you can find a digital version on the site. You should also keep in mind that the company keeps having fantastic offers, at least for the popular titles.
#2 Flipkart

Second in place would be something that you can confidently call the Amazon of India. This eCommerce site also started its journey by selling books before moving into electronics and other categories. Sure, you can't find any digital versions of books on this website, but the collection of printed books is pretty diverse. You'd also have the opportunity to get in touch with not-so-popular sellers, who would have books that the regular bookstores won't have at this point. Once again, you can keep a lookout for attractive offers during the festive seasons.
#3 Snapdeal

Snapdeal is another famous name in the Indian eCommerce industry, although it's not as popular as Amazon and Flipkart. However, when it comes to the collection of books, you can find a lot of them here. You will be able to find books belonging to categories like fiction, non-fiction, competitive exam texts, academic texts, and other self-help books. You can also find the classic set of books that you see on bookshelves. However, don't think that you can find rare books on Snapdeal, though. At the same time, you can get some superb-level discount if you know when to look.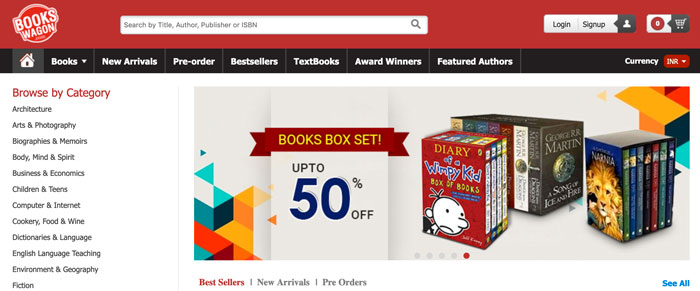 Unlike the websites that have mentioned above, Bookswagon.com is dedicated to books only. This means a lot of things. Primarily, it means that you can find a super-variety collection of books to choose from. It does not matter if you are looking for box sets or a single, rare book; Bookswagon.com would have your back — which is no small thing. Even more importantly, you can get some incredible savings when you get popular titles, such as the best-sellers and pre-orders. Last but not least, Bookswagon.com comes with an organized set of categories as well.
#5 PayTM Mall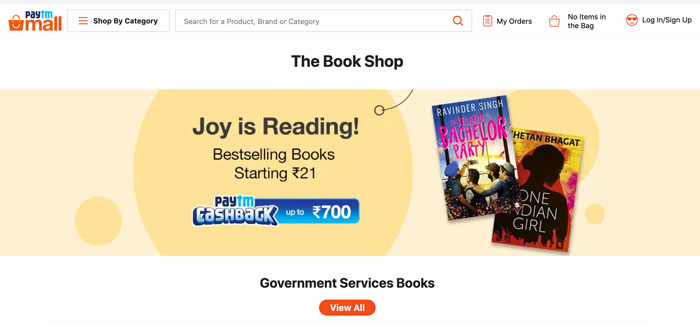 Another important player in the eCommerce market, PayTM Mall, also has a collection of books that you will love. However, it seems that the service focuses more on competitive exam books and the books people find for self-help and improvement. While you may be able to find some popular titles on the platform, you can't expect more than that. At the same time, you can get some extra savings by using PayTM payment methods and availing of other discount sales. We also find that the book store at PayTM Mall does not have as many categories as you need for better navigation and discovery.
#6 Pustakmandi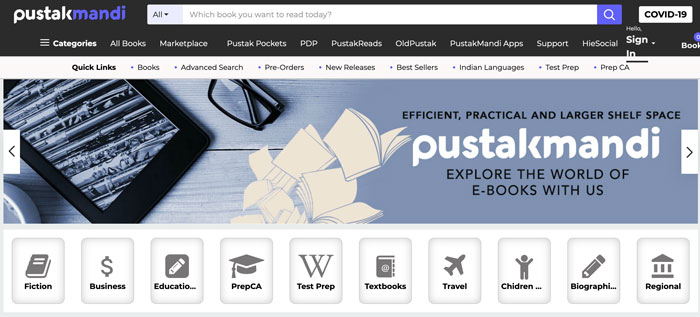 Let's just say you are looking for a more focused lineup of books. Instead of only English books, you want to check out books from regional Indian languages as well. In that case, you should check out Pustakmandi, a fantastic site that is fully equipped to give you an unlimited supply of books. The website is powered by one of the best designs we have seen so far. This means you won't have trouble finding books based on their genre, price, or language. To become a single marketplace for those who love to read, Pustakmandi offers some reading accessories.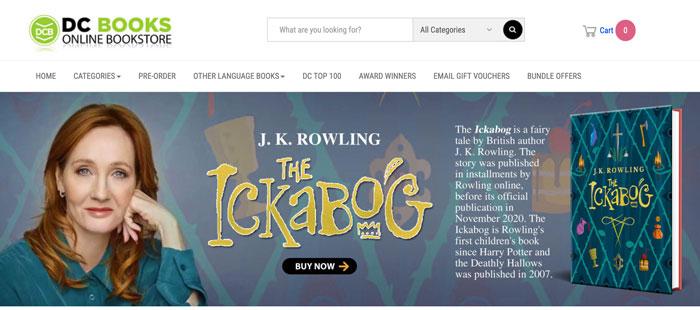 A website that delivers products all over India, DC Books Online is another great place to find books written in regional Indian languages. In this particular case, the focus is on Malayalam books, but you can also find a good collection of translated works in their library. In addition to the beautiful collection, DC Books Online has a dedicated section for classics like Love in the Time of Cholera or The Archer. You can also pre-order an immense variety of books, even if you cannot find them on the mainstream shopping websites we had covered initially.
#8 BookGanga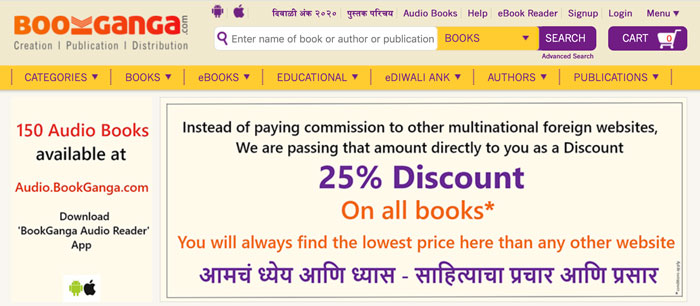 BookGanga is another dedicated online bookstore that you can use to buy books in India. However, unlike many websites on our list, BookGanga provides extra priority for books in the Marathi language. So, you may not be able to find your favorite English classics on those websites. At the same time, if you are exploring some of the best Marathi books from old times or now, BookGanga is the place to go. Because the site has been optimized for selling books, you can expect a better organization of categories and tags. You can also avail of better pricing, thanks to gift cards and coupon codes.
#9 Pustak Kosh

While Pustak Kosh is an online book store, it is different from the ones we have covered above. This is a cool place where you can not only buy new books but also get them for rental. For instance, suppose that you're looking for a textbook for a few months. Instead of paying a considerable amount and buying the book, you can get it for rent. By doing so, you can save money and reduce the impact you have on the environment. Even when we keep that aside, Pustak Kosh is an excellent book store to check out. There is an even option to sell used books from your side for reasonable rates.
#10 Bookchor

One of the reasons why people buy books online in India is to save money. And an even better way is to get your hands on old and second-hand books. That is what the Bookchor online store does in practice. Over time, Bookchor has created a fantastic collection of used books. You can count on this collection when you need to find a rare book or a textbook that only a few would purchase. There are also some super-crazy offers, like the one where you can get the entire collection of Fifty Shades for just 199INR, which is just incredible. They also conduct super-affordable sales and flash sales from time to time.
#11 SapnaOnline.com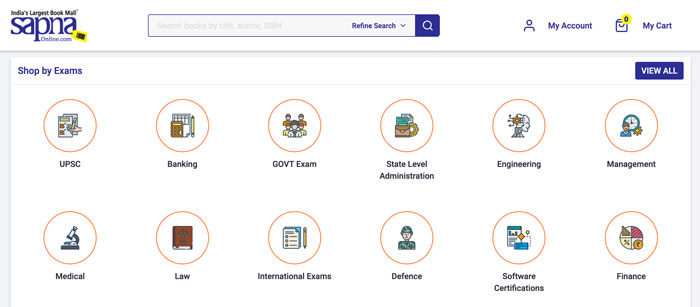 SapnaOnline.com calls itself the most extensive online bookstore in India, and we can't find a reason why it shouldn't do that. First, the collection of books you can find on the SapnaOnline.com website is not even compared to other stores that we have seen. In addition, they do this excellent job of offering a 20% to 50% discount on trending books, which isn't something that Amazon or Flipkart does. So, if you are looking forward to building a collection of books that contain even the brand-new titles, you should check out SapnaOnline.com.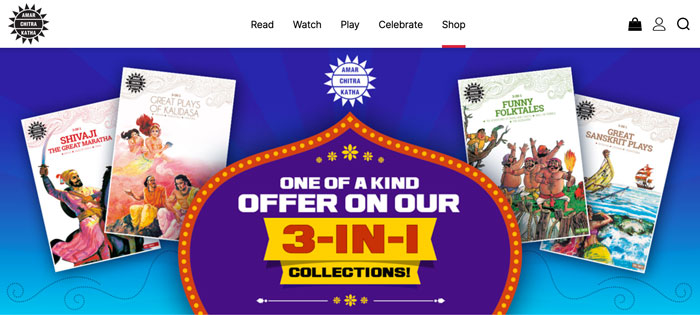 Amar Chitra Katha is a bookstore that caters to a set of customers who want to go deep into the history and mythology of the Indian subcontinent. If you are looking for books that would educate your kids about the rich cultural contributions from the historical narratives, you should check out the Shop section of the Amar Chitra Katha website. This website also consists of other interactive elements that you can read and listen to. However, in the end, if you need a bunch of books that you can carry around, you can find all of them on this website.
While these are the big online book stores you can rely on in India, there is a smaller list of websites that cater to a limited audience. Some of them are given below.
#13 Rediff Books is an excellent option if you are looking for a combination of English books and books from regional languages in India. While this website is a little old, you can be confident about all the books you get inside.
#14 Mathrubhumi Books is a popular place to get Malayalam books to anywhere in India. Because it has a great history in publishing, you can find some forgotten classics as well. Rest assured, you can stay confident while making the purchase.
#15 CommonFolks.in is a unique online bookstore that you should check out if you are looking forward to buying books written in the Tamil language. While you can find English books on the site, it is known for the Tamil collection.
#16 ReadBengaliBooks.com opens up a gateway to the wonderful collection of literature books that West Bengal has to offer. Considering the rich tradition the state has when it comes to literature and true thought alike, you can find a lot here.
#17 Khajuri Bazar is another excellent choice if you don't want to spend the full amount while getting some textbooks or other academic works. Of course, you will be getting second-hand books, but there is a better chance of quality here.
#18 Indiamags.com is a unique website in that it allows you to purchase magazines instead of books. It also gives you a fantastic subscription and deals option when it comes to regional and global-focused magazines.
#19 Bookstok.com is a hybrid website that allows you to buy books and magazines from the same place. It, too, consists of an intuitive design and a rich collection of content. You can also get offers like free shipping for a simple upper limit.
#20 Kitabay.com is a super-useful website that goes a little beyond the limit to offer a superb collection of books. In addition to buying books individually, you can get a mystery box of books, which might contain an assortment of books from various genres. What a better way to read, don't you think?
The Bottom Line
There you have it: the best places to buy books online in India. As you can see, we have tried our best to be as diverse as possible while choosing the book stores. That is why you can find bookstores that sell books in a particular language, while others are hybrid. We have also included some sites that would let you get your favorite magazines without going out. The best part? All these sites offer some level of shipping all over India, if not to the rural areas.