Can you assume your life without internet? Of course you can't. One of the most important and the foremost thing required to fulfil this "internet" part of your life is a good and cheap broadband provider. Broadband providers are in fact internet providers which have the ability to provide wide bandwidth internet data transmission simultaneously. Or in layman language, we can say that these broadband providers are in fact high speed internet providers.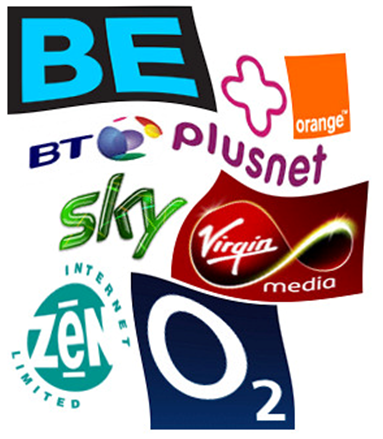 We can find plethora of high speed internet providers in our area, but the thing is that we always tend to look out for the cheapest broadband deals. Therefore, we have today listed the top 10 cheap and affordable broadband providers in UK. More after the jump –
1) Virgin Media
Virgin Media is the best broadband provider available in UK. It provides up to 30 MB of internet speed and unlimited downloads. In addition to this, Virgin Media also provides you free wireless router and free landline calls on weekends and to other virgin cell phone numbers. Virgin Media has really cheap deals available online, you can find up to 4 GB Pounds Monthly Payment deals on a contract of 18 months.
2) TalkTalk
Here is our second best broadband provider available in United Kingdom. It is a few pounds cheaper as compared to Virgin Media and has some special online offers available too. However, the speed is a bit lower than Virgin Media – it has a speed of up to 14 MB with unlimited downloads. And just like Virgin Media, TalkTalk also provides free weekends as well as free evening calls to landline number which are in UK.
3) Sky
The above mentioned UK broadband providers were the cheapest. Sky broadband provider is a bit expensive than the above two, but is still worth to be mentioned because it is still better from a lot of other broadband providers. It provides unlimited downloads, 14 MB internet, free weekend calls and is available on really cheap prices on the internet for a 12months/1year contract only.
4) BT
BT is a bit expensive than Sky but provides better internet speed than Sky. It has a 16 MB speed, unlimited downloads, free wireless router and has special discount offers available online on an 18 month contract.
5) EE
After BT, it is EE which is the cheapest broadband provider available in the UK. It is cheaper than BT but also has a lower speed (14MB) than BT. It is available for prices as low as 2.5 Pounds per month (online). Moreover, there are special offers for T-Mobile, as well as Orange users. EE is really a good choice for people who can't afford much and can compromise a bit on internet speed.
6) Plusnet
Plusnet provides unlimited broadband service with 16 MB of internet on very low prices which are available online via affiliate marketers. It also gives away free WiFi router and also facilitates the user with free evening and weekend landline calls.
7) O2
O2 is the 7th cheapest broadband provider in the UK. However, unlike the other broadband providers, O2 does not give away calling services. It has really cheap prices and has mostly 1 year contracts for 16 MB internet with unlimited downloads. Trust me folks, O2 is a really reliable and comfortable broadband provider in the UK.
8) BE Pro
Now the 8th, 9th and 10th cheapest broadband providers in the UK are a bit expensive and require its users to break the piggy banks every month. It provides 16 MB of internet speed and unlimited number of download on a 12 month contract. However, you can still find a few cheap deals on BE Pro over the internet via special coupons from different affiliate websites.
9) Primus Saver
Primus Saver is a really good cheap and affordable broadband service provider in UK. It has a lower price than BE Pro but is available on 18 Month contract. However, one of the things which Primus Saver has and the BE Pro does not have is the ability to call without any cost on weekends, as well as in evenings. But here it comes again, another negative side of Primus Saver – it provides only 14 MB of internet speed with unlimited number of downloads.
10) Tesco
Tesco broadband provider is the last one which we have here on the list of top 10 affordable broadband providers in UK. It has really cheap deals available online with unlimited number of downloads and 14 MB of internet speed on a yearly contract.
Final thought:
These were almost all the top 10 (best) affordable broadband providers which you will find in UK. Now that you know the names of these broadband providers – you can go to their nearest outlet and discuss the package which you want to have. However, there is one thing which I must mention over here. If you want to get free discount offers on these deals; then you can go ahead and buy these deals online. These online deals are cheaper than the original prices because there are a lot of affiliate marketers working for these broadband providers, and these broadband providers provide them coupon codes and special affiliate links with subsidized prices and better packages.
So what I am actually trying to say is that whether than signing a contract with these broadband providers in person; go ahead, Google up the best deals and buy them from over there.