Mobile gaming is on the rise. In 2017, there were just under 1.2 billion mobile game users worldwide. That figure peaked in 2021 at nearly 1.83 billion during pandemic lockdowns.
The number of mobile game users worldwide dipped down to 1.75 billion in 2022.
As of July 2023, there were slightly less than two billion worldwide mobile game users. Projections suggest that the market might experience five consecutive years of growth.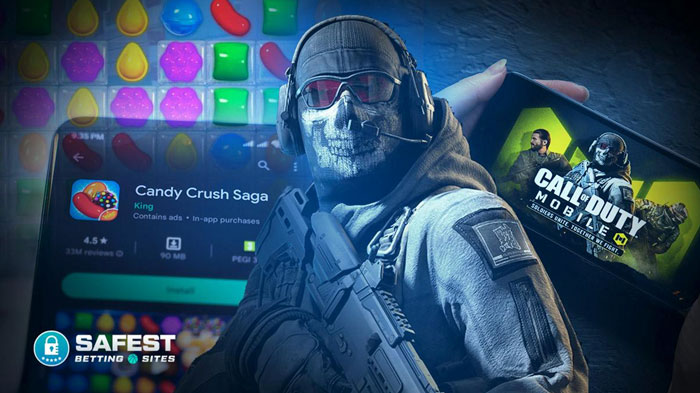 By 2027, another peak in mobile game users worldwide may reach more than 2.32 billion.
Here's a look at some of the profitable mobile games in 2023.
What Are Mobile Games?
Mobile games come as downloadable applications on devices like tablets and smartphones. Android and iOS users can access free apps at Google Play and Apple's App Store.
Users might have to pay a small fee for specific apps. There may also be in-app purchases and advertising in the form of commercials.
Playing video games on mobile phones became popular before COVID-19, along with live streaming via Twitch.
Gamers now prefer mobile gaming over traditional gaming consoles and PCs. Mobile games allow users casual gameplay from the convenience of a portable or handheld device.
The gaming industry changed forever once the App Store began offering mobile apps in 2009.
What Are the Most Popular Mobile Games on the App Store?
In 2009, the Angry Birds series initiated one of the most popular mobile gaming franchises ever. By 2015, the game generated over three billion downloads across all platforms.
Another popular franchise, Cut the Rope, launched in 2010. Between 2012 and 2015, Candy Crush Saga became available via mobile browsers and iOS/Android apps.
As of 2023, the most popular games on the App Store include:
Call of Duty: Mobile
Clash Royale
Roblox
Subway Surfers
Pokémon GO
Published by Activision, Call of Duty: Mobile is a free-to-play first-person shooter game. The mobile launch in 2019 of the well-known franchise featured multiplayer, customizable equipment and weaponry, and battle royale.
The game racked up 88 million downloads worldwide within its first month of release. In July 2023, Call of Duty: Mobile generated almost $32.7 million in In-App Purchase Revenue (IAP).
Since its release, the app has generated over $1.25 billion.
What Are the Most Popular Mobile Games on Google Play?
Android users also get access to the most popular mobile games in the industry. Some of the top apps on the App Store find similar success on Google Play.
As of 2023, the most popular games on Google Play include:
FIFA Mobile
Genshin Impact
Clash of Clans
Minecraft
Stardew Valley
Pokémon GO is also popular among Android users. As of August 2023, the app had generated over $325 million for the year. Revenue generated by Pokémon GO peaked in 2020 at nearly $910 million.
Social Gaming and Online Casinos
Another popular trend in the gaming industry comes from online casinos. Companies began offering online blackjack, bingo, and slots in a social gaming environment.
Players can also deposit at reputable offshore gambling sites via cryptocurrencies like Bitcoin and Ethereum. Games include poker, roulette, craps, and baccarat.
Other options include Cash App gambling games.
Online Bingo
Online bingo apps fall into the category of mobile games. Their sharp rise in popularity derives from social gaming via free apps.
The most popular bingo mobile apps include:
Bingo Bash
Absolute Bingo
Bingo Pop
Bingo Abradoodle
Bingo Blast
Players also get the chance to win real money through tournaments on bingo apps.
The global online bingo gambling market became valued at $60 billion in 2022. The market may reach a whopping $145 billion by 2030.
Top Mobile Games in 2023
Long-standing franchises tend to dominate the mobile gaming landscape, and 2023 is no different. However, there are a variety of noteworthy releases this year.
Here are a few:
Terra Nil
Call of Duty Warszone: Mobile
Honkai: Star Rail
Watcher of Realms
Call of Dragons
Ace Racer
Rainbow Six Mobile
Final Fantasy VII: Ever Crisis
Ultra Blade
Star Wars: Hunters
New releases in 2023 remain much different than the most profitable mobile games in 2022. Those titles include Candy Crush Saga, Genshin Impact, Pokémon GO, PubG Mobile, and Honor of Kings: World.
Honor of Kings generated $1.65 billion, becoming the top-grossing game worldwide.
Genshin Impact generated $1.25 billion, while PUBG Mobile amassed $1.12 billion. Candy Crush took in $1 billion.
Other mobile games that generated over $500 million in revenue in 2022 include Monster Strike, Coin Master, and Roblox.
Most of those figures come from mobile gaming markets in the U.S., China, and Japan.
With over $600 million in revenue, Candy Crush Saga became the top-grossing game in the U.S. in 2022. Roblox generated $424 million, while Coin Master generated $341 million.
Surprisingly, Bingo Blitz generated $197 million in revenue in the U.S., ranking ninth in the country's top-grossing games in 2022.
The Future of Mobile Games
Mobile gaming in the future may center around virtual reality (VR). The availability of VR headsets for gaming continues to grow and improve.
Players may download apps onto their smartphones and connect their VR headsets.
As of 2023, the best VR headsets include Meta Quest 2 (Oculus Quest 2), PlayStation VR 2, and the HTC Vive Pro 2.
Top mobile games for VR include Rec Room, Zombie Shooter VR, and Mekorama VR.
The future looks bright and innovative for mobile gaming.
What's your favorite mobile game to play?